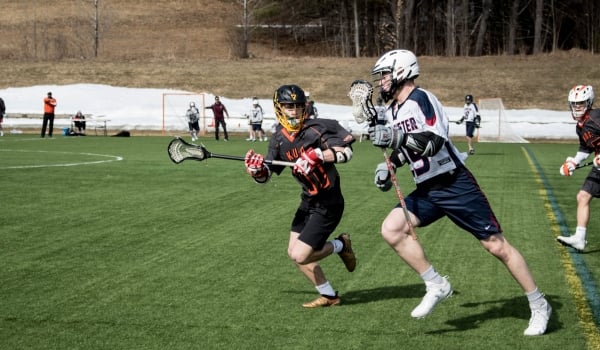 The Best High School Sports Fundraising Ideas
Sports are one of the quintessential pillars of the high school experience. Even if a student doesn't play a school sport themselves, they likely know someone who does. After all, according to the National Federation of State High School Associations (NFHS), there were 7,618,054 high school students playing sports in the 2021-2022 school year.
In this article you'll learn more about:
Tips for your high school sports fundraising

Our favorite sports fundraising ideas

How to partner with Booster to achieve your fundraising goals
High school sports stars give their best on the field, often balancing athletics and academics, and deserve the best right back - even when funds are tight.
Raising funds for high school sports can mean new equipment, repairs to fields and courts, and special opportunities, like traveling or paying tournament fees. When it's time to gather donations for high school athletics, figuring out where the starting line is can be a challenge.
In this blog, we'll lay out our favorite fundraising ideas for high school sports teams, and give some great tips on how to hit a home run with your fundraising efforts.
All-Star Tips For Your High School Sports Fundraising
While all of these high school sports fundraising ideas are sure to knock it out of the park, here are a few tips for making any fundraiser a hit.
Get People Talking
You need to make some noise with your fundraiser so people know where, when, and how to give. So, put the word out through enthusiastic, eye-catching posts on your school's social media accounts, ask parents to share your posts, and encourage students to send out special custom links to online donation and sales pages. One of the keys to successful fundraisers for sports teams is making sure everyone knows they're happening!
Old-fashioned advertising works wonders too. Recruit the team to make posters and signs to get people's attention on the fundraiser, and hang them throughout the school–and even in the school parking lot–to catch the eyes of families and community members. If you're setting up a donation link or online shop, create a QR code for quick scanning and access to the link.
Decide What The Funds Are For
Are you buying new uniforms? Paying for a special camp or tournament? Building a new gym? As part of the planning process of a high school sports fundraiser, identify what your funds are for and how they'll be used and allocated. Not only will this help you set up your donation goals, but it will also allow you to be more realistic about time constraints and what kind of fundraising event you'll be hosting. Plus, people tend to get more excited about donating when they know exactly what you are raising money for.
Partner With Fundraising Experts
While these fun high school sports team fundraising ideas are easy enough to put on, having help from an enthusiastic team of professional fundraising coaches can take your efforts to the next level. Booster will help you through every step of the fundraising process and streamline your efforts with an intuitive online fundraising platform.
An online platform is the simplest way to collect donations and manage your high school sports fundraiser–and it helps get the word out, too!
Bring The Fun
From enticing prizes to new opportunities, now's the time to get creative with your fundraising ideas. From planning to advertising, to carrying out the event, find new ways to keep the energy and excitement high no matter what type of high school sports fundraiser you're running. Then, when your team is fired up for their fundraising campaign, they'll be even more on board to help support!
Our Favorite High School Sports Fundraising Ideas
Donation Fundraising
Coaches, who are often leading the charge of a high school sports fundraiser, are busy people. Between the actual coaching, planning, and coordination of games and matches, they are also usually teachers, too. This loads lesson plans, grading, class time, and meetings onto their calendars.
That's why we love direct donation fundraisers for high school sports teams. With a quick and easy high school sports fundraising idea like donation fundraisers, your school uses an online platform to collect donations. There are no events to plan and nothing to reward or ship. While fundraising events and catalogs are fun and effective, donating is profitable, easy, and hands-off.
Take It to the Next Level
Just because this fundraiser is hands-off and easy doesn't mean you can't spice it up. Create donation milestones and set up special rewards when those milestones are reached. These rewards can be things like getting a coach or teacher to do something special or ridiculous to the amusement of their students, a special luncheon, or free custom gear.
Think outside the box for your milestones! Not only will they be an exciting way to help students visualize where the current status of the fundraiser is, but they'll also inspire eager students or family members to kick in a bit more to reach the next milestone.
Fully flexible and customizable, donations are a fundraising idea that works for any high school sports team.
Half-Time Raffle
If your team's games consistently draw a crowd, use the half-time break to run a raffle. Before the game, sell off raffle tickets with the promise of a grand prize. Then, call the winning raffle number when the teams clear the field and half-time begins. It'll keep the excitement from dying out through half-time as the crowd waits on bated breath to hear their numbers called.
Tickets can be raffled off to the student body, teachers and administrators, families, the wider community, and even the opposing team's fans! Everyone can join in the fun, with your team being the ultimate winner as you raise funds to support your goals.
A half-time raffle works for high school sporting events that draw a big, excitable crowd. Usually, this is football, soccer, softball, baseball, or basketball, but every school and community is different.
This high school fundraiser is also perfect for coaches and administrators who want to add an air of thrill and excitement to their fundraising efforts.
Disclaimer: Be sure to check with local and state laws before starting this type of fundraiser; some jurisdictions may consider this gambling.
Sports Team Car Wash
Teens with cars are the perfect candidates for a car wash fundraiser! It's not just teens with cars, though. This is a great way to pool support from the community and surrounding areas for your high school sports team.
Have the team gather their buckets, soap, and sponges, and sell admission to a car wash. It can be relatively inexpensive to set up, as car wash supplies can be bought without much upfront cost.
Pick a spot that sees a lot of vehicle traffic to set up signs directing drivers to where the car wash is, and divide the team into groups to handle each part of the process.
This could also be a stellar chance to show a little teacher appreciation; have students elect a teacher or administrator to offer a free car wash. They'll love the opportunity to sit back while their car is made squeaky clean at no cost to them - and in turn, they might spread the word about the car wash, too!
Take It to the Next Level
If you want to spark competition, break the team into two smaller units and challenge them to devise strategies to get more cars through their wash, with the promise of a reward for the winning side! Not only will this flex their creativity and competitive nature, but also, it'll ensure everyone is giving their all to make the most of this fun high school sports fundraising idea.
VIP Sale
Why not reward fans for their dedication to the team by selling some premium experiences? Run a virtual sale to give student and parent fans the opportunity to buy the best seats, a close-up parking space, the chance to train with the team, or more. You can also get together a gift basket of premium custom gear, like shirts, tumblers, and more.
You can also drum up competition by auctioning off the best experiences rather than selling them for a flat fee. Additionally, to keep the funds coming, set a time limit on prizes such as the premium seat or the parking space to one semester, sports season, or school year so you can hold the auction again.
This is one of the best sports fundraiser ideas because it has plenty of opportunities for customization and personalization. You know your school best - think about what might entice potential donors.
Set Up an Online Gear Store
Keep school spirit alive by setting up an online gear store! Immortalize the team name, graduation year, a season highlight, or the team mascot on a t-shirt, hat, tote bag, or anything else you'd like to emblazon with school spirit. Much like the donation fundraising option, a school spirit gear shop offers coaches an excellent hands-off sports fundraising idea.
Once your high school sports team design is ready, you can set up the shop through an online fundraising platform. With Booster, you can have the goods shipped directly to the buyers themselves, saving busy coaches and teachers from needing to sort, pack, and ship themselves - though bulk orders are an option for the hands-on enthusiasts.
While shirts are an awesome go-to, a tumbler is also the perfect spirit gear for high school sports teams! It'll keep drinks icy cold through every inning, quarter, and round of athletic excitement.
When you spread the word about your gear shop, print out large-scale images of what will be for sale and use them as a design element in your posters and banners. This way, people will immediately know exactly what's being sold and get excited to deck themselves out! Also, don't forget social media as an excellent way to get the word out far and wide.
Take It to the Next Level
Turn school spirit wear into a way to make lasting memories! Encourage students to submit their favorite school spirit selfies or photos wearing or showing off their gear. Then, at the end of the year, compile the images into a collage to immortalize in the school yearbook. You can also let students vote for the funniest, most creative, and overall favorite spirit wear photos.
Home Run Race Day
One of our favorite sports fundraising ideas for baseball teams, this fun event will get the student body active and ready for the season. Charge an entry fee and have prizes at the ready, challenging students to run laps around the baseball diamond. You can structure it as a race, rewarding the first student to finish a certain number of laps. Or structure it like a fun run and have donors pledge for every lap run and collect donations that way.
If you want to mix things up, have certain laps turn into relays, three-legged races, or sack races. Want to beat the heat and have some extra fun while boosting funds? Set up a cooler of water balloons and charge a small fee to buy one and toss it at the runners.
Hoop-a-thon
If you need a high school basketball fundraiser, why not show off the team's dunking prowess with a hoop-a-thon?
Here, you can rally families, friends, the community, and even local businesses to pledge for how many successful baskets a player or group can make within a time limit. Play music at the event, offer concessions, and let the free throws and half-court shots fly!
This is an excellent, easy high school sports team fundraiser idea and a great chance for your basketball team to train and prepare for a big tournament, the start of the season, or through the summer to keep their skills sharp!
Disclaimer: Check athlete amature and eligibility laws in your state to ensure that receiving donations for their school will not count against a student's future eligibility in sports.
Take It to the Next Level
You can set up unique donation tiers to make your hoop-a-thon even more fun. With this, the audience can participate in the fun too. Lower levels can be for song requests or a 'jumbotron' style shoutout that puts them on the mic to deliver their own special message during the event.
Higher donation tiers could be to challenge a player to attempt a shot with their back turned to the net, perfect a trick shot, shoot from a small trampoline, or even try a blindfolded shot (make sure to clear a space for this one, so no one is hurt).
Catalog Sales
Let your team experience the entrepreneurial life with catalog sales! Catalog sales are effective and fun, allowing students to use catalogs filled with enticing products like home goods, gifts, and magazine subscriptions to raise funds for their sports team. For high school students, especially athletes who have a lot to focus on already, picking one item to sell instead of having a whole catalog to thumb through will save time; it'll also help them perfect their sales pitches for that single product.
Athletes' families are encouraged to share their catalog or product links online, taking their catalog sales to the web, allowing easy online shopping. When parents share their links on social media and through text messages to their extended family, friends, and communities, they'll help increase the overall reach of their fundraising campaign.
This is the perfect high school sports fundraising idea because it creates a win-win situation for everyone. Friends and family get to shop for high-quality gifts and housewares, and students get to raise funds for their teams!
Take It to the Next Level
Plan your catalog sales around major gift-giving holidays! People will already have their eyes out for great gifts, meaning they'll be more inclined to donate. Plus, if they buy wrapping paper along with their purchase, the catalog sale becomes their one-stop holiday shop!
Discount Cards
Pair with local businesses for your next high school sports team fundraiser by selling discount cards! With this fundraiser idea, donors can help out their high school sports teams while supporting a local small business. These books usually have dozens of enticing coupons that students, parents, and the community alike will be wild about - and the businesses will love the chance to welcome in new shoppers!
As far as sports team fundraisers go, this one is a winner! With coupons that will last all year long, donors will be excited to shop local stores, try new restaurants and save a little money while they're at it!
Take It to the Next Level
Reach out to the participating establishments and ask them to promote the discount card in their shops or on their websites. This way, the reach of this fundraising campaign will extend beyond who the students themselves will be able to get in touch with. It creates a circle of mutual support that strong communities are built on!
Get Your Head in the Game with Booster
If there's one thing that high school sports teams know how to do, it's work together toward a common goal. When everyone has all hands on deck to get their high school sports team fundraiser across the finish line, the end result will be even more satisfying!
Celebrate a win on and off the field by pairing with Booster for your next high school sports fundraising idea. Contact us today to learn how you can bring home the fundraising championship with Booster's fundraising technology and experienced fundraising coaches.
High School Sports Fundraising FAQ
Why should you fundraise for high school sports?
High school fundraisers for sports teams can open up a ton of new opportunities. Not only does it help raise funds for travel, new equipment and exciting opportunities, but also sports team fundraising can build teamwork, enhance family involvement and teach important leadership skills.
How do you fundraise for a sports team?
There are a lot of ways to raise funds for a high school sports team. The three most common ways are through direct donations, sales fundraisers and through hosting a fundraising event. Fundraiser ideas for sports teams are as varied as the teams themselves - take time to think about what might work best for you!
How do you raise money for sports quickly?
One of the fastest ways to raise money for high school sports teams is through a direct donation fundraiser. They're quick and easy to set up, easy to share and easy for donors to give to!
Back to All Articles