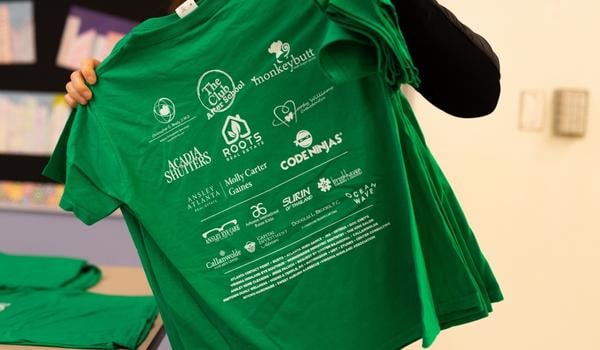 5 Tips to Get Business Sponsors for Your School's Field Day
Finding sponsors is one of the best ways to help fund special events at your school, like Field Day! And with the end of the year fast approaching, we created a guide to help you get started.
In this blog, you'll learn more about:
Let's be honest—sponsorships can be intimidating at first. But if you reframe them as a "win-win" for both your school and local businesses, they become much more approachable. Sponsorships not only help you fund amazing school-wide events but also provide key businesses in your community the opportunity to support education by investing in your school.
If you've been on the fence about moving forward with sponsorships, these four tips for securing business sponsors are for you!
1. Determine your fundraising goal
Before you start recruiting, you need to set a goal. Your fundraising goal will help determine how many sponsors you should pursue as well as your sponsorship tiers.
2. Form a team
The old saying is true, "Many hands makes light work." When it comes to sponsorships, don't try to shoulder the load by yourself! Recruit a few volunteers from your school's parent organization to help you find local sponsors. That way you can save time and maximize your chances of success!
3. Brainstorm potential sponsors
With your team, brainstorm a list of potential business sponsors in your community. Don't forget you can reach out to parents to see if their business or company would like to sponsor! Use your school's social channels, school newsletter, or room parents to get the message out. Click here to see the most common types of business sponsors.
4. Create sponsorship packages
For the best experience, it's important to provide potential sponsors with all the information they need to make a decision. What are they agreeing to sponsor? When is the deadline? Are there varied sponsorship options for them? What does a sponsorship include? Most sponsors will like to see a preview of the shirt. The clearer the sponsorship package, the more confident sponsors will be to support your school. If this feels overwhelming, don't worry—use our customizable sponsorship flyer to get started!
A great way to sweeten the deal for sponsors is to provide some sort of advertisement as a part of the sponsorship package. Displaying business names on the back of your Field Day t-shirt is one of our very favorite ways to say thank you to supportive businesses. We can help you with that too! Get a custom quote on your Field Day merch here.
5. Go get sponsors
It's time for you and your team to go get those sponsors! Depending on your timeline, we suggest recruiting sponsors at least a few weeks, if not months, ahead of your event. This can be an exciting time for your school and can help build momentum for your upcoming event. Pin up your fundraising thermometer in the hallway. Get parents and teachers behind the mission, and go for it!
If your school has never tried sponsorships before, now is a great time. We believe giving local businesses an opportunity to support your event is one of the best ways to create strong ties to your community. And if you need more tips and guidance, check out our Sponsorship Guide. From everyone here at Booster, have an amazing Field Day!
Back to All Articles