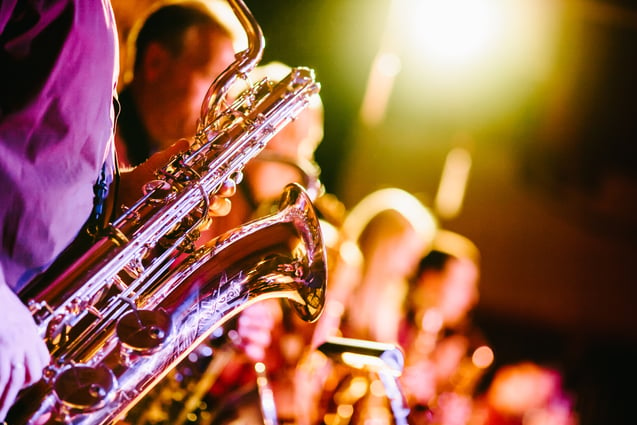 6 Easy Band Fundraisers & Tips for a Successful Event
A high school band fundraiser is a great way for students to raise funds for necessities such as uniforms and transportation or to contribute to a larger school-wide goal. Whether it's selling tickets or products, using an online fundraising platform can help streamline the process so busy students can easily reach out to friends and family and maximize the funds they raise.
In this article you'll learn more about:
And while you can run your entire fundraiser online, high school bands can harness all the great talent they already possess to really make their fundraiser stand out and create a fun and unique experience that will excite the school and community. Read on for six great ways to incorporate music and performance into your next fundraiser—plus tips on how to make sure it's a huge success!
The 6 Best Band Fundraisers for High School
What are some of the best band fundraisers for high school? The key to success is incorporating what the band is all about: music! Here are some of Booster's favorite ideas for high school band fundraisers.
Host a Practice-a-Thon
Similar to a read-a-thon, band members collect pledges for each minute they practice or each piece they play during a designated week. You can also offer a flat donation option for those that would prefer to give a set amount.
Pro Tip: If you have a big band event coming up, schedule your fundraiser for the week before. A practice-a-thon means your band members will be practicing extra; take advantage of that and get them ready for the big day!
Jam at a Battle of the Bands
This is a great band fundraiser that can reach your entire community. Invite local musicians to show off their talents and compete for the title of top local band! From rock to classic, the more variety of music the better. Along with ticket sales you can also create event merchandise such as tumblers or t-shirts to sell before and during the event.
Pro Tip: Participating bands will want a huge turnout as much as you do, so encourage them to help promote the event and sell more tickets! You can even give them suggested social media posts to make it simple and easy.
Sell Discount Cards
Selling discount cards to local businesses is always a great way to raise funds. Donors will love that they are helping a great cause—your band—while also getting tons of deals for their favorite places to eat and shop.
Pro Tip: To really turn up the fun, plan a day for your students to march around local neighborhoods playing music while they go door to door selling!
Tutor Younger Students
Have your band members donate their time to tutor younger students. Consider hosting this band fundraiser over the summer when your students will have spare time and parents are likely looking for activities for their children. This is also a great way to get rising students interested in joining the band!
Pro Tip: Send out sign up sheets before school is out and before parents have booked up their kids' time for the summer. This will also give you plenty of time to plan and organize tutoring sessions.
Organize a Themed Concert
Use your biggest asset and play some music to raise funds! Organize a concert and sell tickets to friends and family. Give your concert a festive theme and plan it around a holiday such as Christmas or Halloween or bring in food and drinks and make it a dinner and a show. Get creative!
Pro Tip: If you choose to host your concert during the holiday shopping season, this is also the perfect time to set up an online store with spirit wear. Your donors will already be in a festive mood and thinking about the upcoming holiday and these items make excellent gifts!
Sell Sponsorships
Reach out to local organizations and businesses and offer to put their logo on a banner, in programs or on uniforms in exchange for donations. This is a great way for these businesses to support their community while also getting valuable marketing opportunities at events your band attends.
Pro Tip: Tier your sponsorships with a higher value placed on more visible options. This will allow you to have multiple sponsors. Use an online platform to set up your sales so it's easy for businesses to browse and purchase.
Tips to Make Your Band Fundraiser a Success
Once you've settled on what type of band fundraiser is the right fit for your school, it's time to start planning! Follow these key steps below and you will be on your way to meeting—and even exceeding—your fundraising goals!
Identify what you are raising your funds for. If you have a specific goal such as new uniforms or transportation, make sure to share this with potential donors!
Make it fun! Your students are more likely to participate if they are excited about your fundraiser. You can add in some friendly competition to get them motivated and offer prizes for set benchmarks.
Use social media and marketing material to spread the word. Provide students and families with digital content that makes it simple and easy for them to share on their own social media pages.
Add on to your band fundraiser! Look for ways to add on to your fundraiser such as selling concessions, carnival games, or raffles that can increase the funds you raise. You can even customize swag specific to your fundraiser to sell!
Take your fundraising efforts online with software such as MyBooster. Not only can you collect donations from anywhere in the world in real time, but this software also makes it simple for families to share their student's personal fundraising page via text, email or on social media.
Finally, always thank your donors after the fundraiser ends. If it was a huge success, your band fundraiser may turn into an annual event and you will want their support again in the future. If you opted to use online fundraising software, this can be done directly from there. Plus—it will help you keep your donor information organized so you can reach out to them when you host another fundraiser.
In conclusion, a high school band fundraiser presents an excellent opportunity to support the growth and development of school music programs while fostering a sense of unity and collaboration within the community.
By organizing unique and engaging events tailored to your school's needs, you can ensure your talented students receive the resources they need to succeed and flourish. Remember, the key to a successful fundraiser lies in creativity, commitment, and effective communication.
Get started now to find out how Booster can strike a chord with your community, and orchestrate a memorable band fundraiser that will resonate deeply with your supporters.
Back to All Articles