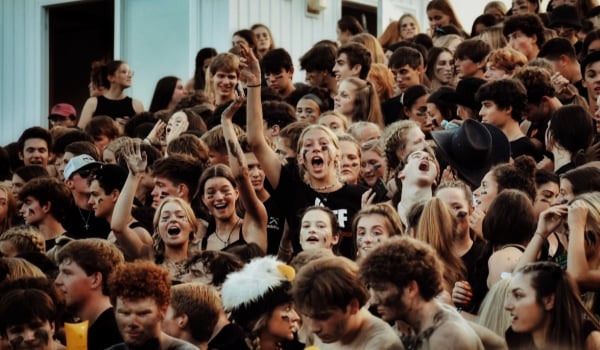 Fundraising Ideas For High School
From the school band, to the football team, to buying fresh textbooks, high schools have a lot of funding needs. Finding the best fundraisers for high schools can be tricky - students are typically much busier at this point in their lives than they were in middle and elementary school. Their schoolwork is more complicated and taxing than ever, they have extracurricular activities paired alongside crucial tests, and they're typically looking to spend their free time away from school.
In this blog, you'll learn more about:
However, teens are creative, innovative, more capable of self-monitoring and organizing, and all around more independent than their younger counterparts. They aren't merely being pulled along with the tide of a fundraising effort like elementary school students will be - most of the time, they'll be able and willing to help with every step of the process.
High school students won't be entertained or engaged the same way a middle or elementary school class will be - they need projects, themes, and ideas that won't talk down to them.
Here, we'll dive into some of our favorite fundraising ideas for high school students, along with how you can plan and execute them to suit your school.
Fundraising Ideas For High Schools
Catalog Sales
Perfect for ROTC, coaches, and performing arts leaders, one of the best fundraising ideas for high school students is to get involved with catalog sales. It's a great way to help students sharpen up their entrepreneurial skills, and for the community to get their hands on some amazing products.
Students will share their catalogs - available in both online and physical formats - with friends, family, and members of their community. From there, they'll pick out all of their favorites from a selection of wrapping paper, greeting cards, unique home goods, popcorn, kitchen storage containers, magazine subscriptions, and more.
This is a tried and true method of high school fundraising. When you partner with Booster for your fundraising needs, we'll help you through each step of the process.
Discount Card Sales
Similar to catalog sales, this is a high school fundraiser that will encourage sales and communication skills. Supporting local businesses is a cause that's on a lot of people's minds - what better way to do that than to help your community save a little money at the same time?
Students sell books full of coupons and discount cards to local spots. Restaurants, shops, and services are all available. These coupons will be detailed as to what they entail and how long they have until expiration. It's a money-saving gift that keeps on giving!
Why It Works For High School
Catalog sales are perfect for sharpening a high school student's communication skills. Learning how to speak with different types of people, from parents to neighbors, about making a purchase can help them find ways to get their points across in an effective and engaging way. Catalog sales as a high school fundraiser will also improve a student's public speaking prowess.
It can also fine-tune early sales skills; high school students will learn how to overcome objections, create a rapport with a customer, and create a convincing sales pitch. This is a skill that could carry them into their first jobs and beyond!
How To Set Up A High School Catalog Sale
Get fired up: When the fundraiser is approaching, get the group you're raising money for excited! Make sure that everyone is clear on what they'll be selling, what the funds will be used for, and what the necessary deadlines are.

Distribute: Make sure all students are armed with their catalogs, order forms, links to the online sales portal, and information before they set off. If there's a school hashtag you're using to promote the sale, make sure everyone knows it!

Collect: Once the sales period is over, collect your sales information. Here, the order processing can begin.
Online Gear Shop
Want to raise money for your high school and bolster up some school spirit at the same time? An online gear shop is a perfect way to get everyone sporting the school logos and colors while funding groups and activities.
It's a simple high school fundraiser, but one that's mega effective. Simply design your gear, set up the shop link, and let anyone who wants to place an order start representing their school, club, sports team, or performing arts group!
Don't have time to sort and ship orders? Booster will give you the freedom to have items shipped right to the buyers, with no intervention needed from you. Or, if you'd like a more hands-on approach, you can have the orders shipped to the school. They'll be packed by order number, meaning you don't need to sort through hundreds of shirts to find the right ones.
Why It Works For High School
Coaches and directors are often bogged down with activities - and the students they manage are often just as busy. They're planning, studying, practicing, and showing off their skills. Occasionally, there's little time for anything else. Online gear shops are a perfect fundraiser for high school students because they've got amazing profit potential while being relatively hands-off.
Besides, students will love repping the teams and clubs they're a part of or support. There's nothing better to wear to the school football game than a shirt that shows exactly who they're rooting for!
As a bonus, tumblers and shirts make for excellent keepsakes to remind them, years down the line, of their fond high school memories.
It's also one of the best easy fundraisers for high school art departments; in the design phase, you can spark some friendly competition by having students create and vote for the best designs to immortalize on their new school spirit gear.
How To Set Up A High School Online Gear Store
Design: It's time to get creative and design your gear. Or, if you're not feeling artsy, Booster's expert design team can lend a hand.




Link: Spread the link to your online gear store around so everyone knows where to shop! Set it up on posters, across social media, and in school announcements.
Rummage Sale
A great spring event for high school funding is a rummage sale fundraiser. It's an excellent way to help students clear out their closets - or find all new favorites. With a rummage sale fundraiser, students are encouraged to gather up old, lightly used items and sell them with the intent of funding their school club, organization, or project.
It's not just 'old junk' up for grabs at a rummage sale. Arts, crafts, and homemade goods will encourage creativity and help young artisans get a taste of the entrepreneurial life.
A rummage sale is flexible, too - you could set it up for a day and allow students to buy from their peers, or invite the community to shop. If it's a community event, the key to success is promotion. One of the best ideas for running a fundraiser includes posting on social media to let everyone know when and where they can expect to find a bargain on used goods or handmade art!


Why It Works For High School
High school seniors bound for a college dorm may be looking to lighten their load, and selling some of their old things for a good cause is the perfect way to do so.
Creative students will enjoy selling their original art or handmade crafts, giving them a boost of confidence and pride when they make a sale.
A rummage sale is also a fantastic high school fundraiser idea because it teaches sales and crucial money-handling skills. It is advised that an adult supervise cash exchanges, but the act of counting out and making change may be beneficial to students whose first jobs are around the corner.
How To Set Up A High School Rummage Sale
Plan: Rent or set up tables if needed to give everyone a place to sell their goods. Be sure to give students ample time to gather and create what they want to sell. You might also need to supply cash boxes for each student. Establish a time, location, and guidelines for the sale - faculty should ensure that the items for sale do not violate school regulations.

Sign up: Students will sign up with an idea of what they will sell and how much to sell their items for.

Collect: Collection can be done over the course of the day, or all at once at the end of the event.
Volunteer-a-Thon
A peer-to-peer fundraising event that not only helps raise money for schools, but will also allow students to engage in their communities meaningfully. Also called serve-a-thons, a volunteer-a-thon fundraiser focuses on one project that a group of students will complete, though the participants can do multiple projects. The fundraising aspect comes from pledges and donations.
Students can aid their environment by cleaning out streams or waterways, pulling weeds, planting flowers, or picking up litter in a park. Your school can also select a charity to help out, either working with underprivileged groups by helping sort and distribute donated food, toys, or toiletries.
Another avenue is by reaching out to a local business. For example, get in contact with an office building and ask if they'd like to trade a donation for a complete cleanup of their space- they'll appreciate it, and it's a sensational way to earn money for the school.
These don't need to be massive acts of philanthropy - though that's not discouraged, either. Donors can pledge $5 for each good deed performed, which can be accumulated in small ways. For example, get a group together to deep clean the gym or vacuum hallways, scrub down the bathrooms or help first-floor windows shine. If minor repairs are needed, get students to hop onboard to get the job done.
Why It Works For High School
A volunteer-a-thon is one of the best fundraisers for high school students who are looking to add volunteer work to their college resumes. It's a win-win-win scenario: the school gets the funding it needs, the community is served, and students get the sense of fulfillment that accompanies doing a bit of good.
Cleaning up classrooms will not only make the lives of the custodians a little easier, but it will also give the student body a sense of pride - if they cleaned those bathrooms, they'd be more likely to keep them that way.
How To Set Up A High School Volunteer Fundraiser
Plan: What kind of volunteer work will the students be doing? Are they reaching out to a charity to clean out a local stream, or will you keep the efforts close to home? If working with an external charity organization, reach out well beforehand to work out the logistics.

Sign up: Reach out to the student body and get everyone involved - the more hands on deck, the better for a volunteer fundraiser.

Collect: Using a fundraising platform, collect pledges toward acts of service from family, or promote the event on social media and earn donations and pledges from the community, too.
Parking Spot Auction
As high school students earn their licenses and gain that new level of freedom, they'll encounter one of the first tiny grievances of adult life: finding a place to park. Parking spots are valuable commodities for students with cars, and auctioning off the best ones can be a great way to earn money for the school.
Spots will be auctioned off to the highest bidder and reserved for that student as the year progresses. For added incentive, allow students to customize their zones with paint and make them truly theirs.
Why It Works For High School
Having their own parking spaces will not only lower the chances of arguments sparked by who stole whose spots, but it will help school spirit and creativity bloom as the winning student personalizes their prize. Students will be more likely to be on time when they're not wandering around the lot to find the best space, too.
Some schools auction parking spaces to parents or grandparents, too. It's super helpful for people who don't want to walk all the way across the parking lot - especially the ones who are constantly at the school for sporting events or performances.
How To Set Up A Parking Spot Auction Fundraiser
Plan: Which spaces are up for grabs? It's vital that ADA-accessible parking spots are left intact for those who need them, and that there is still open space in the lot for everyone else who doesn't win the auction.

Sign up: There's no need for a direct signup list for this fundraiser, but announcing when the auction is taking place and where is a good way to ensure a lot of eager bidders.

Collect: Auction off the available parking spaces - if you'd like to ramp up the excitement, start with spots further away from the entrance and move toward the most desirable ones as the auction rolls on. More desirable spots could include what's close to the door, what has plenty of shade, what's easy to get into, and so on.
Open Mic Night Fundraiser
A grown up version of a talent show that invites teens to show up and sing, act, dance, or even perform a comedy set for their peers. All types of performances are welcome, but this is an excellent fundraiser for high school drama clubs or music groups. Theater groups can perform skits or one-act performances for a night of comedy and fun that everyone can enjoy, or the school band can play renditions of the audience's favorite hits.
Charge tickets and open them up to the community to watch the school's best talent. The audience will be treated to a variety show, and the school will collect ticket sales. Advertise on social media, even letting students create their own ads that will showcase what talents they're bringing to the table.
Why It Works For High School
Creativity is reaching a new peak in adolescence, and students may be turning their sights toward future careers in acting, singing, or music. Performing in front of a crowd could raise their confidence and give them the inspiration they need to chase their dreams. This could also help students foster strong public speaking skills, which may be crucial in their future careers.
How To Set Up A High School Open Mic Night Fundraiser
Plan: What makes this a great high school fundraising idea is the flexible nature of it - these can be held after school, on the weekend, any time of year. If you want to have an overall theme to the open mic night, decide on one that will engage the community the most.

Sign up: Signups and auditions can be run over the course of a few weeks. Once the set list is ready, get the community talking about it through advertisements and announcements.

Collect: Collect your ticket sales through a fundraising app - you can also collect pledges or donations in smaller amounts from people in the community who simply want to sponsor the event.
Get Your High School Fundraiser Started Today with Booster
High school students are getting ready to enter the adult world - their school years will set the stage for how that entrance will go. Through fundraising, students will have the materials and opportunities they need to make the most of their education and enter college and adulthood on the right foot.
With Booster, planning, signup, and collection are made all that much easier. We work with you through each step of the process and help your fundraisers meet their goals - while letting everyone have a lot of fun, too.
Back to All Articles