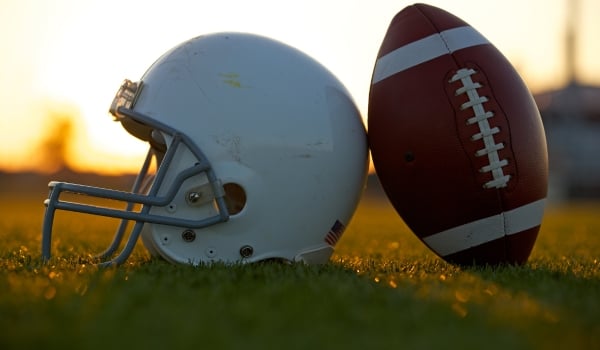 The Best Football Fundraising Ideas for Your School's Team
Having a winning football season comes down to more than just practice—you need money to fund everything from transportation to uniforms. These costs can add up quickly, which is why coming up with football fundraising ideas is essential.
In this blog, you'll learn more about:
The good news is that while football season may only be in the fall, you get to choose when fundraising season is for your team. This way, you have the opportunity to host multiple fundraisers throughout the year to meet your goals. While this may sound like a lot of additional work, when done right, it doesn't have to be.
Your time is valuable, which is why using services and tools offered by Booster can help you save time and raise more funds. Your team members can quickly share your page with friends and family anywhere in the world to maximize your outreach with just a click when you use an online fundraising platform like Booster's.
Our Favorite Football Fundraising Ideas
When hosting multiple fundraisers, you will also want to have variety in what you are selling or offering. This will keep your loyal donors interested and coming back to participate and donate more than once. But don't worry, you don't need to start brainstorming, we've already got you covered here!
Read on for 12 creative football fundraising ideas that will have your team game time ready!
1. Create Sponsorship Opportunities
This football fundraising idea is an excellent way to get your community involved! From field or scoreboard signs to jersey patches, there are lots of opportunities. Reach out to local businesses and organizations and offer them the option to put their logo in designated areas in exchange for a sponsorship of your team.
Tip to Raise Even More: You can also sell touchdown sponsorships, so every time your team scores in a game you also score funds! This is an effortless way to raise steady money during your entire season.
2. Sell Discount Cards
Another great way to involve your local community is to sell a card offering discounts to local places to eat and shop. Donors will love the opportunity to support your team and their favorite local businesses at the same time.
Tip to Raise Even More: Take advantage of the many different ways you can sell your discount cards to maximize sales. For example, you can set up a table at games and ask participating businesses to spread the word as well.
3. Sell Exclusive VIP Seats to Games
Setting up this football fundraising idea is easy! Simply select a group of front row seats and sell special tickets to this reserved seating. Fans will love the opportunity to skip showing up ahead of time to save "good" seats, especially for the big games!
Tip to Raise Even More: Buy or make personalized seat cushions or blankets with your team logo. Include this souvenir as part of the experience and increase your ticket price.
4. Host a Car Wash
The overhead is minimal (just some buckets, soap and sponges) to kick off this football fundraising idea. Pick a date, select a high traffic area and spread the word that team members will be washing cars to raise funds. Not only will this bring in big bucks, but it's also a great team building experience.
Tip To Raise Even More: Use your car wash to promote your VIP ticket sale fundraiser! Host it during the summer months right before the football season begins and hand out flyers or put up a sign with a QR code to purchase tickets for upcoming games.
5. Have an Online Spirit Gear Sale
Personalize everything from tumblers to sweatshirts with your team or school logo. Athletes can easily share the link to purchase with friends and family on social media or via text or email.
Tip to Raise Even More: Organize your sale ahead of your biggest game, giving enough lead time for customers to order and receive their items before game day. Ask your school to designate the day of the big game "Spirit Day" to show support for your team. This will encourage families and students to purchase gear!
6. Collect Pledges for Touchdowns
Give a pledge fundraiser a football fundraising twist! Instead of counting laps like a run-a-thon, ask donors to make pledges on how many touchdowns your team will score during the season.
This football fundraising idea will not only raise funds for your team, but it's also a great motivator for your athletes. Set some goals for your season and have fun!
Tip To Raise Even More: Use online fundraising software so your athletes can easily share their personalized fundraising pages with friends and family. You can also put up signs at games with QR codes to your fundraising page so fans can join in the fun!
7. Host a Restaurant Spirit Night
Reach out to local restaurants to see if they would be willing to donate a percentage of proceeds on a designated spirit night. Then get the word out to your community to eat at that restaurant to support your team.
Tip to Raise Even More: If possible, choose a restaurant that offers both dine in and take out options to make it even easier for busy families to support your fundraisers. Have team members wait tables to give the community a chance to meet them and see them giving back.
Make sure to be strategic with choosing a day and time for this football fundraising idea.Choose a night people are more likely to eat out and make sure it doesn't compete with other school activities so you have a steady flow of customers.
8. Set Up a Hot Cocoa/Coffee and Snack Table
As the season progresses, game nights can get chilly and your fans will love the opportunity to purchase a piping hot drink and tasty snack. Recruit student fans to man the table in shifts so they can still enjoy cheering on the team.
Tip to Raise Even More: Create custom team tumblers to sell alongside your warm beverages. You can even offer free refills for those that purchase this upgrade.
9. Game Day Raffles
Put out a call to local businesses for donations and then sell raffle tickets at the beginning of your games. If you can collect enough donated goods and services you can repeat this fundraiser at each game.
Tip To Raise Even More: Throw in a few donations from your team as well. If you have an online spirit wear shop, you can add gear from that. Remind fans that if they didn't win the item but still want it they should visit your online store and you can drive up sales there too!
10. Lend a Helping Hand
Set up a sale where donors can purchase hours for athletes to help with chores such as mowing the lawn or helping to move heavy items. This football fundraising idea may be a better option for off season when your athletes have more spare time. You can always sell the hours during football season and have them redeemable after the season ends.
Tip to Raise More: If you have some athletes that feel confident babysitting, add in this service too. Younger kids will LOVE that a member of the football team is hanging out with them!
11. Have an Online Shopping Catalog Sale
This is a simple and effective way to raise funds. Booster offers a huge variety of items with their online shopping catalog, so there's something for everyone. With minimal effort, athletes can share their online store on social media and through text and email.
Tip To Raise More: If you organize your sale around the holidays, your donors are already planning on spending money on gifts for loved ones. With your sale, they can purchase these gifts through your football team, getting what they already need and supporting a great cause!
12. Arrange an Alumni Event
Tap into some of your biggest fans and host a special night for alumni. This could be a dinner or a game dedicated to them with an exclusive roped off section. You can get as creative as you want on this one!
Tip to Raise More: Create a database for your alumni so you can easily reach them year after year and repeat this football fundraising idea.
Booster Can Make These Football Fundraising Ideas a Win
While running a high school football team can be expensive, there are so many great football fundraising ideas that can help offset your costs. Simply choose what fits your team and schedule best. Then, map out your football fundraising efforts for the upcoming year to take advantage of as many opportunities as possible.
Remember to utilize online fundraising software and other services offered by Booster to minimize the amount of time your busy athletes need to spend on each fundraiser, while maximizing the funds you raise.
Your high school football team is a huge part of your school and community. Your team provides comradery and entertainment throughout the season. Students, friends and family all enjoy coming together to cheer your team on and be a part of the excitement. These fans want to see you succeed and will support you!
Learn more about our high school fundraising options and how Booster can help make your next fundraiser a win!
Back to All Articles