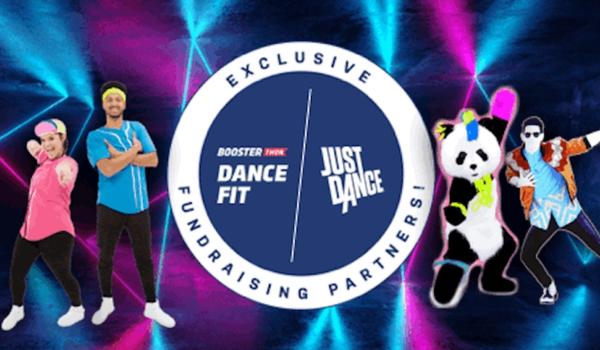 Introducing Dance Fit—Booster's Newest Fitness Fundraiser | Booster
Originally famous for the Boosterthon Fun Run, over the last several years, Boosterthon has added Glow Runs, Color Runs, Obstacle Challenges, Splash and Dash and now, our newest fundraising event option for schools to raise more funds and have more fun doing it is called DanceFit!
DanceFit is an incredibly fun, fitness and dance event, where students dance, move, and exercise for 35 minutes. Students are led virtually or in-person by Boosterthon's enthusiastic instructors as students dance along to group dances and participate in fitness activities.
What takes this fundraising event to the next level is that Booster officially partnered with Just Dance—the worldwide dance sensation game—to make DanceFit even more interactive for students. Just Dance combines kid-safe hit music, with choreographed dances that teaches and challenge dancers to match every step. Combine that with Booster's enthusiastic, fun and engaging team members, and it's an experience schools can't find anywhere else.
Catey Nossi, Principal of Wanda Hirsch Elementary in California, just finished her school's virtual DanceFit program.
"Kids love Just Dance! And the event had great music and great activities. They loved it. Most of our teachers were dancing the whole time. It was a lot of fun! We can't wait to do it next year in-person."
Many schools are looking to engage their students and rally their community even more this year, since remote learning, A/B schedules, and masks have made the start school more difficult. "We've lost tens of thousands of dollars from our budget this year," Catey said. "We needed these funds to support remote learning. Booster is probably the easiest way to raise funds in a short amount of time. This will be our only fundraiser this year." Wand Hirsch Elementary exceeded their fundraising goal by over $1,000.
For schools looking to freshen up their Fun Run, or think that a virtual DanceFit would be a great option for students who are learning at home, we'd love to help you raise essential funds this important year through a fun program that includes every student, no matter where they are learning.
Back to All Articles