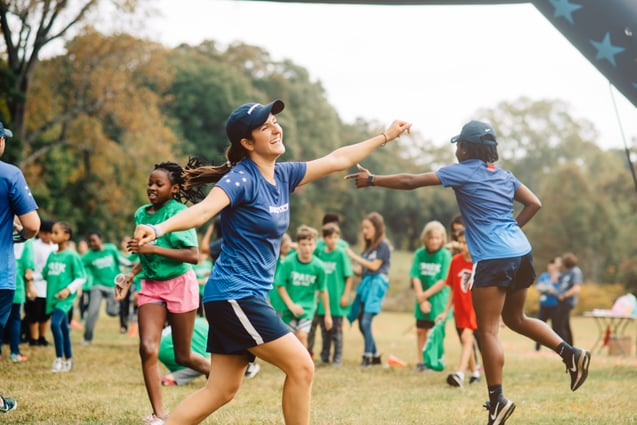 How to set up a Fun Run or Dance Fit Fundraiser
How do I set up a fun run fundraiser? What type of space works best? How are they the same? How are they different? What? When? Where? Why—AH!
In this blog, you'll learn more about:
If you are new to school fundraising, you might have a lot of questions before getting started. You may be wondering if a Fun Run is the best type of fundraiser for your school or if a Dance Fit would work better. Or what even is a Dance Fit how to set up a fun run fundraiser
This blog tackles all these hard questions and more! Get a thorough comparison between a Fun Run and Dance Fit school fundraiser and gain the clarity you need to choose the right fundraiser event for your coming school year!
The Best Space for a Fun Run or Dance Fit
For both a Fun Run and Dance Fit event you want to think through your school's situation and what type of space best suits each event. For example, if your school does not have an outdoor space, then choosing an indoor event like Dance Fit might be a great idea for you. If you live in New England and your fundraiser is in September, then an outdoor Fun Run might be a beautiful choice for you!
My School has a Large Outdoor Space
The Fun Run, while it can be done in an indoor gymnasium, traditionally is done outside where the entire school, parents, and community can congregate together for a fantastic outdoor community event. You will want a large enough space for approximately 30 laps to be completed, but these don't have to be done on an Olympic-size track. Think about what fits within your unique space and landscape.
My School has an Indoor Gymnasium
Great! You can do either an indoor or outdoor fundraiser with the flexibility to flip-flop at the last minute depending on weather. Dance Fit and Fun Runs work perfectly in indoor gyms.
If you want to give your indoor fun run something special, consider a Glow Run. It's amazing what a few glow lights, err…well a LOT of glow lights will do.
Fun Fact: Dance Fit was originally created to serve schools who couldn't do an outdoor event because of weather or space limitations. This makes it the perfect indoor option!
My School just has Classrooms
Sometimes a school thinks they need a massive space and everyone together to foster that exciting celebration feeling. And while being together like this naturally creates a grand community vibe, don't dismiss the bonding experience one classroom can produce.
For schools who prefer to keep their event to each individual classroom, Dance Fit is a great option. For these types of classroom fundraisers, talk to your Booster Representative on how their team can show up and make these events more memorable than ever.
Setting-Up for a Fun Run or Dance Fit
Now you know what works best based on space Next, let's look at how to set up for a fun run fundraiser and a dance fit fundraiser.
Here's a checklist of what you'll need to set up a fun run or dance fit fundraiser. And for a more detailed guide to setting up your event, check out Setting up a Glow Run or Fun Run in Five Easy Steps.
How to Set up a Fun Run Fundraiser Checklist:
Pick a Location:

Outdoor field or grassy area

Outdoor track

Asphalt playground space

Indoor gymnasium

Gather Technology:

Sound system for music

One mic set up or megaphone for announcements

Speakers

Cords

Create Decoration List:

Balloons

Banners

Inflatables arches or pillars

Theme decorations

Glow sticks and lights (if you're doing a Glow Run)

Gather Equipment List:

Cones

Sharpies

Tape

Paper

Running bibs

Tables for water station

Water coolers and dispensers

Water Cups

Something for starting mark and ending like a long ribbon

Some sort of starting horn or whistle

Recruit for Key Volunteer Position(s):

Water station

Lap trackers

Set up/tear down

MC (or

Booster team

)
How to Set up a Dance Fit Fundraiser Checklist
Pick a Location:

Indoor gymnasium

Classrooms

At home

Gather Technology:

Video streaming capacity (or

Booster Dance Fit

)

Computers

Sound system connected to streaming

One mic setup if event is in gymnasium

Create Decoration List: (none to minimal) Turning off lights and putting on the film is sufficient enough but you could add:

Balloons

Colored lights

Glow sticks

Gather Equipment List:

Water station tables

Water cups

Water cooler and dispenser

MC table

Tape on ground to mark space

Recruit Key Volunteer Position(s):

MC if held in gymnasium

Set-up/tear down (or

Booster team

)

Water station
During the Fun
When thinking of how to set up a Fun Run fundraiser for your school, keep in mind the timeframe the school is giving you to work within. This may impact whether you choose a Fun Run or Dance Fit for your school.
Duration of a Fun Run Event
The length of time for a Fun Run is based on laps. The running component of the event can last about half an hour plus the hype before and after. So you could be looking at a fundraising event that lasts about an hour, but it could be more or less.
During a Dance Fit Event
The duration of a Dance Fit event is based on minutes danced. So Dance Fit will have a clearer stop time. If you work with Booster, students will do a total of 35 minutes of dance broken up into seven rounds with a short water break in between each round.
So if your school gets through the entire film you are talking about 40 minutes including breaks. Dance Fit works really well with schools who have a tighter timeframe and can't take as much school time for a fundraiser.
After a Fun Run or Dance Fit Fundraiser
The aftermath of a Booster Fun Run or Dance Fit, is notoriously the same – enthusiastic excitement from everyone, donation collections coming in via Booster Tech, and prizes galore for students. But don't just take our word for it, hear from this amazing school who has worked with Booster for over 11 years!
With Booster, you'll always know how to set up a Fun Run fundraiser or Dance Fit and have everything you need for school fundraising success! Chat with a school fundraising expert to find the perfect fit for your school today!
Back to All Articles