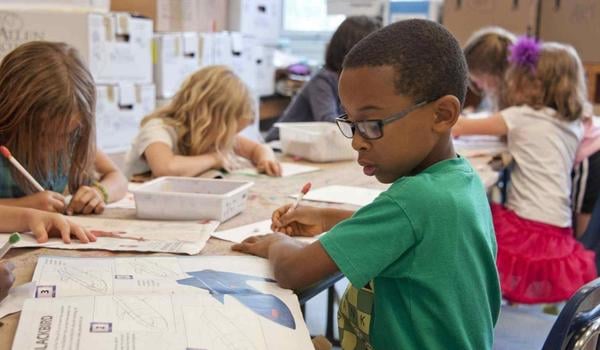 School Fundraising in 2023: An Ultimate Guide
If you work in a school or have school-aged kids, then you understand the importance of fundraising. The benefits of school fundraising go well beyond supplementing the school's budget for things like field trips, enrichment programs, and facility upgrades.
In this blog, you'll learn more about:
When done right, school fundraisers also strengthen the bond between schools, families, and the larger community, all while bringing in essential funds. Plus, when planned correctly, school fundraisers can be downright fun!
However, school fundraising can also be a major challenge when you don't know where to turn. Successful fundraising takes a lot of planning, resources, communication, and buy-in from parents and community members. It can be overwhelming, especially for those new to school fundraising.
At Booster, we've spent 20 years in the field, building a wealth of expertise about what kind of school fundraisers can bring the most success to your school community. We've reached out to the school fundraising experts on our staff and compiled their expertise into this comprehensive guide.
Keep reading to learn more about why school fundraising matters, our favorite school fundraising ideas, and some tips and best practices for how to do a school fundraiser.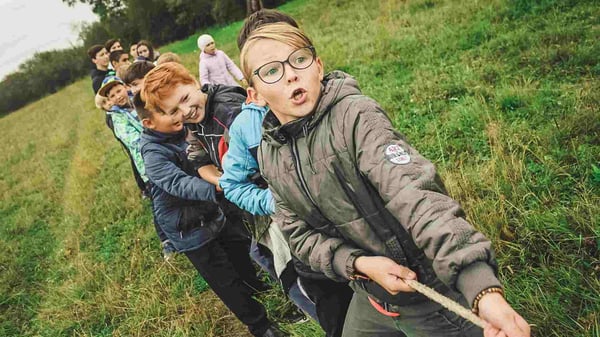 What are the best school fundraisers?
There is a wide range of types of school fundraisers to choose from, from hands-on event-based fundraisers to fundraisers that are more hands-off. Every kind of school fundraiser comes with its own strengths and challenges in terms of how to plan for it, how much volunteer power is needed, how long it will take to implement, and how much money it is likely to raise.
Some school fundraisers can be accomplished with a hands-off approach, while others require careful management at every step. What works best for one school or fundraising organization might not work as well for another. Each school should assess its needs and assets carefully when considering the best school fundraisers. The best approach to school fundraising usually involves a combination of different types of fundraisers, such as one-time events and ongoing campaigns, throughout the year.
Below are some of the most popular school fundraising ideas, along with their pros and cons and tips for pulling it off at your school!
A-Thon School Fundraiser Ideas
Learn about how each "a-thon" school fundraiser works below!
Fun Run/Jog-a-Thon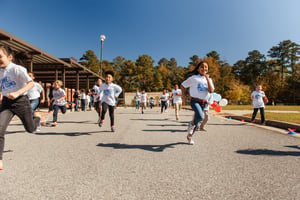 Effort: Medium
Cost: Low
Potential profit: High
Grade levels: Elementary school, middle school, high school
Fun runs and jog-a-thons are among the most popular fundraisers across many sectors, not just schools. One of the strengths of this type of fundraiser is that it centers on physical fitness. Participants get the chance to be outdoors and active in a fun, non-competitive setting.
Because these events center on physical activity, organizers need to take extra precautions to protect the safety of participants.
Fun runs and other physical activities also require space. You'll need to carefully plan for the location of your event. Will it be held on school grounds, or will you need to get permits to hold the event off-campus? If you want to keep costs low, it's a good idea to use school property such as a track or sports field.
Finally, you'll need to make sure you have enough volunteers on hand the day of the event, including people to set up, supervise, and tear down any physical materials. Boosterthon programs can provide plenty of helping hands, plus the MyBooster fundraising platform makes donation tracking and collection easy. Booster also offers unique variations on the Fun Run such as a Color Run or the indoor Glow Run.
Tip: Have participants wear custom shirts for the event to boost excitement!
Walk-a-Thon
Effort: Medium
Cost: Low
Profit: High
Grade levels: Elementary school, middle school, high school
Walk-a-thons work the same as fun runs. Donors pledge a certain amount per distance walked by participants. Walk-a-thons also promise the same physical benefits and fun for participants, as well as similar considerations such as picking an appropriate location and planning for safety.
Always remember to promote your event ahead of time and drum up excitement by having participants wear custom swag, like t-shirts or hats.
Tip: Consider tacking on extra incentives for participation beyond just raising funds for the school. One idea is to offer cool prizes for the longest distance walked like gift cards or gadgets. Or do a principal challenge in which the school principal promises to do something silly or outrageous - like getting pies thrown at them - if a certain distance is walked or amount of money is raised.
Read-a-Thon
Effort: Low
Cost: Low
Profit: High
Grade levels: Elementary school, middle school, high school
Why not kill two birds with one stone by raising funds while encouraging students to foster a love of reading? Like other a-thon school fundraisers, donors pledge to donate a certain amount per books or pages read by participating students. Unlike physical events, you don't need a big outdoor space and can organize a read-a-thon with less effort and volunteer power.
A read-a-thon provides lots of opportunities for extra profits. During the read-a-thon, auction off the latest book series kids are excited about, or hold a raffle with prizes such as new books, kindles, reading lights, bookmarks, and more. You can sell snacks and drinks like cookies, crackers, fruit, and hot chocolate too. Or design special spirit wear for the event and sell, auction, or raffle it off during the event.
Tip: Add a bonus incentive by injecting a little friendly competition into the event. Offer a prize such as a pizza party or pancake breakfast to the grade level that reads/raises the most!
Dance Fit/Dance-a-Thon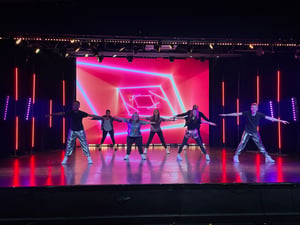 Effort: Low
Cost: Low
Profit: High
Grade level: Elementary school, middle school
Here's another super fun way to let students take the lead on school fundraising. With a dance-a-thon, donors pledge a certain amount per time danced. Your school likely already has a perfect location for the event, such as the cafeteria, making this a fairly low-cost option.
Just grab or rent some sound equipment, set up an exciting playlist, and let the dancing begin! This is an especially good event for students in elementary school and middle school.
Tip: Take your dance-a-thon up a notch by adding the Dance Fit program. Boosterthon's Dance Fit, developed in partnership with the popular game Just Dance, incorporates high energy music and a super fun dance routine into your event. You also get access to the MyBooster platform, making tracking and collecting donations even smoother.
Bowl-a-Thon
Effort: Low
Cost: Variable
Profit: High
Grade level: Elementary school, middle school, high school
Why not move your a-thon school fundraiser to the local bowling alley? This is a great fundraiser for any grade level. Partner with a local bowling alley for the night or afternoon and invite donors to come and raise money for your school while engaging in a little friendly competition - and a lot of fun!
There are a few options for how to structure donations. You could structure your event like a restaurant night, where the bowling alley agrees to donate a percentage of profits from the night to your school. You can also boost profits by adding a raffle or selling custom shirts for your event.
Tip: If possible, choose a bowling alley that has extra activities like arcade games.
Community Dog Walk
Effort: Medium
Cost: Low
Profit: High
Grade level: Elementary school, middle school, high school
Walk-a-thons are great, but dog walks are even better! With a community dog walk, you can structure donations like a walk-a-thon in which donors pledge an amount to donate per mile or minute. Except this time walkers get to bring their furry friends along! You can even partner with a local animal shelter and encourage participants and donors to adopt a new family pet.
Tip: Raffle off dog-friendly prizes like gift cards to the pet store or dog groomer, dog toys, harnesses, and more.
Clean-a-Thon
Effort: Medium
Cost: Medium
Profit: High
Grade level: Elementary school, middle school, high school
Similar to the other community-focused school fundraisers on this list, a clean-a-thon is a great way for your school to get involved with the local community. Reach out to local restaurants, offices, clothing stores, and other businesses to see if any of them would like to participate.
The premise is simple: students clean up their place of business for a fee, which increases as the size of the space increases. You can also avoid discussing a fee and instead ask for donations!
Tip: To keep this school fundraiser as safe as possible, limit the cleaning supplies to all-natural products. If possible, avoid cleaning spaces with expensive office equipment or other things students may accidentally break.
Can-a-Thon
Effort: Low
Cost: Low
Profit: Medium
Grade level: Elementary school, middle school, high school
This is the perfect school fundraiser for the autumn months, as the collected canned goods can be donated to a local charity or food drive that may already be putting on a Thanksgiving food drive. Parents, friends, and family members of your students can pledge a certain amount per can (anywhere from 1 cent to $1 or more!) and once the cans are added up the donations are tallied and collected.
Tip: Although fall is a great season for this, this school fundraiser can take place any time of year. Make sure to collect non-perishables and to check the expiration dates before donating the cans to charity.
Low-Effort School Fundraising Ideas
Sponsorship/Advertisements
Learn about how each low-effort school fundraiser works below!
Text-to-Give
Effort: Low
Cost: Low
Profit: High
Grade level: Elementary school, middle school, high school
This is hands down one of the easiest ways to raise money. Simply set up a text-to-give phone number and choose an easy keyword like "give." Donors text the word to the number, confirm the amount of their donation, and voila! It's quick and easy for everyone involved.
To make the most of this type of school fundraiser, promote it like crazy and consider adding incentives such as a principal challenge if a certain amount is raised.
Tip: This type of fundraiser is best for a specific school fundraising goal. Let donors know what the money will be used for such as playground renovations or new computers.
Corporate Gift Matching
Effort: Low
Cost: Low
Profit: High
Grade level: Elementary school, middle school, high school
Corporate matching is one of the easiest and sadly underutilized school fundraising idea. With this school fundraising option, when an employee donates to an organization, their employer matches that donation with a donation of their own. Donation matching ratios vary depending on the company from 1:1 to 2, 3, and even 4 times the amount an employee donates.
You can research companies in your area that participate in gift matching and make sure parents and community members know if their employer participates. Use social media, email, newsletters, and more to encourage parents to find out if their company will match donations to your school.
Tip: The easiest way to increase corporate matching for your school is with donation technology like Booster Tech that will integrate corporate matching into the donor checkout process. Donors can easily search right on the checkout page to see if their company will match their donation.
Raffle
Effort: Low
Cost: Low
Profit: High
Grade levels: Elementary school, middle school, high school
Raffles are the perfect low-effort school fundraiser for any grade level. One of the best ways to use a raffle is as an add-on to another school fundraiser such as a talent show, school carnival, restaurant night, or other event.
The most important aspect of a raffle school fundraiser is the prizes you offer to donors. You want to give people an incentive to buy tickets, so give them prizes to get excited about! Gift cards, gadgets, and unique experiences are all good ideas.
Tip: To keep costs low, have local businesses donate enticing prizes.
Crowdfunding
Effort: Low
Cost: Low
Profit: High
Grade levels: Elementary school, middle school, high school
Crowdfunding has exploded in popularity and can be a great school fundraising idea. This is because crowdfunding works by collecting relatively small donations from large numbers of donors. Since crowdfunding typically happens online, the potential reach is much higher than an in-person event.
One of the most important factors in the success of a crowdfunding campaign is the platform you use to host and share the school fundraiser. Countless websites and platforms exist to help the public set up crowdfunding for all kinds of purposes beyond schools, so it's important to consider the pros and cons of each.
Some schools may want to use a platform specifically designed for school fundraisers such as Booster Tech to streamline and enrich the pledge process.
Tip: Use crowdfunding for specific projects rather than general funding. Donors are more likely to pledge when they know exactly where their money is going.
Spirit Gear Store
Effort: Low
Cost: Medium
Profit: High
Grade levels: Elementary school, middle school, high school
School spirit gear is one of the best ways to raise funds for schools and classrooms since participants get something in return for their contribution. Selling shirts and other spirit gear featuring school colors and fun designs allows parents and community members to show off their support.
Booster makes selling spirit wear easy by setting up your online school store for you, designing your items, processing and shipping orders, and making sure you don't pay for leftover inventory.
Tip: To create a constant stream of funds, have a fresh spirit gear store at multiple times throughout the year. Booster can design special items like t-shirts, sweatshirts, mugs, Yetis, totes and more around certain events from back-to-school and teacher gifts to holiday shops, graduation and more. Check out this calendar for inspiration.
Donations Page
Effort: Low
Cost: Low
Profit: High
Grade levels: Elementary school, middle school, high school
There's nothing easier than setting up a donations page online and letting the donations roll in. It's something you can have up in the background and make money without even thinking about it. Just make sure the page is well-designed with clear descriptions, easy navigation and a secure, private way to donate. Online school fundraising platforms like MyBooster make this easy.
Tip: Include links to your donation page on all your school fundraising promotions, plus school newsletters, your school website, and anywhere else parents and community members might find you.
Sponsorships/Advertisements
Effort: Low
Cost: Low
Profit: High
Grade levels: Elementary school, middle school, high school
Newspapers and magazines have always made money by selling ad space to businesses that want to advertise in their publications. Schools can do the same thing!
Talk to local businesses about whether they'd like to place their logo or advertisements on your event flyers, spirit gear, or other promotional materials. Ad revenue is a great, easy way to collect funds without much effort while also strengthening your bonds with businesses around town.
Tip: Keep in contact with businesses that place ads. These relationships can be mutually beneficial over many years.
Box Tops Campaign
Effort: Low
Cost: Low
Profit: Variable
Grade levels: Elementary school, middle school, high school
The Box Tops for Education program has been helping schools raise funds for many years. Traditionally, schools enroll in a Box Tops campaign to receive ten cents for every participating product shopper's buy.
Now they've adapted to the digital age by allowing shoppers to scan their receipts with an app or submit digital receipts rather than saving and sending in physical Box Top labels. A Box Tops campaign is an easy, convenient way to supplement your school's budget with virtually no planning or work required beyond the initial enrollment stage.
Tip: Promote your Box Tops campaign as much as possible. Families can't participate unless they're aware of it!
Fill-the-Jar Game
Effort: Low
Cost: Low
Profit: Medium
Grade levels: Elementary school, middle school, high school
This is a great hands-off school fundraiser that can either take place across an extended period of time OR be done in conjunction with another school fundraising idea on this list.
Grab a clear jar of any size, although the bigger the jar the more noticeable it'll be. Place it in a location at school that gets a lot of foot traffic (ex: main office) and fill it with an item. Jelly beans are a traditional favorite but the sky's the limit! Students and parents can purchase guesses and the closest guess wins the jar or a special prize.
Tip: Fill the jar with items that are meaningful to your school or specific to the goal of the school fundraiser. For example, if you're raising funds for playground equipment, fill the jar with something that's on theme.
Event School Fundraiser Ideas
Learn about how each event school fundraiser works below!
Auction
Effort: Low
Cost: Variable
Profit: High
Grade levels: Elementary school, middle school, high school
Charity auctions are another tried-and-true school fundraising idea that works great! With this type of fundraiser, schools auction off donated items or experiences using the participants' bids to supplement the school's budget.
An auction night can help schools raise a lot of money at once while also providing a fun experience for guests (i.e., parents and community members). Schools can choose to host live auctions or silent auctions in which bidders use bidding sheets or apps to make bids.
One advantage of this school fundraising idea is that auctions can easily be adapted to a virtual format, so you don't have to worry about finding a space to host the event. Organizations can also choose to implement auction software at a live event to make the process more efficient and convenient.
The biggest challenge of hosting an auction for school fundraising is making sure the items or experiences you're auctioning are enticing enough to get significant bids. If you're hosting a live event, you'll need lots of resources to both plan and host the event, including finding an auctioneer. Finally, if any part of your auction will occur online, you'll need to choose the right software and carefully check all technical equipment to make sure the event runs smoothly.
Tip: Pick a theme for the auction to get guests excited and to tie together your prizes, activities, refreshments, and decorations with a fun, cohesive concept.
Bake Sale
Effort: Medium
Cost: Low
Profit: Variable
Grade levels: Elementary school, middle school, high school
Bake sales have long been one of the most popular school fundraising ideas for schools because, like auctions, they rely on donated products. Bake sales work by having volunteers - usually parents or other community members - provide baked goods to be sold at a community event. A bake sale can be a great opportunity for community bonding and everyone loves a good brownie or cookie.
There are several important considerations to make when planning a school bake sale. You'll need to organize a sign-up and provide clear guidance on what kind of baked goods you need so you end up with a good amount and variety.
You'll also need to staff the event and carefully plan your location. You'll need to check your local health codes to make sure your bake sale doesn't break any laws or make anyone sick.
Tip: Offering other refreshments besides baked goods is a great way to boost profits. Some great, low-budget options are coffee, lemonade or water.
Book Sale
Effort: Low
Cost: Low
Profit: High
Grade levels: Elementary school, middle school, high school
A book sale is an awesome way to do some spring cleaning, encourage literacy, and benefit the community while raising money for your school. Have school families donate books that are in good condition. Then sell them to community members as a school fundraiser.
To make sales go smoothly, organize books by reading level (children's books, YA, etc.), genre, and language if necessary. You can also boost profits by selling refreshments like coffee or lemonade.
Tip: Design custom bookmarks or book labels using your school logo and sell them at the event!
Restaurant Night
Effort: Low
Cost: Low
Profit: High
Grade levels: Elementary school, middle school, high school
Restaurant nights are a great school fundraising idea for bringing people together and involving the community while raising a lot of money for your school. These school fundraising events - also called dine-to-donate, restaurant give-back nights or spirit nights - work by having a group of people dine at a restaurant on the same night. Then the restaurant donates a portion of the proceeds to support the school fundraising goal.
There are countless restaurants that will partner with schools to host such events. Some schools establish long-standing relationships with restaurants to host these events annually or multiple times per year.
Tip: Make sure the restaurant you partner with is popular enough in the community. You won't raise much money if no one wants to eat there!
Movie Night
Effort: Low
Cost: Low
Profit: High
Grade levels: Elementary school, middle school
Who wouldn't love a night out to watch a movie with family and friends? This is a super fun school fundraising idea with lots of flexibility depending on your budget and resources.
You can keep costs low by screening a film in your school auditorium or gym, or you may even want to rent out a local theater for the night if you have the funds. Just make sure to choose the movie carefully. Since the audience will likely contain young people, it should be family-friendly and popular enough that people will want to buy tickets!
Tip: Maximize funds by selling concessions like popcorn, candy and drinks.
Talent Show
Effort: Medium
Cost: Low
Profit: High
Grade levels: Middle school, high school
A talent show is a great way for older students to show off their skills and explore their creativity while helping raise money for their school. This type of school fundraiser takes careful planning but with enough volunteers and time it can really pay off. Reach out to school groups like student government for extra help and participants!
Organizing a talent show requires a lot of prep time so students can prepare and practice their routines. You'll also need to create a clear schedule for the big night so each routine goes smoothly. Post sign-ups early and consider letting students sign up through an online form to keep things easy.
Remember to clearly explain any limitations or restrictions to student performances and get as much information as possible on what kinds of equipment students will provide or require for their routines. Also, decide if you want to hold auditions to review routines before the show.
To make this a great school fundraiser, sell tickets to the event. Also, consider selling concessions and merchandise for extra profit.
Tip: Plan your talent show around other major fundraising events to ensure people will be able to attend and donate.
Karaoke Night
Effort: Low
Cost: Low
Profit: High
Grade levels: Middle school, high school
This is another great way to allow students to let loose and show off their talents while raising money for your school. You can keep costs low by renting equipment and hosting the event on your campus.
Choose songs that are fun and popular but somewhat school-friendly. Sell tickets to your event and make sure to promote it like crazy!
Tip: Make extra funds by allowing participants to "bid" to sing certain songs. Make a list of popular songs people will be motivated to pay for. You can request bids for every song and have tiered pricing depending on the song, or you can have some free songs and a few extra special ones available for bidding.
Pajama Day
Effort: Low
Cost: Low
Profit: Variable
Grade levels: Elementary school, middle school
A pajama day lets people relax and get comfy in a way they usually don't get to at school. It's also a super flexible fundraiser you can customize in a million ways. The basic formula is that students get sponsored to wear their PJs all day, while adult participants (such as teachers and administration) can pay for the privilege.
This is a super low-effort school fundraiser that's tons of fun for participants. Boost donations by adding the option for students to do extra challenges in their PJs, such as a dance routine or physical activity.
Tip: Increase your profits with this school fundraiser by selling breakfast foods like bagels, muffins, juice, and coffee!
School Sleepover
Effort: Medium
Cost: Low
Profit: Variable
Grade levels: Elementary school, middle school, high school
This can be a variation on the pajama day theme. However, it does entail extra precautions to keep kids safe. Choose a safe location (such as the school gym or cafeteria) and enlist plenty of trusty chaperones.
It's also a good idea to organize a few fun activities to keep participants occupied throughout the night. Think board games, scary stories, read alouds, mini dance parties, etc. Overall, you can organize this in much the same way as a pajama day.
Tip: Give all students a list of supplies they'll need for the night, such as a sleeping bag, toothbrush, towel, etc. It's not a bad idea to have backup supplies on hand for any kids who forget something important!
School Carnival
Effort: High
Cost: Medium
Profit: High
Grade levels: Elementary school, middle school, high school
If you're up for a bit of a challenge, consider throwing a school carnival. This is a high-effort event, but it can pay off when done right. The best way to organize a school carnival is to partner with local businesses to secure donations for prizes, games, activities, decorations, and more.
You'll need plenty of volunteers to set up, supervise, and take down the event. You'll also want to schedule your event around other school fundraisers so people have the energy and funds to donate. This is a great event for the end of the year, when kids want a chance to kick back, relax, and socialize with their classmates before the summer starts.
While a school carnival does take a lot of effort and planning, it can result in very high profits because of how much you can diversify your donation streams. Profits come not just from ticket sales, but also food sales, games and activities, any merchandise or spirit gear you sell and raffles. A school carnival is also a great event for a principal challenge - dunk tank, anyone?
Tip: If you're organizing a high school fundraiser, enlist the help of student organizations to plan and promote the event!
Trivia Night
Effort: Low
Cost: Low
Profit: High
Grade levels: Elementary school, middle school, high school
Just like karaoke nights, bowling nights, and talent shows, trivia nights are a great school fundraising idea because they let participants show off their talents. This can also be a low-effort and low-cost event with high returns.
For a venue, partner with a local restaurant or game shop or save money by hosting the event on campus in the gym or cafeteria. Come up with interesting trivia questions that will challenge participants in a fun, lighthearted way. To boost excitement, incorporate sounds and lighting effects for right answers and winning moments.
Tip: Add a raffle or sell refreshments to boost your profits.
Skate Party
Effort: Low
Cost: Low
Profit: High
Grade levels: Elementary school, middle school, high school
A skate party is one of the easiest and most fun ways to raise money for your school while encouraging participants to get up and move their bodies. If you can, rent out a skating rink for the afternoon. If that's not an option, host an outdoor event at the park.
Sell event tickets, refreshments and merch for extra profits. And if your event is outside, bring some high energy music to blast on portable speakers!
Tip: Boost profits by raffling off some fun prizes like a bluetooth speaker or a brand new pair of skates.
Swim Party
Effort: Medium
Cost: Low
Profit: High
Grade levels: Elementary school, middle school, high school
There's nothing better than a pool party when it's warm outside! If your school has a pool, break out the lounge chairs and lifeguard whistles and start selling party tickets! Or if you have the budget, rent out a local pool for the afternoon and invite donors to join you there.
Pump up the fun with music, and boost profits by selling refreshments and merch, like towels featuring your school logo.
Tip: Safety first! If you host the party on your campus, consider hiring professional lifeguards or at least ensure that adult chaperones are trained in safety practices like CPR.
Board Game Tournament
Effort: Low
Cost: Low
Profit: High
Grade level: Elementary school, middle school, high school
A board game tournament is such a fun, easy school fundraising idea for any grade level. Clear out your cafeteria or gym, set up some tables, and break out the Monopoly!
Board games are easy on your budget. You can even get them donated by families. Boost profits by selling concessions, and set the mood with a fun music playlist.
Tip: To maximize profits, raffle off an exciting board game or gaming console!
Car Wash
Effort: Medium
Cost: Low
Profit: High
Grade level: Middle school, high school
A car wash is a win-win for the school and the community since donors receive a service in exchange for their donations. It can also be a fun social event for participants while getting them outside and moving.
While a car wash is relatively inexpensive and easy to organize, it does still require careful planning. You'll need to promote the event, choose a location that will draw in customers, provide cleaning supplies, enlist enough volunteers to wash the cars, and make sure you have access to a hose or water system.
Tip: Make sure you have enough adult volunteers to keep participants safe and ensure cars are washed properly!
No Uniform Day
Effort: Low
Cost: Low
Profit: High
Grade level: Elementary school, middle school, high school
This is one of the easiest school fundraising ideas for private schools or any school where uniforms are worn. Kids pay (or get sponsored) for the privilege of ditching their uniforms for a day.
Tip: Add to the fun by having a fashion show during lunch or recess! Kids will love the chance to show off their unique style.
Yard Sale
Effort: High
Cost: Low
Profit: Medium
Grade level: Elementary school, middle school, high school
Everyone's familiar with the concept of a yard sale: you sort through the junk piling up in your garage, select a few items that are worthy of a second life, and offer them up for sale. After all, what they say is true - one person's junk is another's treasure!
To make this school fundraising idea even more impactful, invite the larger surrounding community to join the fun. Host the community yard sale at school so you have plenty of room for non-school members to join the fun. Just make sure they understand that a percentage of the profits will go back to the school!
Tip: By allowing students to act as cashiers, this is a great opportunity for students to practice their math homework in real life. Just make sure they're properly supervised! To make planning for the day more manageable, ask community members to RSVP for the event so you can save space for them to set up.
School fundraising FAQs
Have questions? Need help? You've come to the right place! We're experts in school fundraising and have tons of knowledge to share. Find the answers to all your frequently asked school fundraising questions!
What is school fundraising?
As the name implies, school fundraising is the practice of raising funds to supplement a school's budget. School fundraising activities are typically organized by volunteer groups such as PTAs and booster clubs and can range from product sales to community events to calls for direct donations. Schools use these funds to meet any school needs not covered by the school's budget, including supplies and equipment, enrichment programs, extracurricular activities, and more.
Why is school fundraising important?
Unfortunately, schools in the U.S. are vastly underfunded. Budget cuts have hit schools hard and the trend continues. The truth is, most elementary and secondary schools today do not have enough funds to provide the educational experiences their students need. According to one study, schools are underfunded by nearly $150 billion annually!
In light of this situation, school fundraising has become one of the most important ways to support a range of student needs.
What is school fundraising money used for?
Schools use funds for a huge variety of things including:
Enrichment programs: Arts and STEM programs are crucial for providing students with a well-rounded education. Unfortunately, these programs can suffer when budgets shrink. School fundraising helps make these programs a reality, providing invaluable enrichment to students' academic experiences.
Extracurricular activities: Extracurricular clubs like chess and debate team need funds to participate in their activities, including funding for travel, materials, and more. Such activities are vital to students' academic lives, social lives, and physical and mental health. School fundraising is often what makes extracurricular activities possible.
The purchase of supplies and equipment: Funds raised by PTAs/PTOs often go toward purchasing the basic materials students need to learn, including books and new technology, such as computers.
Upgrades to school facilities: School fundraising can support new playground equipment, renovations, beautification efforts, and more to make the school property safer and more accommodating.
The list above represents only a fraction of the many ways school fundraisers help support the needs of students, schools, and communities.
How does school fundraising work?
School fundraising activities are typically orchestrated by parent teacher associations (PTAs), parent teacher organizations (PTOs), booster clubs or school administration and leadership. Many schools partner with school fundraising companies like Booster to get the expertise, infrastructure, and planning they need to kick off a great school fundraiser.
What is the most profitable school fundraiser?
There are many types of school fundraisers that have the potential for high profits. Some important factors are how much you spend on the school fundraiser, how well you promote the fundraiser, and how well you space out your fundraisers to avoid donor fatigue.
In our experience, some of the most reliable school fundraisers are a-thons such as fun runs, dance-a-thons, read-a-thons, walk-a-thons, etc. Corporate gift matching and spirit gear stores are also very profitable school fundraising ideas.
What is the easiest school fundraiser?
All school fundraisers require careful planning, but some are much more hands-off than others. Some of the easiest school fundraisers with the highest profit potential are corporate gift matching, selling spirit gear, raffles, and auctions. Working with a school fundraising company like Booster also makes it easy to host events like a glow run and color run.
School fundraising tips & best practices
Find tips and best practices for planning, executing, and evaluating your school fundraisers!
How to plan a school fundraiser
Making the most of a school fundraiser requires careful planning and execution. Below are some best practices for any school fundraising idea:
Identify specific goals. As mentioned above, donors like to know where their money is going. It's also important to align your school fundraising methods with the amount of funds you need.
Start by identifying the specific needs the school fundraiser will be supporting, whether it's buying new computers or funding a school trip. If your school is looking to bring in major funds to support a large initiative or fund your entire budget, Booster might be for you!
Align school fundraising ideas with your goals. Once you've determined your school fundraising goals, choose school fundraising ideas that will help you best meet those goals. For example, a

DIY a-thon fundraiser

generally works best for specific projects, whereas you may be able to use a

spirit gear store

for general funds.
Form a planning committee. Your school fundraising body such as the PTA/PTO likely has many school fundraising projects to manage throughout the year. It's important to decide who will be working on what project and when. Within each committee, assign roles and responsibilities carefully so

everyone knows their part

.
Determine how you will promote the school fundraiser. With all the volunteer hours and resources that go into a successful school fundraiser, it's crucial to make sure people know about it so you can actually reap the benefits. Have a plan in place for how you will get the word out about your campaign including brochures, social media, etc.
How to promote a school fundraiser
So, you've learned how to do a school fundraiser, but what about getting people to show up? Even the best-planned school fundraiser can't succeed if people don't know about it.
Today, getting the word out about school fundraisers means taking advantage of all the communication channels available, especially the internet. The following tips can help you spread the word and maximize donations:
Have a promotional plan. It's not enough to simply share a few posts the week of an event. Part of the planning process of your school fundraiser should include a specific timeline of your promotional efforts, such as how far in advance you will begin promotion, how often you will post on social media or send emails, etc.
Assign someone to head promotion efforts. It's a good idea to have someone or a group of people in charge of this promotion plan. They will be the ones drafting and producing promotional materials, sharing information on social media, etc.
Share on social media. Social media is a must when it comes to promoting events these days. Use multiple social media platforms, such as Facebook and Instagram, to gain a wider reach.
Utilize hashtags. When sharing on social media, maximize your reach by using hashtags related to your school, community, or event.
Make promotional campaigns personal. Don't just share the details and goals of your event - share photos and videos to let donors feel the impact their donation will have on your students, school or community.
Reach donors where they are. It's best to use a variety of communication channels to get the widest reach. Take time to understand who your potential donors are and how they prefer to receive information. You will likely end up combining efforts such as email newsletters, social media posts, brochures and your fundraising website.
After the school fundraiser
Lots of school fundraising guides focus on how to plan and execute your event. But what happens after the event is just as important!
To ensure future success, evaluate the success of each school fundraiser you host. Have the planning committee discuss what worked well and what didn't and record these discussions for future planning.
Maximizing efforts
Schools can typically make the most money by diversifying their fundraising efforts and pursuing a combination of school fundraising ideas. For example, a school might host a larger event like a fun run or school carnival while also maintaining smaller school fundraising efforts such as a DIY a-thon campaign or spirit gear store.
School fundraising mistakes to avoid
Not identifying goals: Having clear goals is one of the most important aspects of school fundraising. You should know not only how much money you want to raise, but also what that money will be used for.
Poor budgeting: When identifying your school fundraising goals, you need to get a clear view of your budget so you can choose school fundraisers that allow you to maximize profits.
Not enough time to plan: Planning and promoting your school fundraiser takes effort and time. Being in a rush to execute your event or hosting an event at the last minute is a recipe for disaster that can lead to wasted budget and volunteer dissatisfaction.
Poor donation tracking: When you're dealing with money, you need a reliable way to collect and keep track of donations. Online school fundraising platforms like

MyBooster

make this easy.
Forget to thank your volunteers: Volunteers are the backbone of any school fundraiser. It's important to show your appreciation. After all, maybe they'll want to come back and help with the next event!
Failing to diversify donation streams: Relying on just one type of school fundraiser is a big mistake. To maximize profits, host a variety of school fundraisers and campaigns throughout the year. Perhaps you host a

dance-a-thon

in the fall, a holiday themed

online store

mid school year, and a smaller DIY a-thon school fundraiser

powered by MyBooster

in the spring.
School fundraising checklist
Do you have each of these in your school fundraising toolbox:
PTA/PTO member chat: Make sure all PTA/PTO members know how and when to reach each other by keeping contact information in one easy, secure place.
Volunteer contact list: Keep a record of volunteer names and contact information so you can reach volunteers when you need them.
Parent volunteer forms: Use parent volunteer forms to collect information from parent volunteers at the start of the year, including their interest in volunteering, their availability, their contact information, etc.
Fundraising platform/donation tracker: An online school fundraising platform is a must-have for keeping track of dates and deadlines, budgets, and donations.
Donations page: Set up a dedicated website where donors can go to learn about your school fundraisers, see pictures and videos, and most importantly, make donations!
Online spirit wear store: Having an online place where you can sell all your awesome school spirit gear is an easy way to raise funds.
Event page for all event school fundraisers: Each individual event should have a dedicated page you can share with the public to get the word out about your school fundraiser and record pledges.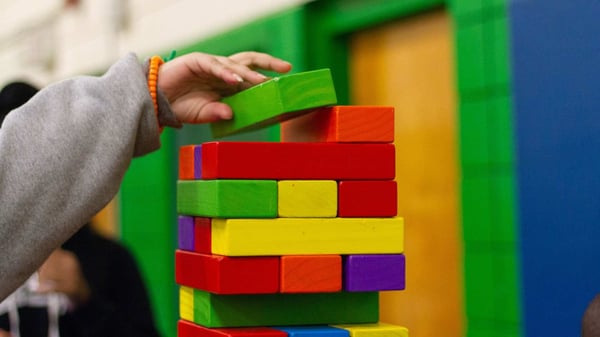 The benefits of working with a school fundraising company
School fundraising requires hundreds of volunteer hours, from planning to execution to evaluation. Different school fundraising ideas require different planning and organization steps and schools typically rely on multiple fundraising efforts at once to meet all their school fundraising goals. All of this can put immense strain on volunteers who may be balancing other responsibilities.
By partnering with a school fundraising company like Booster, you can let the experts handle some of the more time-consuming aspects of your school fundraiser, such as planning and execution, so you can focus on the most important thing: your school fundraising goals.
Back to All Articles