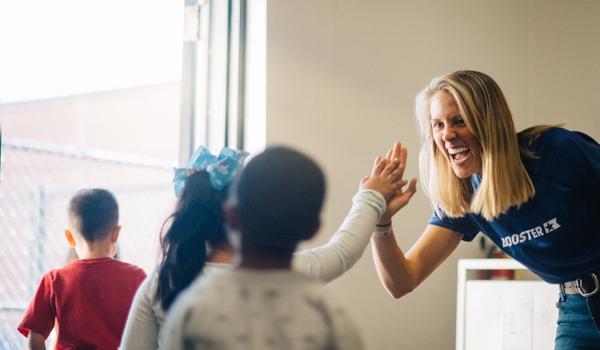 5 Tricks to Maximize Fun & Profit at Fundraising Events | Booster
Fundraisers are an awesome way for students, staff, and parents to work together with their local community to improve the place they care so much about - their school. Plus, when done right, fundraisers can be one of the biggest and most important events of the school year!
Maximize the fun and fundraising profits with these 5 great tips:
Go Teams!
Create teams amongst your school that will compete for the highest fundraising profit during the course of the fundraiser! These teams can be organized by teacher, grade level, or whatever makes sense for your school.
Take it a step further by letting students come up with team names and colors. This can become their identity during the course of the fundraiser and will build comradery among the students.
Let's Rally!
Have an end-of-fundraiser rally that the entire school participates in! This can be anything from a small event in the gym or cafeteria to a full-blown pep rally with games, music, and prizes.
If the students were split into teams, have them come to school decked out in their colors and sit with their groups during the rally. The winning teams and students will be announced during the rally so the entire school can applaud their efforts!
Play for Prizes!
Let's be honest, kids love winning stuff. They will do just about anything for any kind of prize. Use that to your advantage to maximize your fundraising profits!
Offering prizes doesn't just have to be for the student that sold the most items. Offer prizes when students hit certain metrics – certain number of orders, certain number of business sponsorships, certain number of items sold.
As much as kids love winning prizes, they love feeling accomplished too! Offering prizes at smaller levels gives them an attainable goal to reach toward and the satisfaction of accomplishing it.
Parent Perks!
Don't forget about the parents! Parents are behind the scenes helping their students sell items and maximize the fundraiser profits for the school.
These same parents are the ones that are going to give their time to set up, participate in, and clean up any events associated with the fundraiser. Consider doing something to reward these amazing volunteers.
Maybe it's a gift card donated by a local business or a catered lunch at school. It doesn't have to be wildly expensive (we're trying to make money after all), but when parents feel appreciated, they will go above and beyond year after year.
Participation Party!
We already mentioned prizes, but there is another way to motivate students to achieve certain fundraising goals. Plan a participation party! This can be something like a school dance or field day that every student who meets a certain fundraising goal is able to participate in.
Really want to maximize fundraising profits and participation? Make this party during the school day! Rewarding students that work hard with a fun time with their friends makes their accomplishments that much sweeter.
No matter what type of fundraiser your school chooses to do, incorporating some of these tips will get your students and parents excited to work hard and raise money.
At Boosterthon, we're always ready to help students and parents be successful in their fundraising efforts, maximize fundraising profits, and improve schools. Connect with us to get started.
Back to All Articles