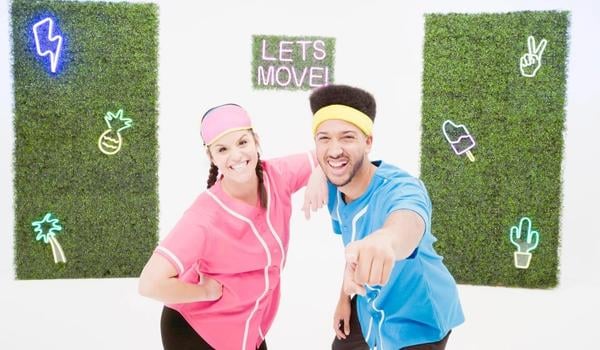 Why DanceFit is The Right Fundraiser for Your School
Why Dance Fit is The Right Fundraiser for Your School
Did your school do more than one fundraiser over the last year or two? How did they go? Because if they were anything less than a piece of cake, then you might be looking for a new idea to keep everybody excited about fundraising this school year.
Lucky for you, we have just the thing, Dance Fit! It's the no-hassle fundraising event that gets everybody movin' and groovin' for a good cause. It's so packed full of fun that everyone will want in and no one will be left out!
Unique Experience
What is Dance Fit? Only one of our favorite things ever! In September 2020, Booster partnered with Just Dance to bring you a fundraising event so sensational you'll want to do it every year!
We matched our experienced support team, pre-packaged materials, and innovative technology with Just Dance's high-energy songs and flashy dance moves to bring you one super-charged dance party!
Dance Fit has that magical mix of exercise, music, and character-building that brings your community together for a fundraising event to remember. There's no other event like it that gets everybody sweating, laughing, and shaking their groove things for the benefit of your school!
Fitness Fun For Everyone
Dance Fit, featuring this year's Just Dance, is a 35-minute, fast-paced, choreographed dance experience that is sure to get the heart pumping. All students are encouraged to participate in this event, no matter their financial participation or fitness levels.
Students have a blast trying to follow the choreography and cheering for each other. Don't be surprised if you see faculty and parents dancing too—no one can resist the fun!
Customizable
You know your school and students best, so you'll have the opportunity to choose the Just Dance songs that are just right for your Dance Fit event.
Pick from thousands of current top hits and familiar favorites to make your dance party a-rockin' good time! Whether your event is indoors, outdoors, or online, you can be confident it will be awesome and feel secure knowing you can easily change at the last minute for any unexpected complications.
Easy-Peasy
We know that no matter how exciting a fundraiser may be, if it's not simple and easy to manage, it's not going to be successful. So we've created a streamlined, pre-packaged experience to save you time and stress.
Our winning recipe includes combining innovative technology and an experienced support team with a week of exciting activities and character-building videos. Top it off with a big Dance Party finale, and its powerful combination that delivers success!
Kick-Off Event
We get everyone excited about your Dance Fit Fundraiser by introducing them to the character theme, spirit wear, fundraising goal, and the MyBooster donation website.
Week of Fun
Your students will get pumped up to share the fundraiser by learning about teamwork, courage, and grit from engaging character presentations throughout the week.
Dance Party
The entire school comes together for the big Event Day, a 35-minute explosive dance party!
Donation Collection
Our technology makes collecting the pledges and donations a breeze.
Trackable & Shareable
Our best-in-class school fundraising technology makes it simple to create your fundraiser, share it with friends and family and track your results live. Schools love that you can also incentivize donations and enable corporate matching opportunities with our Booster Tech fundraising technology.
Students shine in their own fundraising videos using the "Student Star" feature on the app. Parents love how easy it is to share the video links via social media, text, or email. In fact, it's so easy to share and donate that on average 67% of donations come from non-parent donors in the community!
Successful
The Dance Fit fundraiser is so fun and easy to do that Booster schools meet or exceed their financial goals. Everyone wants to participate in the week-long adventure of character building and fundraising, as well as the fantastic dance party at the end.
Wanda Hirsch Elementary principal, Catey Nossi, was thrilled when they passed their fundraising goal by over $1,000 with Dance Fit in 2020. She said, "Booster is probably the easiest way to raise funds in a short amount of time. This will be our only fundraiser this year. The event had great music and great activities. Kids love Just Dance!"
At Booster, we love Dance Fit, and we think you will too! It's a great time and highly profitable, so why risk your fundraising goals by choosing anything else? Get your dancing shoes on and go for something that's wildly successful and totally unforgettable!
Back to All Articles