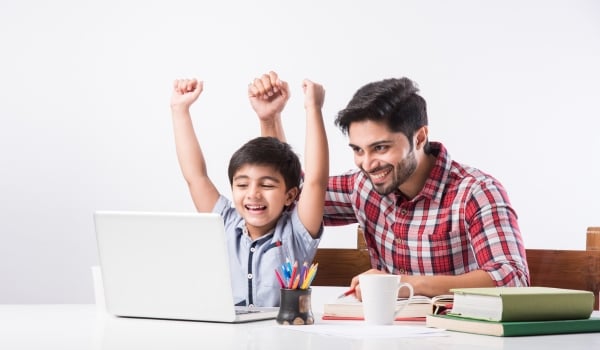 How to Use an Online Fundraising Platform to Its Fullest Potential
Fundraising is essential for schools to fill budget gaps and provide students and faculty with the resources they need to thrive.
Using an online fundraising platform can be a game changer for schools, broadening their outreach to get more donors and more money while also saving valuable time. Selecting the right online fundraising platform and using all of its features is key to maximizing the funds your school will raise.
In this blog you'll learn:
Ready to make your next fundraiser a huge success? Here are eight ways you can get the most out of your online fundraising platform and exceed your fundraising goals!
1. Expand Outreach
With an online fundraising platform, schools have the opportunity to reach a broader audience beyond their immediate community. When you take your fundraiser online you can get the word out with just a quick click!
For example, the MyBooster platform allows students and families to share their personalized fundraising page via email, text and on social media in seconds. That means you can reach friends and family all over the world!
2. Motivate Students with Prizes
Encouraging student participation and engagement with fun and rewarding incentives is key to success, but it can also be very time consuming to track. If you choose to go with the MyBooster online fundraising platform, you can skip tedious excel sheets and use its built in prize management system to keep momentum high while saving valuable time.
3. Share Your Goals with Donors
Transparency is essential when it comes to fundraising, whether you're planning an event or selling gear, so clearly communicate your fundraising goals and the specific areas where the funds will be used. When donors understand the impact of their contributions, they are more likely to support your cause.
Use communication tools available with your online fundraising platform, such as email and social media, to share what you are raising money for and share stories of how past fundraising efforts have positively impacted the school, students, and the community.
4. Double Your Funds with Corporate Matching
Did you know many companies have corporate matching programs where they match their employees' charitable contributions?
While you can ask each family to investigate this on their own, when you use MyBooster, the online fundraising platform does the heavy lifting for you. Families simply put in their company name and MyBooster searches its database. This feature can effectively double the impact of individual donations, significantly boosting your fundraising efforts.
5. Share Real-Time Updates and Reports
Providing real-time updates and progress reports on the fundraising campaign can keep your donors engaged and informed. An online fundraising platform can offer features that display donation milestones and achievements. Regularly communicate the impact of contributions to build trust and maintain interest in your cause.
6. Make Donating Simple and Easy
Streamline the donation process and eliminate any potential barriers to giving by offering convenient payment options. MyBooster allows donors to contribute to your fundraiser online and even accepts Apple Pay for an additional quick and secure transaction option.
7. Avoid Set-Up Costs
When choosing an online fundraising platform, opt for one that offers a user-friendly interface and requires no upfront setup costs. MyBooster allows you to get up and running without costly fees so you can be ready to kick-off a fundraiser anytime of year!
8. Reach Previous Donors
MyBooster also has a donor database from your previous fundraisers that you can reach out to. Express gratitude for their past support, share updates on how their contributions have made a difference and invite them to participate in your latest fundraising campaign. Previous donors are more likely to contribute again, especially when they see the impact of their past support.
Get started with an online fundraising platform
School fundraising is vital for providing students and faculty with the resources they need. By embracing the power of an online fundraising platform and implementing these eight effective strategies, your school can expand its outreach, motivate students and donors and maximize the funds raised.
Remember to stay transparent, engaged, and grateful to foster long-term support from your community and beyond.
Are you ready to elevate your school fundraising efforts, and help your team, club, or class meet or exceed your goals? By pairing with the best online fundraising platform, MyBooster, you'll be set for success from the very beginning.
Contact Booster today to get started!
Back to All Articles