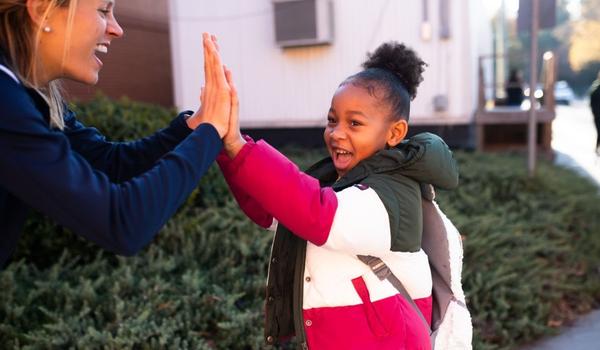 The Importance of Fundraising for Schools | Booster
Unequal, insufficient funding for U.S. schools has long driven the need for fundraising efforts to supplement school budgets. But unless you're an education worker, PTA/PTO leader, or seasoned parent volunteer, you may not know that the importance of fundraising goes well beyond school budgeting.
In this blog, you'll learn more about:
How Fundraising Improves Education

Ways a Fundraiser Can Strengthen a Community

How Booster Can Help with Your Fundraiser
When school staff, volunteers, and students come together to work toward a common goal, the entire community is strengthened. Plus, both adult and student participants can bond, learn new things, and use their experiences to enrich their lives both inside and outside the school community. Below, we'll explore each of these different facets of the importance of fundraising in schools.
Fundraising enriches our children's education.
It might seem obvious, but the importance of fundraising is tied directly to the value of education for our youth. Research clearly shows that unequal school funding correlates to unequal education outcomes, including lower achievement and graduation rates, which can translate to fewer post-secondary opportunities for students in very poorly funded schools.
This goes beyond students' basic academic necessities such as classroom materials, updated technology, and clean, safe school facilities. Education encompasses what goes on outside the classroom as well, such as through extracurricular enrichment programs in the arts, STEM fields, and more. School fundraising helps bring these opportunities to a wider range of students and fosters more well-rounded education for all.
Fundraising helps children learn important life skills.
While there is a wide range in the fundraisers that can be effective, fundraisers that involve student participation—such as fun runs—have the unique value of teaching children important life skills and habits. These include goal-setting, planning, accountability, teamwork, leadership, physical activity—the list goes on. Plus, having a direct stake in their school's wellbeing through fundraising can strengthen children's academic and social engagement.
Fundraising strengthens school-community bonds.
By now, we hope it's clear that the importance of fundraising for school goes well beyond financial and even academic concerns, providing opportunities for collaboration and growth for both adult and student participants alike.
But the benefits of these opportunities don't stop at the participants themselves. Research shows that students do better when schools and communities communicate and work together in partnership. Also, when schools and community members come together to support young people's education through fundraising, the entire community benefits. School staff, parents, and community members can spend time together, learn more about each other's needs, and create further opportunities for improvement both in and outside of school.
Fundraising is fun!
Fundraising is hard work – especially when some schools are under funded by up to $150 billion annually. With such high financial needs, it's easy for PTAs/PTOs to become overwhelmed or discouraged.
However, when done right, fundraising can be a fun way to meet challenging fundraising goals. The good news is this is totally doable with a little research and planning. To ensure your fundraising efforts are just as fun as they are effective, make sure to:
Clearly identify your fundraising goals before planning your campaign
Get creative and customize fundraisers to fit your school's strengths and needs
Choose types of fundraisers that will work well for your fundraising goals
Get students and community members involved (don't be afraid to use social media!)
Play to volunteers' strengths and interests (one way to do this is to use

parent volunteer forms

)
Choose a

fundraising platform

that is efficient and easy to use so you can focus on the fun stuff
With these tips, your fundraisers are as likely to result in new skills, new friendships, and new memories as they are to help meet or exceed your financial goals.
Booster understands the importance of fundraising for schools
Booster has spent 20 years developing fun, creative fundraisers that actually make money. From partnerships with the popular game Just Dance to our character program that uses exciting themes to get kids directly involved in their education, our fundraising programs go beyond budgetary needs to engage and enrich the entire school community—all through an easy-to-use platform and with the help of a supportive team.
Learn more about fundraising with Booster today.
Back to All Articles