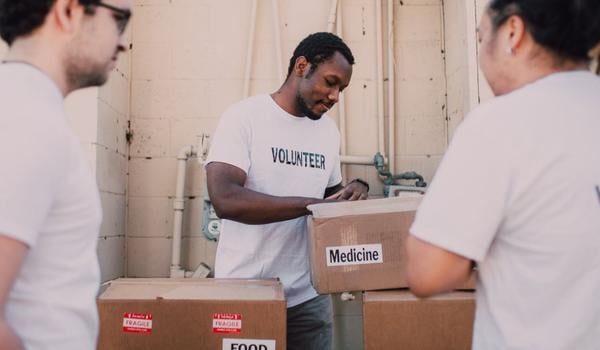 Five Ways to Thank Parent Volunteers & PTA Leaders
Parent-teacher associations (PTAs) and organizations (PTOs) are the backbones of any successful school fundraising project. Without a dedicated PTA/O, school fundraising is nearly impossible. If you are involved with school fundraising, chances are you've had to rely on the help of a parent volunteer before.
In this blog, you'll learn more about:
The generous help you get from parent volunteers makes it possible for your work to thrive, and it's crucial to show volunteer appreciation whenever possible in unique and thoughtful ways that show your complete gratitude for their work.
However, you might have encountered a few obstacles in finding gifts that feel personal and genuine when trying to think of ways to thank your volunteers. If you are in this position, then worry no more–this article will cover five sincere and thoughtful ways to thank a parent volunteer.
1. Show Warmth and Appreciation with Personalized Gifts
There are a few main categories for ways to show parent volunteers your genuine appreciation: gifts, words, and parties. To start this list, consider giving each parent volunteer a personalized gift. For example, everyone loves a personalized mug with their name or the organization's name printed, especially if your organization is full of tired, sleepy, and coffee-deprived volunteers.
Personalized mugs are lovely gifts for your volunteers and remind every PTA member of their contributions to improving student education. Additionally, if you like the idea of personalizing a gift but want to look outside of mugs, you can consider personalized bags, shirts, or glasses to give as volunteer gifts. For example, Booster Gear can help you create the perfect personalized gift for each volunteer.
2. Have a Potluck Party
Fundraising efforts tend to become more hectic at specific points during the school year. Whether your PTA is planning holiday fundraisers or working on some last-minute fundraisers before the end of the school year, you should remember to relax and show your thanks to parent volunteers by hosting a casual get-together, such as a potluck party.
Potlucks are a great way to relax with fellow parent volunteers and teachers to get to know one another outside of school and the PTA. A successful PTA requires you and your parent volunteers to genuinely know each other and share similar goals and passions for your organization.
Having a potluck doesn't only mean that you get to try new (and free) food but you also get a window into what your volunteers are like and what matters to them.
3. Personalize Your Thank You Letters
Depending on the size of your PTO, finding time for large gatherings might be challenging. Large-scale fundraising projects and events take time and effort, and you might want to express appreciation to your parent volunteers by writing them a personalized thank-you letter.
"Personalized," in this case, is key to letting your volunteers know that you value their time. No matter how sincere your words seem, your volunteers will know the depth of your care if you take time to remember them and include personalized tidbits in their letters, such as something about their family, hobbies, or holiday plans.
As you get to know the parent volunteers who make a difference at your school, a personalized thank you note can be a great way to show them you're listening and genuinely value them as a person, not just a volunteer.
4. Having a Fun Game and Party Night
Volunteering for a PTA shouldn't only be rewarding because of how important it is for the students–it should also be fun for the parent volunteers. Though you spend much of the year making and executing plans to benefit the students, you and your fellow volunteers should take time at the end of a big fundraising event to kick back and relax together.
Having a game night with your PTA is a nice thank you to everyone involved. Having fun with each other is crucial to building lasting relationships that help your organization thrive. Plus it will give your parent volunteers friendships that help inspire them to volunteer year after year! our game night can offer moments for individual thank-yous and gifts as well.For instance, you can play various games–whether it be charades, trivia, or even bingo–and each person who wins gets to select a small prize or gift bag. When doing this, make sure everyone can leave with something by the end of the night so even if a parent doesn't win the game they know they're a winner to you.
5. Hold a Small Awards Ceremony
Sometimes, your parent volunteer members contribute to your PTO in so many ways that the only way to show every ounce of appreciation is by having a mini-awards ceremony. Hosting an awards ceremony allows you to give each member a certificate or other award describing how they helped the PTO thrive.
Additionally, a small awards ceremony is a great way to thank your volunteers because it helps foster appreciation for each member and between parents who work with one another. The ceremony helps reveal that your organization is best when all parent volunteers work together and display their unique skills.
Awards and certificates can be whatever you want them to be, even if they are light-hearted or based on inside jokes. Make sure to avoid putting pressure on yourself to make the fanciest certificates and awards. A simple, personalized sign of appreciation is enough when your feelings are genuine.
Now Plan Some Awesome Fundraising Events
Thanking your PTA parent volunteers for their efforts in school fundraising doesn't only have to be done in private settings or when fundraising isn't involved. You can show your parent volunteers appreciation at your fundraisers by making sure they have so much fun they forget that they're technically doing a job. Speaking of fun, Booster's school fundraisers are as fun as can be!
Booster offers school fundraising services for organizations that want the best fundraising events. A Booster Event is an incredible experience for parents, teachers, and students to enjoy a fun day while raising funds. During your Booster Event, you can have an outside fun run, a color run, an indoor glow run, or a dance fit competition. We can also help take some of the fundraising stress off of the school and PTA team -- since fundraising is our speciality, you can rest assured you're in good hands with a Booster fundraiser.
Not only can you plan a fun and innovative fundraising activity with Booster–your organization can also profit from these fundraisers in a big way that makes a huge difference in the lives of your students. Booster's numerous services and plans will help your school fundraiser be successful and profitable in ways you never expected, all while showing fun appreciation for your parent volunteers. Get started today!
Back to All Articles