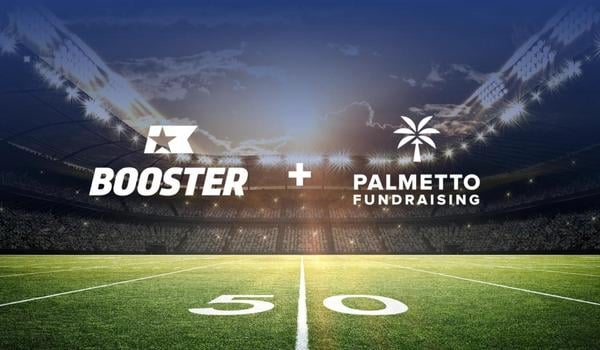 Booster & Palmetto Fundraising Join Forces 
To Help Strengthen K-12 Schools Nationwide
Booster's Acquisition of Palmetto Creates
Nation's Largest Mission-Focused School Fundraising Company
ATLANTA (August 4, 2022) – Booster has acquired Palmetto Fundraising and its Teamworks high school fundraising platform, bringing Booster's school fundraising offerings beyond the K-5 space. The acquisition creates expanded fundraising opportunities and resources for existing Booster and Palmetto Fundraising clients, while also positioning the new powerhouse as the one-stop shop for school fundraisers, including active fundraising events, school fundraising technology, gift sales, spirit wear fundraisers, online school spirit stores and more.
"This is an incredible opportunity for our clients and our company! Booster and Palmetto share an unparalleled commitment to excellence, but we also share a passion for changing the world by helping our clients strengthen their schools," said Chris Carneal, Founder and CEO of Booster. "Our shared missional focus will result in even more innovative and fun school fundraising ideas for our clients and bring professional growth opportunities for our remarkable team members.
Palmetto Fundraising has been a premier fundraising player in the southeast for 13 years, serving K-5 schools as well as middle and high school sports teams, fine arts programs, and local community club sports teams. The acquisition of Palmetto propels Booster forward in its ability to serve more clients, impact more students, provide more opportunity, and helps Booster reach its goal of $1.5 Billion in new funding for schools by 2026.
"I'm so proud that the Palmetto team has been recognized by Booster, one of the premier national players in the school fundraising space – it's truly exciting!" said Daniel Gosnell, Founder and CEO of Palmetto Fundraising. "The opportunity to join forces with Booster brings together two strong fundraising organizations with a shared mission, allowing us to positively impact more schools. It's a win for schools and students - and that's what we're both about!"
As part of the acquisition, Gosnell and Palmetto COO Daniel Freeman will play key roles at Booster.
Twenty years ago, Chris Carneal started Booster in his college dorm room with a vision of making a difference in students' lives through active fundraisers, like the Boosterthon fun run. Today, Booster is known for its highly successful fundraising events, powerful fundraising technology, as well as its spirit gear and promotional product offerings. The combined fundraising organization of Booster and Palmetto will do business under the Booster name. Booster and Palmetto clients will continue to receive the same exceptional service and client care they've come to know and love. At this time, no changes to existing fundraising services and product offerings are planned.
Plans for how Booster will scale its new, full suite of fundraisers for K-12 schools will be shared in the near future.

Booster is the leading school fundraising company in the U.S. providing schools with fundraising events, customized spirit gear, and technology to power school fundraisers. Founded in 2002, Booster has run more than 19,000 fundraisers, positively impacting more than 12.3 million students through its field teams serving all 50 states. In its 20-year history, Booster has helped schools' profit $500 million through school fundraising.
Based in Peachtree Corners, Georgia Booster embraces the virtues of gratitude, wisdom, care, courage, grit, and celebration. These virtues guide every aspect of its business, from client care, leader development, product development and technical support, to sales and marketing.

Learn more at choosebooster.com.

Palmetto Fundraising, based out of Greenville, SC and Founded by CEO Daniel Gosnell serves more than 2,500 clients by providing elementary schools with quality product sale fundraisers in the southeast as well as high school and middle school with fundraisers for their sports teams, fine arts programs, clubs and groups.
For more information, contact: Kim Miller, VP Marketing & Communications, kimm@boosterthon.com.
Back to All Articles