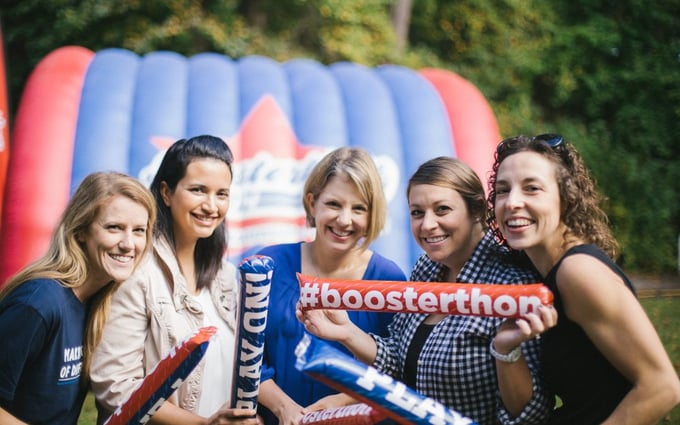 How To Recruit & Retain Your PTA Volunteers | Booster
As a PTA/PTO leader, you probably have lots of ambitious goals for the year. (And if you haven't yet clarified your organization's goals, check out our blog post on the topic). But in order to get things done, you'll need the help of some committed volunteers. And let's be honest, being a volunteer coordinator can be tough. That's why we asked a PTA expert, Shari Sneary, to give you 5 simple ways to recruit more volunteers and keep them coming back:
In this blog, you'll learn more about:
What to Do First

How to Connect with Your Volunteers

How You Can Show Your Appreciation
1. Clarify the Mission
Before you ask a single person to help, you first have to clarify your PTA's mission. Figuring out the mission will not only help with direction and decision-making, but will also aid in the recruitment of volunteers as well. Think about it—if you can't clearly communicate your organization's mission, how can you ask others to join you? Whether you need help popping popcorn for movie night or transforming your school in preparation for Boosterthon, clarifying the overarching mission of your organization is the first step to getting people on board.
Not sure what a mission statement looks like? Here's an example: The mission of the Bridgewater Booster Club is to establish a close relationship between home and school by advancing opportunity for all community members to become involved at Bridgewater. The BBC raises funds for basic and supplemental educational materials, supports school and family social interaction, sponsors assistance to teachers in classroom settings, and provides unique educational opportunities across the K-5 curriculum.
2. Debunk the "I Just Don't Have Time" Myth
We've all said it, and we've all heard it: "I just don't have time." As a volunteer coordinator, you've no doubt heard that one before. Sometimes, however, the real reason people don't get involved is simply because they don't know where or how to get started. So how can you help? Invest a little time getting to know your potential volunteers. A short 10-minute phone call or a coffee get-together will allow you to discover their strengths and passions. From there, you can guide them into a role that'll be rewarding for them and helpful for the organization. (Here's the best part: When your volunteers are thriving, your organization will too.) Taking a few minutes to truly connect with people will help make everyone's work much more gratifying AND productive. (And it will keep your volunteers coming back!)
3. Use The Volunteer Buddy System
Being a new volunteer within a parent organization can feel overwhelming. When bringing new volunteers on board, consider using The Volunteer Buddy System. Work to match up seasoned volunteers with your new ones. Not only will your new volunteers appreciate the support and guidance, but hopefully they will gain new friendships throughout the year. The Volunteer Buddy System also empowers your existing volunteers to share their ideas and vision, giving them satisfaction in knowing that the work they've done will continue on.
4. Open the Volunteer Feedback Faucet
Have you ever wondered why people volunteer? In my experience, it certainly isn't because they love cleaning out the popcorn machine. People often volunteer because they want to make a difference through their ideas and actions. Just as schools are starting to embrace the concept of "amplifying student voice," don't forget that your volunteers' voices need to be heard as well. Ask questions, look for new ideas, and most importantly—be open to trying them. Provide multiple ways for volunteers to offer ideas and feedback, such as sending an email to a certain person, posting on a website, or dropping a note in a suggestion box. Remind your team about them so people feel welcome to give their input. By connecting their ideas with your organization's mission, your volunteers will be much more consistent and engaged.
5. Leaders Celebrate to Appreciate
As a PTA/PTO board leader, don't forget to celebrate your group's accomplishments throughout the year. Your team puts in hundreds of hours making countless opportunities and activities possible for students and staff. All that hard work deserves to be celebrated! Consider a "Gratitude Week" for your volunteers or plan ahead for multiple celebrations throughout the year. Here are a few fun ideas: a pizza tailgate party, a fire pit party with s'mores, "go-fish" for a small gift, a picnic on the school's playground, or notes from students and staff. Often times, local businesses are more than willing to help treat your amazing volunteers as well. Finally, don't underestimate the power of a personal thank you. Your schedule will get crazy throughout the year, but taking a moment to share a handshake, hug, or laugh with your volunteers will go a long way towards making them feel appreciated.
Being a part of the Bridgewater Elementary Booster Club has been a truly rewarding experience. For me, I thrive on building relationships and striving to make a difference. Hopefully these "two cents" I shared can help you do the same!
Related Posts:
How to Clarify Your PTA's Goals in 5 Simple Steps
7 Things I Wish I Knew as the New PTA President
How to Turn Students into Leaders Before the Bell Rings

Shari Sneary lives in Dundas, Minnesota with her husband Bart and their two boys, Eli (12) and Parker (10). Shari has served at Bridgewater Elementary in Northfield for the past seven years and is looking forward to an exciting last year as her youngest enters 5th grade. (Her boys have told her she's simply not allowed at the Middle School. Spoken like true Middle Schoolers!)
Back to All Articles