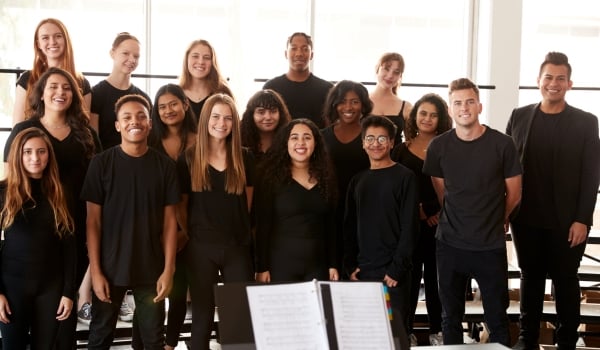 Fun & Unique Ideas for Performing Arts Fundraising
Whether you are organizing a school musical or gearing up for a big band concert, anyone that is involved in high school performing arts knows that before those curtains can be raised, there is a lot to get done! Along with all the hours of practices and rehearsals, there are also many additional resources needed such as costumes and set props. And these costs can add up quickly!
In this blog, you'll learn more about:
While you can certainly raise funds with a participation fee and charging for tickets to the big show, these performing arts fundraising ideas can help offset the costs so your performers and audience members are not stuck shouldering all the expenses.
Performing Arts Fundraising Ideas
Collect Online Donations
This is a super easy fundraiser that does not require tons of time from your busy thespians! Use online fundraising software, such as MyBooster to easily collect funds from donors. Each student is given a personalized fundraising page their family can quickly share via email, text and on social media.
The key to this fundraiser is participation. Set an attainable goal for students, asking them to each help reach out to twenty people, and watch the funds roll in!
Pro Tip: Donors are more likely to give when they know what their money is going towards. Make sure to highlight what you are raising funds for on your online platform.
While a photo or text can convey this message, videos are much more engaging! Have your cast record a quick message about your fundraiser to really connect with potential donors.
Host a Phone-a-thon
You and your students can make a list of numbers of potential donors ranging from family and friends to local businesses and organizations. Pick an afternoon and divide up the list and get dialing! Don't forget to create a script or a list of key talking points, including exactly what you are raising funds for, to make outreach simple and effective.
Pro Tip: Pair this performing arts fundraiser with the above online donations fundraiser and use an online fundraising platform to easily collect your donations. The more ways you have to reach out to your community, the more funds you will raise!
Create Custom Gear for your Next Show
Everyone loves a great souvenir! Create custom t-shirts, hats, bags and more featuring your show or event name. Have fun and get creative with the design. If you order your custom gear through Booster, you get free access to their professional design team to help make your items perfect.
Add a list of cast members on the back of your t-shirt and set aside time after the show for your audience to get their shirts signed by cast members. It's a fun memento that will live on for years! Just remember not everyone has cash on hand so make sure to provide additional options to pay like Venmo.
Pro Tip: Want to make your life easier the day of the show? Create a free online store through Booster to sell your custom gear and get the buzz going about your show. Your audience can pre-order and pay online then have their items shipped directly to them. Fun for them and profitable for your performing arts program.
Offer Custom Tumblers at Your Concession Table
If you plan on having a concession table at any of your shows, create custom tumblers with your group logo. Sell these alongside any drinks you're offering as an additional souvenir option to make the most of this performing arts fundraising idea.
Pro Tip: Depending on your group, you may plan on having numerous shows or events throughout the year. If this is the case, you can encourage attendees to purchase tumblers by offering a discount for future beverages they purchase when returning with their drinkware.
Sell Discount Cards
Providing an opportunity to purchase discounts to popular restaurants and shops is a great way to give your community something they want while also raising funds. Many discount cards feature national brands so you can sell to friends and family anywhere in the country.
Pro Tip: This type of fundraiser will require participation from group members to be successful. Offering incentives and prizes can help motivate members and keep excitement high.
Organize a Catalog Sale
This is another performing arts fundraising idea that gives you the opportunity to sell goods that meet the needs and wants of your donors. From wrapping paper to kitchen gadgets, there is a huge variety of items your group can sell. When selling, remind friends and family to think ahead to upcoming events, birthdays and holidays that they can purchase gifts for through your sale.
Pro Tip: The timing of this fundraiser can make a big difference in funds raised. Try to host your sale around times that people are more likely to make purchases. For example, before a major shopping holiday is an ideal time. On the flip side, if you host a catalog sale right after a shopping holiday, donors may be unwilling to spend more money regardless of the cause.
Every performing arts program is unique and so are your needs. Before deciding which performing arts fundraising idea is the right fit for your group, consider these key points.
Tips to Create the Perfect Performing Arts Fundraising Plan
Begin by determining

what exactly you are raising money for

and how much you will need to raise to hit your goal.

Once you have a monetary goal, you can determine if you will need to host more than one fundraiser. If you will be hosting multiple fundraisers, it is important you don't exhaust your donors.

Space out your fundraisers throughout the year so they are more likely to make repeat donations.

Find a balance between simply asking for donations and providing your donors with tangible items for their money.

Consider working with a

one-stop shop fundraising company like Booster

to have an expert guide you through all these details throughout your school year.

Be realistic about how much time you and your group members have to dedicate to your performing arts fundraising effort. Take into account both students' responsibilities to your group as well as school and other extracurricular activities.
By engaging students, parents, and the community in the fundraising process, your performing arts program can generate the resources you need to support the creative work you are doing as well as help generate excitement and buzz for your program.
And while the main goal of a performing arts fundraiser may be to raise money, when done right, your efforts can also have a huge positive impact on your performing arts group, bringing members closer together through a bonding experience. That's reason enough for a standing ovation!
Back to All Articles