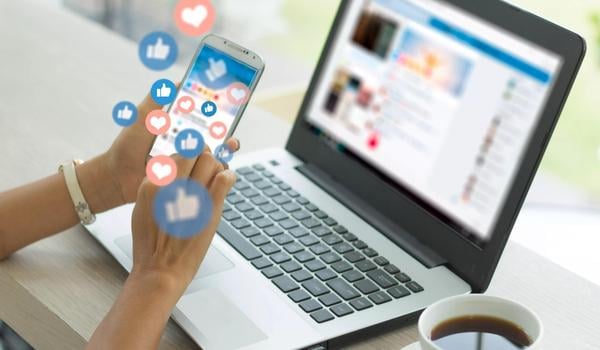 Using Social Media To Get Community Involved | Booster
You want a vibrant school community filled with people who are proud of their child's school, jumping at the chance to volunteer, and excited to be part of something great!
In this blog, you'll learn more about:
So How Do You Build the Engaged School Community of Your Dreams?
COVID taught us all there's nothing better than face-to-face interaction when you want to build connections and relationships. Social media can be a powerful tool in helping to drive those opportunities in real life!
3 Benefits of Social Media in Building School Community:
Improve communication about field trips, PTO/A sign-ups, bake sales, etc.

Social media can be easier and more cost effective than

traditional ways of communicating with parents

.

People need to hear a message multiple times across a variety of channels before it sinks in. Use social media in addition to your current efforts for maximum impact!
Increase the successfulness of fundraisers through post sharing and word of mouth.

Planning a school fundraiser or event

can be a huge commitment, especially if you have big ambitions or a low number of volunteers! Social media can make it easier than ever to get the word out.

Boosterthon makes it extra fun for parents and families to share about their school fundraiser with little treats like free, customized videos that star the student! Families love to share and enjoy these personalized videos! It's an efficient way to spread the word and boost donations.

Support people as they get to know and recognize each other.

There's nothing worse than connecting with someone at your child's school only to draw a complete blank on their name the next time you bump into each other.

When schools have an active social media account, it's a great place to reinforce those in-person engagements and help people start to recognize each other. Plus, it's an excellent resource to look someone up when you just can't seem to remember that one parent's name.
Using Social Media to Boost School Community Is Easier Than You Think.
You don't have to be an expert at social media to make it work for your school. The key to social media is that it's social. Just be yourself and interact the way you would with other friends.
And you don't have to be on social media every day! If you have a Facebook page, there are free scheduling tools Facebook offers that allow you to schedule posts to go live whenever you want.
If you are on other social media platforms, there are free tools like Hootsuite or Sendible that allow you to schedule across a variety of social media channels as well.
But What on Earth Should You Post?
Harnessing the power of social media can be intimidating at first, but once you build your confidence and know the right tools it's easier than you think!
3 Tips to Use Social Media to Boost School Community
Share posts that advertise an upcoming event.


Before

the event, use social media to build excitement or share about corporate matching

. Have a big reveal of the venue. Show your volunteer team smiling and laughing as they set up the event. Or give a sneak peek at the entertainment or activities school families can look forward to at the event. This will build anticipation and excitement for the big day and help improve attendance.
During

the event, post pictures in real time and tag businesses or specific supporters who donated to your event. Get up close pictures of the food and use fun angles to capture the excitement!

Posting these in real time will draw in anyone who was on the fence about attending at the last minute or who forgot about the event.
After

the event, post a thank you to families and businesses for their participation and support. Also, take this chance to share any additional pictures or information about what a great success the event was!

People who weren't able to attend will be more likely than ever to put the event on their calendar next time so they don't miss all the fun! And don't forget to tag those businesses. Giving them great visibility will make it an easy yes for them the next time you ask for support.

Recruit new volunteers with an online sign-up form for PTO/A or other boards.

Sending forms home is great, but we all know those can get lost in the shuffle and forgotten or buried in the backpack.

Instead, grab parents' attention where they are - on social media - and ask them to fill out your online volunteer form! Don't have a form yet? No worries, we've got you covered with simple tips on what to include in a parent volunteer form.

Multiply your fundraising success!

Similar to a school event, you can use social media to promote your fundraiser to reach a larger audience.

Grandma might be halfway across the country, but she can still feel involved when she sees a cute video starring her grandchild and clicks the "donate now" button to support their school! Just make sure it's easy and fun for parents and families to share about your fundraiser on social media to help spread the word and build excitement.
1 Key to Success People Often Get Wrong When Building School Community on Social Media:
Every time you post on social media, it's vital to include a call to action. This gives people one simple next step they can take to help your school.
For example, "share this post to help get the word out" is perfect for many of the posts you will do. Or "comment below what you are most excited about with this event."
Remembering this simple key to success will ensure people start engaging with your posts and build your school community faster than ever before!
It's the Perfect Time to Build Your School Community with Social Media Right Now!
After months of isolation due to COVID, many people are seeking out community. Capitalize on this opportunity by putting extra effort into building your school community right now.
Social media is a powerful tool that can help your school build the engaged community you've been dreaming of. Your efforts will be rewarded with the beautiful side effect of more volunteers, successful fundraisers, and connections and friendships that last a lifetime.
For more fundraising tips or to make sure you're not missing anything important, grab our free school fundraising checklist here!
Back to All Articles