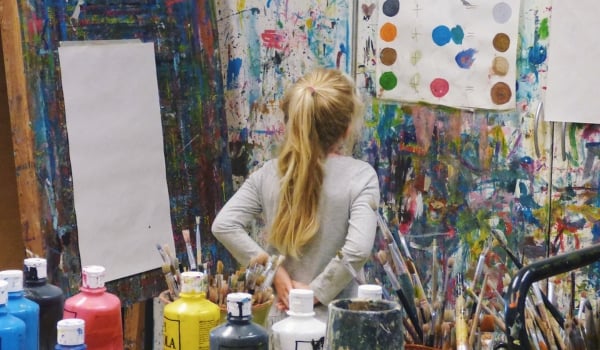 High School Art Club Fundraising Ideas
High school art clubs are an excellent way for students to hone in on their artistic skills and learn new techniques, while also forming bonds with other students and the community through collaborative projects and teamwork. It can even pave a pathway toward a career in the arts!
In this blog you will learn:
Similar to other high school clubs, having the appropriate funds for important resources and supplies is crucial to providing an enriching experience. However, these things usually come with an associated price tag - which the club's dues may not be able to cover.
That's where a high school art club fundraiser comes in! The trouble, though, may be where to start. The best fundraisers for school clubs are ones that adapt to the type of club they're supporting. Creative students will thrive with creative fundraisers!
Read on for four amazing high school art club fundraising ideas that not only tap into the abilities of these students but also give them the opportunity to proudly showcase their talents.
Host an art gallery night
Hosting an art gallery night gives members the chance to display their work for friends and family and raise much needed funds. That's a win-win!
For this art club fundraising idea, you can get students, teachers, and even the community involved by inviting them to your event. First, you'll want to find a room in the school (or use pop-up walls in a gymnasium) to hang up paintings and display sculptures and dioramas. This gives your audience plenty of room to explore the club's hard work and artistic visions. Keep it casual, or encourage attendees to dress up on a theme and give it that Met Gala vibe!
Sell tickets to the event and offer concessions to raise funds. Want to take it up another notch? Put some or all of the show's masterpieces up for sale! Not only will attendees be able to purchase one-of-a-kind art, but students will feel a rush of pride at having sold a piece!
Pro Tip: As an added bonus, this might be a great opportunity to pair up with a business sponsor! Setting up in a certain shop's parking lot will help drive art gallery traffic to the business, and the business's regular traffic to the gallery!"
Create wearable art
With a club full of high school artists, you have everything you need to create unique pieces of wearable art! Ask your art club members to create a collection of original designs to put on shirts, hats, bags, and even stickers, buttons, and tumblers.
Then, host a sale! This can be done by setting up an online shop or ordering in bulk and setting up a table in a high traffic area at a school special event.
Keep in mind the pros and cons to both. With an online gear shop through Booster, the company will only ship what you actually sell. This means no upfront costs or leftover inventory. With a bulk order, you have the ability to sell in-person, directly to your key audience.
Pro Tip: When brainstorming designs consider a general theme, such as school spirit, the season, a holiday, or an upcoming event. You can even partner up with another club or sports team that has a large upcoming event and offer to create gear for them.
Host a painting night
You've likely heard of a paint-and-sip night, where patrons gather to learn how to recreate a painting. Put a student-friendly spin on this type of event by serving only non-alcoholic drinks like flavored lemonade or punch. Gather interested participants around to have fun and learn a skill that's art-centric. It's a terrific high school art club fundraiser!
Create a simple but appealing image that the club can easily teach other students, teachers, or family members to recreate step by step. Elements of nature, like flowers, trees, or animals, are usually safe bets.
Next, elect a few students to act as the instructors - this is a great opportunity to help club members sharpen their public speaking skills. Gather up supplies enough for every attendee, sell tickets, and host a night of art and fun!
Pro Tip: You can raise even more funds by selling fun concessions at your event. A hot cocoa bar, pumpkin spice lattes or peppermint mochas in fall and winter and fun lemonades or sparkling drinks in summer are great options. Get creative! You can even create custom tumblers to serve drinks for an additional charge.
Donation drives
A simple, yet effective high school art club fundraising idea is to set up a direct donation link. Students often have busy schedules they can't take time away from to host a grand event - as fun as these events are! Direct donation fundraisers are the easiest, quickest way to gather funds for a high school art club.
An online fundraising platform allows students to quickly and easily share their personalized page to friends and family via text, email and on social media. This means you can reach donors anywhere in the world! Students, especially the creative members of an art club, can also create unique, eye-catching posters and announcements to let others know about the drive, where to donate and what the funds will be used for.
Pro Tip: If you choose to make posters or flyers make sure to add a QR code to direct people to your fundraising page so they can make a quick donation on-the-go!
High School Art Club Fundraising with Booster
There's always room to get creative when it comes to high school art club fundraisers—creativity is what your club does best! Fundraising is what Booster does best. From setting up a donation platform to facilitating an online store and more, Booster is your one-stop-shop for fundraising needs that can help you effectively execute your vision and exceed your goals. Contact us today to learn how we can help your school, club or team!
Back to All Articles