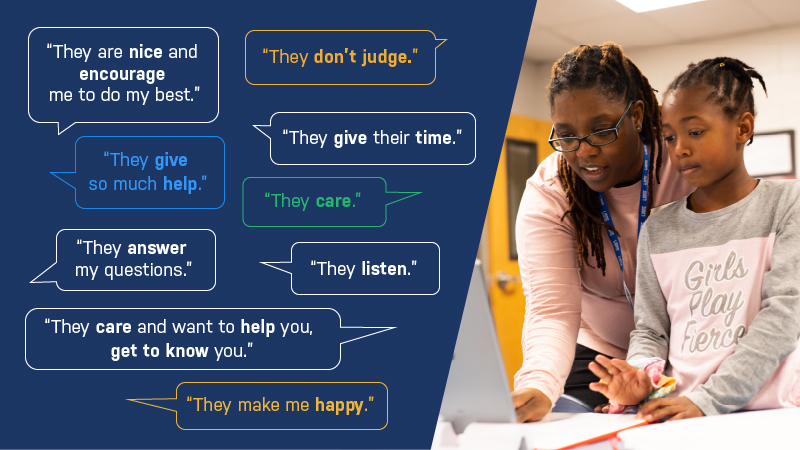 Gratitude: Kyle Young 2020-2021 Volly Winner
Have you ever asked your kiddos why they appreciate their teachers?
"They listen."
"They care."
"They are nice and encourage me to do my best."
"They make me happy."
"They care and want to help you, get to know you."
"They're very supportive. It feels like they're there for me."
"They give so much help."
"They answer my questions."
"I feel like I can talk to them."
"They don't judge."
"They've helped me become a better person."
"They give their time."
"They take time to talk to every student."
"They're open and nice. They're interested in knowing you."
"They're willing to take time to help see positivity in our lives and what's going well."
"Everything!"
So let me tell you a little about my day. I wake up and drive a school bus for 4 schools in Mobile, Alabama. Besides that I am also on the PTA at my youngest son's school and a small business owner with my wife. So you could say I have the next generation all around me all day, and I'm very busy.
We are fortunate we have been back in school since the beginning of the 2021 school year. One thing that never left were our teachers, staff, and administrators!
But the challenges our children face from being out of school the majority of the last 1.5 years are just the beginning of our students' challenges. Teachers have been asked to step up to a whole new level of teaching. A lot of them took on the challenge and have brought many students to the next level with them.
Teachers don't ask for much and it's the little things that matter the most to them. Gratitude goes a long way.
During the holiday season we should take the time and show gratitude to the ones that help our kiddos everyday. I'm not saying go wild and crazy. But a simple handwritten thank you card by a student or parent means a lot.
Our family loves showing gratitude by providing our teachers breakfast or getting them their favorite coffee from the local coffee shop. Teachers have families too; give them a gift card to their favorite restaurant.
Teachers give so much of their time but need more tools to help with teaching. Our favorite website to help teachers is Donorschoose. Simple and quick and a great way to show gratitude.
At the end of the day, your child's teachers love what they do and want to see every student succeed. Take the time and remember the little things. Being present in your child's school is important. Teachers appreciate it and the kiddos love it as well.
I have seen many teachers stepping outside the box to encourage "their kiddos" to do their best. I see it everyday as students board the bus. They have smiles and want to be there. As they exit the bus I always say, "I will see you tomorrow."
I have one student say everyday with the biggest smile, "Can't wait!" It makes me laugh but you know what, I bet a lot of students feel the same way!
So thank you to all the teachers, administrators, office staff, librarians, music teachers, art teachers, science teachers, PE teachers, teacher aides, cafeteria workers, custodians, school nurses, bus drivers, volunteers, parents and of course our students!! Now that is one amazing team!
We are all in this together!! Keep up the great work everyone!! Thank you for all you do!
Kyle Young
Mobile, AL
Back to All Articles