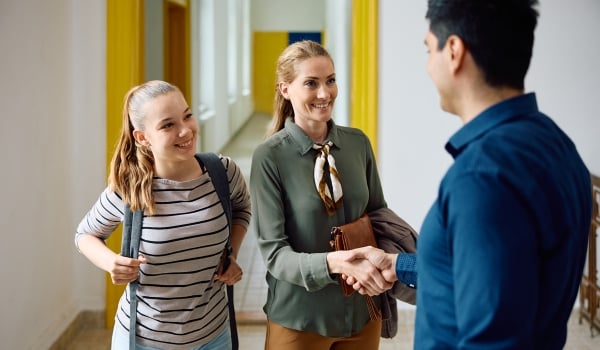 Tips For Securing A School Sponsorship For Fundraisers
When planning a fundraiser, many schools often overlook a key resource that can help connect them to their community—school sponsorships. These sponsorships create a win-win opportunity for both your school and the businesses you partner with. Plus—they can actually help you raise even more by eliminating some of your costs!
In this blog you'll learn:
Take your fundraiser to the next level with this comprehensive guide. You'll learn how to successfully use school sponsorships for your next fundraiser to boost funds and build a stronger connection with your local community.
The Community Partnership Advantage
Did you know that Booster offers tips on Community Partnerships that can transform your fundraising efforts into a win-win scenario? Your school can sell advertising space on the back of your t-shirts allowing you to both raise funds and offer substantial advertising exposure to local businesses. Booster's in-house design team will even help you create the perfect t-shirt, highlighting both your school and the sponsor(s)!
Here's how you can leverage this opportunity to the fullest:
Raise More Funds: If you're hosting a custom gear sale or creating t-shirts for a special event, consider giving local businesses the opportunity to advertise their brand. In exchange for the business offsetting the cost of the gear, they can have ad space on your shirts. This will result in a larger profit for your school! If you opt to order in bulk, you may need to pay for your shirts before you have the opportunity to sell them. Your sponsors can cover that cost so you will not need any extra funds to get started!
Form Lasting Partnerships: School sponsorships can help your school cultivate strong relationships with local business owners, demonstrating your commitment to community collaboration and growth. When the experience is a positive one, these local businesses are more likely to come back and support your school year after year. .
Build School Pride and Spirit: Custom gear can strengthen the sense of belonging and unity among students, parents, and teachers, fostering a supportive school environment. Joining together to work toward a common cause will only grow the bond among your student body and faculty.
Seven Tips for a Successful School Sponsorship
Now that you know all the benefits a sponsorship can bring to your next fundraiser, it's time to make it happen! Follow these quick and easy steps and you'll be on your way to rocking a fundraiser complete with sponsors.
Leverage Your Network: Start within your own school community. Reach out to parents who are business owners or have connections with potential sponsors. Their involvement can be a valuable asset in identifying potential leads and ultimately securing a school sponsor.
Think Local: Create a comprehensive list of local businesses that align with your school's values and mission. Don't hesitate to approach them for school sponsorship opportunities. You never know who might be eager to support your cause!
Cast a Wide Net: Don't limit yourself to a few options. Cast a wide net by approaching various businesses in your area. Some might have personal ties to your school or be enthusiastic about giving back to the community.
Consider Developing Sponsorship Tiers: If you are struggling to reach your goals with just one sponsor, consider tailoring your sponsorship and offering the opportunity to multiple businesses of different sizes and budgets. You can then create tiers that offer varying levels of exposure and benefits, making it an enticing proposition for businesses of all scales.
Craft a Compelling Pitch: When contacting potential sponsors, articulate your school's vision, objectives and the benefits they'll gain from being a sponsor. Just like donors, businesses and sponsors like to know the specific goals your fundraiser has and what the money you raise will go towards.
Highlight Advertising Value: Emphasize the visibility and reach their brand will receive through the ad space on the back of event t-shirts. Showcasing their logo to a captive audience provides an excellent avenue for brand exposure.
Express Gratitude: Always remember to say thank you! Whether it's a small or substantial contribution, send a heartfelt thank-you note after the event to reinforce the relationship and encourage future collaborations.
Securing sponsorships for your fundraiser is beneficial for both your school and local businesses. By building meaningful partnerships and leveraging community support, you can unlock your school's full fundraising potential and raise the funds needed to meet your goals and create an amazing experience to help your students, families and teachers thrive.
Take your school fundraiser to the next level
Once you've got your school sponsors secured, there's still plenty more work to be done on your next fundraiser. That's where Booster can help! From handling spirit gear to setting you up with an all-in-one fundraising platform to track prizes and donations, partnering with Booster on your next school, club, or sports fundraiser will help you reach - and surpass - your funding goals. Contact us today to learn more!
Back to All Articles