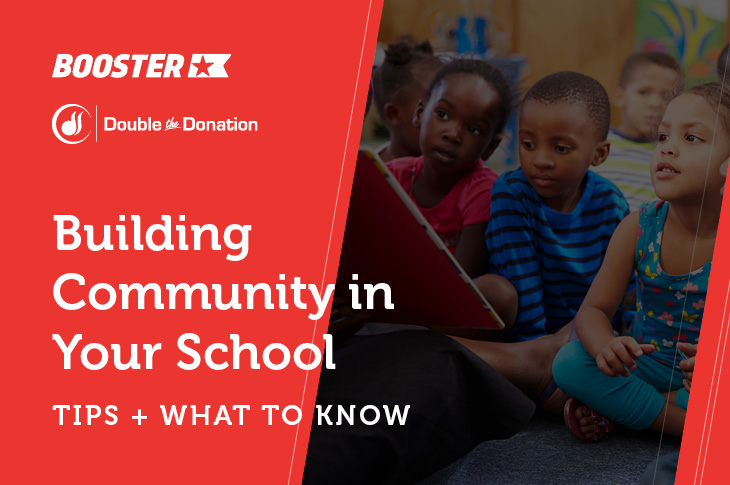 Building Community in Your School | Tips + What to Know
Schools are essentially large communities that incorporate students, families, faculty, staff members, alumni, and more.
Think about your school and the sense of community it fosters. Even in the best schools, there are always new, exciting ways to grow your school community. We're here to help by equipping you with tried-and-true tips and best practices for building community in your specific school.
We'll cover the following topics in this quick and insightful guide:
Why Community Matters in Schools
How to Build Community in Your School
Ready to learn more about schools as communities and what you can do to enhance the sense of community within your own institution? Let's dive in, starting with the basics.
Why Community Matters in Schools
Before you can effectively build a community foundation for your school, it helps to reiterate the vitality of school communities in the first place.Here are a few key reasons to consider as you build your strategy.
Community in schools:
Helps to provide students with a sense of safety, security, and belonging.
Fosters improved relationships between students, faculty, families, and more.
Leads to more positive behavior trends among students.
Provides an optimal learning environment to maximize heightened achievement and growth.
Enables students to develop and hone their social skills.
All of these are essential for producing well-rounded individuals who are interested in learning and preparing for success in the real world. Thus, schools are constantly working on playing their part in community development.
How to Build Community in Your School
Now that you understand the importance of community in schools let's walk through a few key steps you can take to grow your community. You might be surprised at the impact incorporating these simple practices can have on your school!
1. Leverage school spirit.
Does your school have a heightened sense of school spirit to depend on? That's one of the easiest ways to drive community engagement. All it takes is a look around at hundreds of individuals donning the same colors, uniforms, or custom gear with your school name and mascot, and a sense of community is immediately fostered.
In terms of building community at your school, we recommend providing or selling customized school gear, hosting spirit days, and otherwise incentivizing school spirit to drive community.
2. Make fundraising fun.
Fundraising is often essential for schools looking to fund basic operations and community-building initiatives. But did you know, when done right, it can also be a powerful method for building community itself?
Specifically, organized fundraising events can be one of the best ways to put the "fun" in fundraising. We recommend hosting unique and engaging ideas, such as:
Themed

fun runs

(e.g. costume runs,

color runs

,

glow runs

, and more)
Dance-a-thon events
Team challenges and competitions
Talent shows
Carnivals, festivals, and field days
Concerts
And more!
When students, families, and your overall community are excited to get involved, you'll see substantially better results in terms of participation, engagement, and giving—all going to further the community itself.
3. Get your families involved.
As you look into further developing your community, it's important to recognize that your students' parents, guardians, and other family members are some of the most essential pieces of the puzzle. Thus, it's crucial you do everything you can to get this group involved in a wide range of ways.
This might include a combination of engaging fundraising opportunities, school-wide social events, regular parent-teacher meetings, and after-school activities. The more opportunities you give your families to take part in your school's community-building initiatives, the better the results you'll see.
4. Partner with local businesses.
Another way you can increase community within your school is by making the most of the larger community outside your school. For example, partnering with local businesses can allow you to expand your community while simultaneously building new opportunities for funding and other types of support.
Here are a few ideas to consider:
Look into companies offering matching gift programs. Thousands of companies offer

matching gift programs

where they agree to financially match donations made by their employees. See if your donors and other members of your school's community work for these companies.Then be sure they're aware of the opportunity to increase their support by requesting a match. Fundraising donation platforms like Booster Tech can make this seamless and easy for schools.
Solicit corporate support for upcoming events. We've mentioned the benefits of hosting events for your school⁠—in terms of fundraising, community-building, and more. One of the best ways to make the most of the events you organize is to elevate your efforts with corporate sponsorships! The next time you plan an event such as a field day, fundraising run/walk, or dance-a-thon, reach out to businesses to see if they'd be interested in

sponsoring your initiative

.
Request support in the form of in-kind donations. Many businesses are also willing to support schools and other nonprofits through in-kind gifts or non-monetary donations. This may include technology, school supplies, and more⁠—all of which can be used to further develop your school community.
Keep in mind that your search doesn't have to be exclusively focused on local businesses. Larger chains and national companies can also offer powerful sources of support. However, starting with businesses operating out of your own neighborhood can have the most direct impact on your school's community⁠—and they tend to be the most inclined to give back to schools like yours.
Back to All Articles