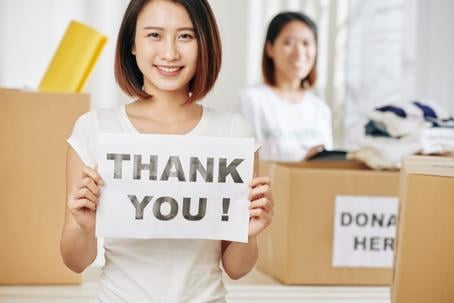 Five Ways to Show Appreciation for School Volunteers | Booster
School volunteers are the backbone of any successful fundraiser. But getting and keeping great school volunteers can be the mystery of the ages.
In this blog, you'll learn more about:
One of the best ways to make sure you have enough school volunteers from year to year is to keep the great volunteers you already have. A great way to do this is by making sure they know how incredibly grateful you are for the time and talent they offer your school.
The best way to make sure everyone feels appreciated is to use a variety of tactics to say "thank you" throughout the year. Each of your school volunteers is unique in how they best receive your message of gratitude, so this will ensure all your volunteers feel equally appreciated.
5 Best Ways to Thank School Volunteers
1. Say thank you.
When your school volunteers arrive at your event, you may be busy and stressed, but make sure to take a breath and smile. Look them in the eye and thank them for being there.
After big fundraisers or at the end of the school year, write each of your school volunteers a short thank you note for all the help they've offered your school. If you can, point out one or two ways you were particularly grateful for their effort.
Some people like it when their efforts are recognized publicly. So consider giving a shout out to all your awesome school volunteers on your social media channels. Tag each person in the post if possible. If you can't tag them, at least list their name.
Bonus points if you can include a picture of your school volunteer group smiling and looking like they are having fun. If volunteering for your group looks like a great time and an opportunity to build relationships and community, people will naturally be more inclined to say yes when you ask for more school volunteers next year!
Other places to say thank you could be in the school newsletter and on the PTA/O website. Or nominate a volunteer for the Booster Volly Awards so they can be celebrated nationally! Take advantage of these ways to help your school volunteers feel appreciated.
2. Give small gifts.
Most likely, your school volunteers won't expect to receive a gift from you, so this doesn't have to be a huge gift to make a big impact. A few simple ideas could be:
Notebook and fun pen with a note that says, "Thanks for being a noteworthy volunteer."
Small lotion or a fun hand sanitizer with a note that says, "Thanks for lending a hand."
Succulent with a note that says, "Thanks for helping us grow."
Put the gift in a small bag with a sheet of tissue paper and your school volunteers will feel a little spoiled and a whole lot of appreciation.
3. Find opportunities to serve THEM.
When your school volunteers arrive at your event, greet them (or have someone else greet them if you know you'll be busy) with a bottle of water or a to-go cup of coffee along with a granola bar. This is a nice touch in case they were rushing to get out the door a little earlier today or if the event ends up going longer than they planned.
When you have meetings, serve water and coffee and maybe a few simple treats such as cookies or fresh fruit. It's an easy way to give back and make them feel welcome at the same time.
Hire a school fundraising company to keep it simple for your volunteers. Companies like Booster echo your gratitude for school volunteers by treating them with respect and making each fundraiser particularly easy and fun to be part of so volunteers are happy to come back year after year.
4. Get together.
Some people are school volunteers to gain a sense of community and a connection with other people. Help foster this natural reward by hosting a school volunteer get-together each summer.
Keep it simple and focused on quality time. A light meal or barbecue on the patio can be the perfect opportunity to unwind and make connections that last.
5. Give a non-hug
Hugs are off the table for a variety of reasons in today's society. But an elbow bump, toe tap, high five, or fist bump can get your message of gratitude across in much the same way.
Just make sure to take into consideration the person's level of comfort and the current health regulations when showing your appreciation in this way.
Every person is different. By sharing your "thank you" across a variety of communication channels you will make all your school volunteers feel appreciated and excited to come back for another great year together!
Back to All Articles