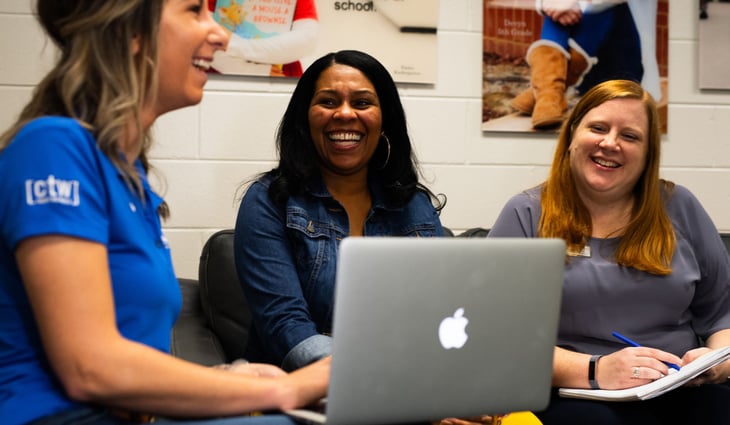 The Easiest Fundraisers for Elementary and Middle Schools
Easy fundraising for schools might sound too good to be true, but it's already within your reach! Read on to get your comprehensive list of 20 easy fundraising ideas for elementary and middle schools.
In this blog, you'll learn more about:
Whether you are looking for one big fundraiser or a few smaller ones to incorporate on a recurring basis, the ideas in this article will require a realistic amount of prep, planning, and volunteer support.
Easy Fundraising for Schools - Elementary Edition
Raffles
Raffles are great no-brainer money makers. They require minimal volunteer support and could be as painless as just purchasing a roll of tickets. There are two main types of raffle options: raffling off an item or a 50/50 raffle.
There is some prep work for raffling off items like gathering items for a gift bag or asking local businesses to donate gift cards or products. But beyond that, raffles are really manageable fundraisers for PTO/A teams.
Pro Tip: Ask around to see if someone in the school community may be willing to donate a weekend at their vacation home.
A 50/50 raffle is about as easy as it gets. Instead of drawing a winner for an item, the winner receives half the proceeds collected for the tickets and the remaining amount goes to the school.
Pro Tip: Raffles are great to quickly implement whenever there is a school based event. Consider keeping tickets, posters, and a collection box on hand for a quick last minute raffle fundraiser.
An All-School-Sale
All-school sales can be easy fundraising for schools. Whether it's a bake sale, a garage sale or used book sale, this type of fundraiser is great for bringing your school community together and raising funds. While it's important to have a few volunteers who are invested in the planning and organizing, the rest of the volunteering comes from other parents and grown-ups who are willing to set up shop and sell their preloved items. So, with that in mind, consider the heavy lifting off your shoulders!
School Spirit Gear
What parent doesn't love sporting their school spirit with pride?! There are two ways to sell school spirit gear
One choice: Bulk order items beforehand and set up a table to sell them. Throwing up a last minute merch table at after school pick-up or a school event was never easier with the help of a Booster Gear Client Care Consultants to make the experience easy fundraising for schools. This can become an easy, year-round fundraiser.
But for those who are still not convinced, setting up an online store is a perfect, simple option as well. Forget hassling with ordering and processing funds. All you have to do is pick what items your school logo will go on and let the online store do the rest. Now that is some easy fundraising for schools!
Fundraising Companies
There are some great school fundraising companies focused on ensuring easy fundraising for schools. From tech innovations to creative programs for students, there is quite a range of features available to PTA/O teams these days. Some companies, like Booster, offer diverse services so you can decide how much fundraising work to take on.
Read-a-thon
Teachers are always looking to build literacy skills in students, and parents want to encourage their children to read on their own. So that makes a read-a-thon a great option when it comes to easy fundraising for schools.
But in order to keep things simple, make sure you have a tool like Booster Tech to make sure it's easy to manage reading logs, gather pledges, and offer great prize incentives to students!
Giving Holidays
Take advantage of giving days like Giving Tuesday. The key to pulling off a giving holiday fundraiser is ample communication. Simply ask for checks or cash donations.
Pro Tip: Think outside the box and use other holidays like Valentine's Day, or even find out when the school started and have a School's Birthday Giving Day.
Single-Product Sale
The great thing about single-product sale fundraising is you are partnering with a company who has a product most people are familiar with. From pizza, to donuts, to mulch, to eco-laundry strips, national and local companies offer product fundraising. The amount you can earn and the easy of doing this kind of a school fundraiser does vary though.Some companies offer a percentage of the profits when your customized promo code is entered on their website. Others require you to pre-purchase the products wholesale and sell them on your own.
Gift Wrapping Station
When the holidays come everyone is in a bustle. With larger fundraisers usually in the fall or summer, creating an annual gift wrapping fundraiser during the holidays can help families out with a time-consuming chore during a busy season. Do be mindful of the winter celebrations and plan your gift wrapping date before all of them.
Pro Tip: Ask families in November to donate a roll of wrapping paper right after Black Friday weekend.
Amazon Wish List
If your school needs to raise funds for specific supplies, then an Amazon Wish List is a great option. While it isn't raising actual funds, it's connecting people to the needs of the school and letting them help by purchasing on their own time. Amazon Wish List is great when a class parent wants to support their classroom teacher. Just gather a list from the teacher, set it up on Amazon, and start spreading the word.
Grants and Corporate Sponsorships
While grant writing is a whole skillset of its own, there are organizations and corporations out there who will bestow school's with grant money and sponsorships. The key is communicating clearly what the funds will go toward. Abstract needs like "more supplies" won't compel a corporation to give, but building a new STEAM lab with a clear plan of how it's needed will! And if writing feels daunting to you, ask around. There is sure to be a parent who loves to write or even better has written grants before.


Easy Fundraising for Schools - Middle School Edition
Raffles
Raffles, once again, are sure to be a simple money-making fundraiser. What makes them perfect for middle school? It's easy to sell raffle tickets at sporting events or other school activities, and in middle school there are a ton of events to choose from! Keep it easy: buy a roll of tickets, create a sign, and do a 50/50 raffle at each home game!
Car Wash
What do you get when you take a few posters, rowdy middle schoolers, add some dirty cars? The perfect opportunity for a car wash fundraiser that's a hit! It will take some advance planning to find the busiest and best location for your car wash. But beyond that, you won't have a hard time convincing middle schoolers to participate.
Pro Tip: Do make sure you have enough parent volunteers in each shift to manage the students, money, and car cleaning.
Fundraising Companies
While most fundraising companies have leaned heavily in the elementary or high school fundraising space, there are a few like Booster who have started creating special fundraisers designed to get middle schoolers involved and excited.
Penny War
Don't discreted this simple fundraiser for Middle Schoolers, especially if you add some friendly competition. Get students involved by offering prizes for the best decorated jar or jug. Reward the top earning classes or grade with no homework for a week, a pizza party, or silly stringing a teacher of choice.
Teacher/Principal Challenges
Speaking of silly stringing a faculty member, what middle schooler wouldn't love to see some good ol teacher get a pie in the face? Or have to spend the night on the roof of their school? This fundraiser is as easy as setting a fundraising goal, getting faculty on board, and picking a date. Then watch those middle schoolers step up to the challenge!
Dance-a-thon
While fads come and go, one thing that has stuck around through the decades is dancing! And with social media, the dancing hype has just increased. So take advantage of middle schooler's desire to show their moves and host a dance-a-thon dance party! And while it may seem daunting to plan, there are fundraising companies who have revolutionized dance-a-thon for schools. So utilize their creative expertise!
Grants and Corporate Sponsorships
Like we mentioned above, grant writing is a tricky skill to master, but not impossible. Once you've gained a few tips and tricks, it's really worth the effort.
When writing a grant for your middle school, consider offering students the opportunity to participate in the writing and story-telling process. You might be surprised what they come up with! Once again, to create a compelling "ask" avoid abstract goals like raising funds for the school. Instead define a clear, specific project goal like building an outdoor garden where students learn science and health skills through growing fruits and vegetables.
And there you have it. A comprehensive list of easy fundraising ideas for your elementary or middle school. Now, go forth with ease and raise those funds!
Back to All Articles