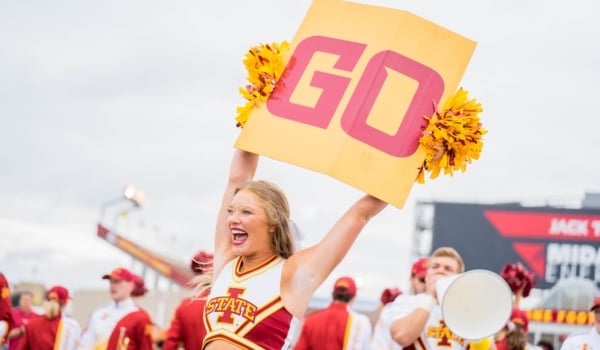 Spread the Word! How To Get People Excited and Market Your Sports Fundraiser
A lot goes into planning a successful school sports fundraiser event, but all that hard work can go to waste if you don't take the time to get the word out to donors in your community!
What is the best way to get students and families excited about your sports fundraiser? What does fundraiser marketing look like, and how can you make it work for you? Read on for tips and strategies to get the word out and make your next fundraiser a huge success!
In this blog you will learn:
Reaching Families & Your Community
Getting families and donors in your community involved and excited is essential to hosting a successful sports fundraiser. These strategies for fundraiser marketing can help you get the word out as well as keep your audience informed and engaged.
Email blasts
For any kind of sports fundraiser, sending out an email blast will be the best way to start gaining marketing momentum.
You should plan out a series of emails from start to finish. Begin with a "Save The Date notice that explains when your fundraiser will take place. Then send out an email announcing the beginning of your fundraiser. It can also be helpful to send an additional last-chance message to let parents and the community know the fundraiser is coming to a close. Finally, always send out a thank you email after your fundraiser to show your gratitude to your donors and build future relationships.
Your emails should give the reader all the information they need in short order such as important dates, how to donate and what you are raising money for. They should also include a clear, actionable call-to-action (CTA).
For example, if you are hosting a direct donation fundraiser, include a link donors can immediately follow to contribute or if you are hosting a catalog sale, provide details on how donors can begin shopping. If you would like to provide longer content surrounding your fundraiser, you can also link to a blog post.
Pro Tip: When you partner with a school fundraising platform, use it to your advantage! The MyBooster platform allows students and families to quickly share a personalized page for their fundraising event enabling them to reach more donors in less time—anywhere in the world!
Social media
No one can doubt the sharing potential of social media—plus it's totally free to use! This is an ideal way to reach high school students and get them excited about your fundraiser. Families can also share the information on their own profiles and reach additional followers. With just a few clicks, a sports fundraiser can extend its reach to the broader community.
For these posts, focus on eye-catching visuals rather than text-only posts. If the team or school has an Instagram account, use it to your advantage. Set up a story to show the prepping process for big events, post lookbook photos of spirit gear in action, or add an outbound link to a donation page. Online fundraisers can be highly effective, and social media is the best way to get the word out.
Be sure to include what the fundraiser will be going toward, so everyone knows what a great cause they're supporting.
Pro Tip: Have a teacher or coach who is doing a lot of heavy lifting for the fundraiser? Show a little teacher appreciation and thank them personally in your social media posting!
Touch base with local media
If you're hosting a large-scale sports fundraising event, tapping into local media, like local news channels and radio stations, might be an excellent strategy for getting the word out. If you're hosting a car wash, a quick news blast might help drive traffic to your event - literally!
It's not just news and radio, though. If the fundraising event is open to the public, seek out local event calendars and request that it be added. This is a perfect fundraiser marketing tool because it targets people actively looking for something local.
If you're partnering with a business, ask if they can use their own advertising avenues to get the word out about your sports fundraiser as well.
Reaching Students Through Fundraiser Marketing
While social media and email-based fundraiser marketing can reach the student body, there are a few more student-specific ways to spread the word about a sports fundraiser.
Posters
The most traditional way of advertising a fundraiser is by hanging eye-catching posters in and around your school. Be sure to include important information such as dates, what you are raising funds for and how to donate.
Add a QR code to take viewers directly to your online fundraising page with a quick scan of their phone. Don't worry: QR codes are effortless to make!
Whether you're selling gear, products in a catalog sale or asking for direct donations, creating eye-catching posters can drive up donations. For example, if you are selling t-shirts, take photos and print them out life-sized to represent what's being sold.
If you used a specific design, print it out and make sure it's front and center on the poster! For product sales, use pictures to highlight a variety of the products being sold and even suggest certain items that make great gifts.
Get geared up
Selling spirit gear or tumblers can be best advertised when other students see them in their day-to-day lives. After you design your gear through Booster, grab a few shirts, hats, tumblers, bags, or whatever you're selling for yourself. Offer them to the students on your team free of charge to wear around school, turning them into your very own influencers.
While this isn't a free way to advertise a fundraiser, it can be as impactful as any word-of-mouth campaign. Students talk, and a simple "Where did you get your shirt?" can create a domino effect of sales.
Pro Tip: Can't give one to every team member? Hold a quick athletic contest and give a few out as prizes. This will keep the student athlete's skills sharp, create some healthy competition, and help spread the word about your fundraiser!
Spread The Word With Booster!
Booster's online fundraising platform makes fundraising easy from all sides. The software provides each student with a personalized custom landing page that allows them to quickly and easily share via text, email and on social media with a click. This allows your fundraiser to reach more donors in less time—anywhere in the world!
The benefits don't stop there. The Booster fundraising platform also streamlines the process of tracking donations, sending thank you's and meeting goals like never before.
Contact Booster today to learn more about how you can help your next sports fundraising event cross the finish line!
Back to All Articles