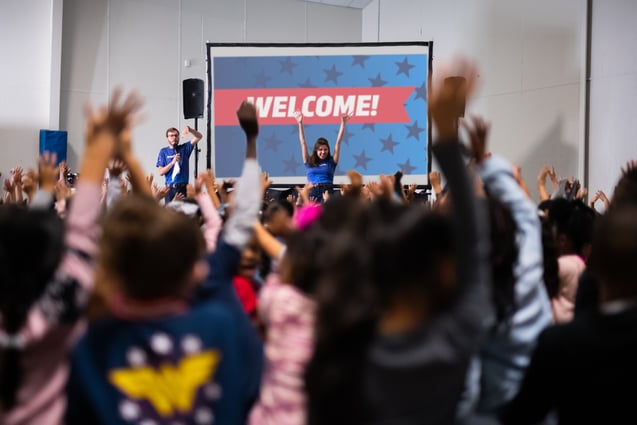 How to Set up a Glow Run (or Fun Run) in Five Steps
Are you wanting to pull-off an amazing Glow Run or Fun Run for your next school fundraiser? You might have a thousand questions swirling in your head like how should you put together an awesome fundraising committee, what are some Glow Run ideas, how to set up a Fun Run that gets students excited, and if you can get people to donate so all your hard work is worth it.
In this blog, you'll learn more about:
Well, you came to the right place! This blog is all about teaching you how to set up a Glow Run or Fun Run, put on a fantastic event day, and do it all in five simple steps!
What is a Glow Run
For starters let's talk about what a Glow Run is. While these steps will help you plan any type of runathon event, we are specifically focusing on a Glow Run.
A Glow Run is an indoor runathon done with the lights off and the running track and surrounding areas of the gym lit up with special touches of glowing light. It's a little different than a Fun Run in that, at a Fun Run, the lights would be on and instead of glow lighting you would use balloons, inflatables and other decorations to create that classic Booster ambiance.
Glow Run Step by Step
Step One: Decide and Book your Location
Pretty early on you will need to choose where you will hold your final day event. If you are deciding between hosting a Glow Run or Fun Run, location plays a key piece in that decision.
While the Fun Run works well outside OR inside, the Glow Run will only "glow" in a dark space. So to do a Glow Run you will need to make sure your school has an indoor gymnasium.
If you have a smaller indoor space you can still hold a Glow Run. Just break students into smaller groups and stagger their running throughout the day. Talking to a Booster Representative is a great resource when thinking through how to best utilize your indoor space.
Once you have a clear idea of where you'll host the event, reach out to your school's administration as soon as possible. You'll want to ask them questions about scheduling, what they require for using an indoor space like an additional janitor, and what you can and can not do in the space.
Step Two: Gather your Event Day Volunteers
Volunteers are invaluable! You'll have a need for volunteers throughout the whole fundraising process, plus you'll want to make sure you have enough volunteers in place the day of your Glow Run or Fun Run event.
Some volunteer positions you'll definitely want to have covered are:
an enthusiastic MC
a couple of volunteers at water stations to hand out water
volunteers to help mark students' bibs as they complete each lap
a group to set up and tear down the setup for your event
Look for ways volunteers can double up. When students enter the gym or field, have your volunteers prepped to cheer them on, leading them to the right spots, etc. Then right before the race starts have volunteers move into their next volunteer position.
Pro tip: Consider a volunteer training day a few days before the actual event to get all the last minute details taken care of, teach your crew how to set up a glow run and run through all the jobs you will ask them to do.
Step Three: Think through Safety
As you think through how to set up a glow run, make sure to keep safety top-of-mind. Start by answering these questions:
Where will your water stations be positioned? Are they clearly marked?
Is the track marked well and is it clear which direction students will run?
Is there enough time between each group of students to safely get to the gym and then back to their classroom before the next group comes if necessary?
Are exit signs clearly marked?
What information do my volunteers need to know so they can help with safety?
What information do students need to know to stay safe?
As you think about how to set up a glow run, since the gym will be pretty dark, make sure you have clearly lit the exit signs, the water stations and any other important spots in the gym.
Pro tip: Have extra lights, glow sticks and glow rope lighting on hand.
Step Four: Check your AV and Technology in Advance
As you plan how to set up a glow run, you'll want to walk through your location in advance to see where to place your audio system and where speakers need to be placed for the best sound quality.
Think through all the different audio needs you might have. Will you play music during the event? Who will be the MC for the event and how can you amplify their voice?
You will definitely need a microphone. Will you want a megaphone as well? Remember, indoor and outdoor sound travel differently. You'll want to really work through these pieces ahead of time as you work out how to set up a glow run.
Pro Tip: The best piece of advice you can take from Broadway – do a tech rehearsal a day or so before to work out any kinks! If you have a tech-savvy parent, now is the perfect time to recruit them and gain their expertise and help.
Step Five: Build your Decoration and Equipment List
For the Glow Run, because the lights will be off, your lighting will be one of your main equipment investments.It will create an awesome ambiance and serve as decorations as well! Other equipment you need to have:
Cones
Tables for sound and MC station
Tables for water stations
Cups and water coolers
Running bibs for every student
Sharpies, paper for signs, tape
Optional: inflatable tunnels or pillars to run around or through
Feel free to add to this list as you customize your event! As you gather your list, loop in your school administration to find out what items they already have that you can borrow.
And there it is! How to set up a Glow Run or Fun Run in five easy steps. If you follow these steps, you are well on your way to pulling off an epic Glow Run or Fun Run Event. Congratulations!
Back to All Articles