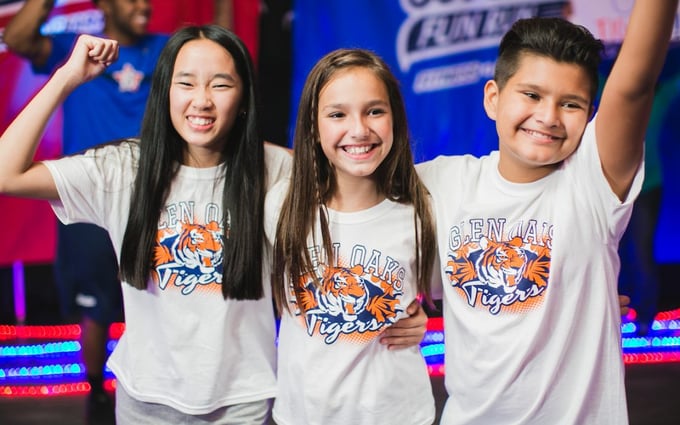 6 Reasons to Pick the Booster Glow Run School Fundraiser | Booster
"But what happens to the Fun Run in the case of rain, snow, or cold?"
In this blog, you'll learn more about:
We hear that question quite a bit. That's why we developed one of the most exciting fundraising programs ever: the Booster Glow Run. The Glow Run transforms your gym into a glowing neon celebration complete with rope lights, disco lights, and black lights. It's perfect for your main Fun Run event or backup plan.
In fact, some of our school partners love the Glow Run so much they intentionally choose it over the traditional outdoor Fun Run—regardless of weather.
Just ask Debra Hendrix, Principal of Broadmoore Elementary in Moore, OK.
"We chose a Glow Run instead of the traditional Fun Run because we wanted something a little different than the previous year. [They did the traditional Fun Run the year before.] The Glow Run is definitely the way to go! It added a whole new level of excitement to the Fun Run by providing such an energizing atmosphere."
The best part? Knowing how to host a Glow Run isn't much different from the Fun Runs you're used to. But in case you need more convincing, here are six reasons you should pick the Booster Glow Run as your next school fundraiser:
1. Remarkable experience
Our glow lights deliver a neon experience that students will talk about for the rest of the year. Parents are still invited to cheer, make signs, and dance. You'll be amazed at the rave remarks you'll hear on run day!
Listen to what Debra had to say about her school's Glow Run experience:
"Everyone who attended the Glow Run left not only energized but also inspired. The Booster staff were amazing! They led by example and did a fabulous job with organization, motivation, and communication."
2. Works in any weather
Since the Glow Run takes place indoors, rain, snow, and cold can't hold back the fun—it rocks in any weather. Since you don't have to worry about preparing a back-up plan in case of bad weather, it also makes learning how to host a Glow Run a little bit easier.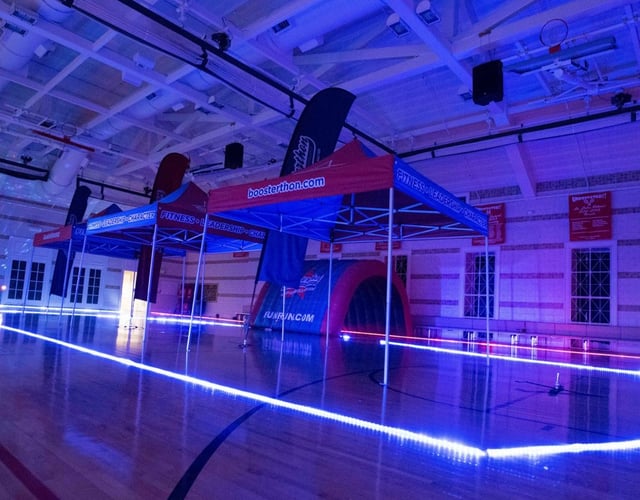 3. More cheering
For the Glow Run, we cut the track size and soundtrack in half (so the track is about 1/32 of a mile). Half the students run while the other half cheers them on in the "bullpen." So that means extra cheering!
4. Less class travel
We know some schools are on a tight schedule. Since the Glow Run takes place in the gym (instead of outside on a field), it means less class travel and less overall time.
Back to All Articles