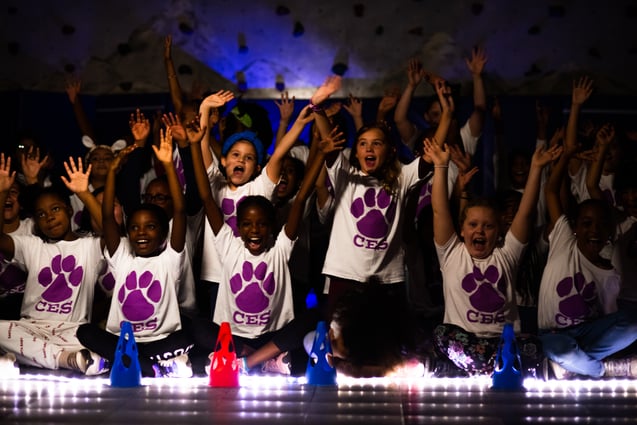 Glow Run Fundraisers: What They Are and Why Your School Needs One
Give your next fundraiser that special "wow" factor with a Booster Glow Run! Find out what a glow run is and how easy it is to bring a glow run to your school!
In this blog, you'll learn more about:
What is a Glow Run?
Imagine your school's gymnasium transformed into a neon wonderland filled with glowing rope lights, dazzling disco balls, and vibrant black lights. A glow run is an indoor version of our popular Booster Fun Run.
Less Running. More Cheering.
A Booster Glow Run transforms our traditional outdoor fun run into a magical indoor experience. We shrink our track down to fit whatever indoor space you have available and divide students into two groups, with only half running at one time. The other half act as a cheering squad for their friends, pumping up the excitement.
Switch It Up.
Variety is the spice of life! To keep Booster fundraisers feeling fresh and exciting for students, every year the amazing Booster character theme is completely different. A glow run gives you the option to add yet another level of variety year after year.
Indoor glow runs are the perfect plan for fundraisers during winter months. They can also make a great back-up plan for inclement weather during the warmer months. No matter the weather - Booster knows how to make your even day special for students. And with over 19,000 events under our belt, we're experts at rolling with the punches!
Advantages of an Indoor Run.
Being outside in the sunshine and fresh air is great, but our indoor runs have many benefits to staff, parents, and students.
Safe and Accessible
With a Booster Glow Run, Our staff ensures the same level of safety, excellence, and memorable fun as a Boosterthon Fun Run. Hosting your event in your own gym can make it even easier for participants with mobility issues to join the fun. Also, having all school facilities such as bathrooms and water fountains close at hand makes life easier for everyone.
Decorate Your Big Day
Nothing creates a magical environment quite like the glow of neon lights. In anticipation of your event, your school can choose to have students create their own banners and signs to hang on the gym walls. What a fun way to build excitement for your event and encourage school spirit at the same time.
Why Choose a Glow Run Fundraiser?
Two very important benefits of a Booster Glow Run are its fundraising potential and ease for staff and volunteers to organize.
Excitement Equals More Funds
An event filled with neon lights and disco balls is going to create a great deal of excitement for your students. We all know when children get excited about something it's infectious. Spreading the word on your school's fundraiser is paramount to reaching your fundraising goals and kids are great at sharing the fun!
Our programs make it easy to let those near and far know about your glow run via social media. Plus, it's fun with our premiere student star videos that let each student be the star of the show. Online donation collection is a breeze with Booster Tech, our industry-leading school fundraising software. So Grandma and Grandpa can feel like part of the fun and offer a donation wherever they live!
Unparalleled Support
Our team is ready to offer you the exact level of support you need to make your event a success. Booster is the expert in school fundraising with over 20 years of experience serving more than 12 million students! A glow run with Booster guarantees you're hiring the best!
Light up your gym, and ignite your school spirit, with a glow run event to remember. Click the button below to get started!
Back to All Articles