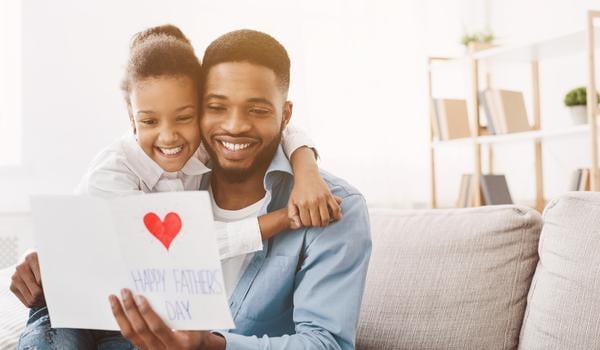 Father's Day Gift Guide
Why should we honor our fathers?
Dads work hard for their families. They are providers and whether they are sole providers or not they often instinctively feel pressure to provide for and protect their families. They shoulder pressures of life that many times go unseen.
Father's Day is a day to show dads just how much we honor and appreciate them for those very things!
In this blog, you'll learn more about:
How can we best honor dad on Father's Day?
Be present. If possible, be together on Father's Day. Fathers love to be surrounded by their children and grandchildren. If you don't live near one another, be sure to take time to call and tell your dad how thankful you are for his love, support, and guidance over the years.
Do something together. Do something with your dad that he likes to do. Maybe he likes to go fishing or kayaking. If he loves to play basketball, play a game of one-on-one or three-on-three. Throw the football if he is a football fan. If hiking is his jam, go for a hike with him on one of his favorite trails.
Go to church with your dad. If your family attends church, be sure to fill up the seats surrounding your dad.
Write a letter. Many of us have a hard time getting words out when speaking. Plus, if you write a letter, he can keep your sincere words for years to come. There is power in the written word, and thanking your dad in letter format will surely top his list of best Father's Day gifts ever!
Watch old home videos. Dig out those old home videos where you played catch in the yard or played little league games with your Dad as coach. Sharing those memories again on screen creates new ones and draws you closer together.
Cook his favorite meal. Let's face it, most dads love a good meal! Take this opportunity to make his favorite dishes and enjoy the meal with him.
Gift Ideas for Dad
Raise your hand if you are one who gets easily stumped when it comes to Father's Day gift buying! If this is you, know that you aren't alone. Buying for moms in May somehow seems easier than buying for dads in June.
Dads are notoriously hard to buy for. We think they might be too manly for footprint cards and heart-to-heart poems. Is it true that dads are less sentimental than moms? On the whole, that may be the case, but that's where knowing what the men in your life prefer and listening as they drop intentional or unintentional hints comes in.
When buying a gift, no matter who it's for, remember to consider that person's personality, likes and hobbies. Yes, there's always the traditional Father's Day tie, but think outside the box and really consider the person you are buying for.
Tools. If he likes to tinker, consider buying tools. Be careful with this one because you want to get something that's good quality and useful. Poke around in his tool box and see if there are any that need replacing.
If he's mentioned a certain tool he'd like, purchase that one for the perfect gift. Perhaps there are tools that he would like to have that would possibly make the job easier, but it's not "necessary" for his work. Get the one that will make the job easier.
If you really want to give the gift of tools but are seriously drawing a blank, opt for the hardware store gift card. Then Dad can treat himself, courtesy of YOU!
Hobby gift. If he has a hobby, consider buying a gift that would complement it. For instance, if he loves fishing, a new reel or some nice gigs or new fishing line would be appreciated.
Hero dad gifts. You know the ones! Shirts, coffee mugs, mouse pads, etc. Anything that says what a wonderful dad you have.
Handmade card. You can't go wrong with a handmade card, especially if you have children in your home. A handmade card speaks directly from your heart as a family, and it's priceless! Add the handprints/footprints of small children, a personal note from each child, or a poem that speaks your own sentiments towards the father of your family.
While most fathers might say they don't need a gift or they don't want you to make a big deal out of Father's Day, it's a day filled with opportunity to say, "Thank you, Dad! You are an amazing provider and protector of our family!"
Slowing down and speaking words of thanks and encouragement to the leaders of our families can be powerful. This day isn't about things. It's about taking the time to be thankful and show gratitude to our dads.
Back to All Articles