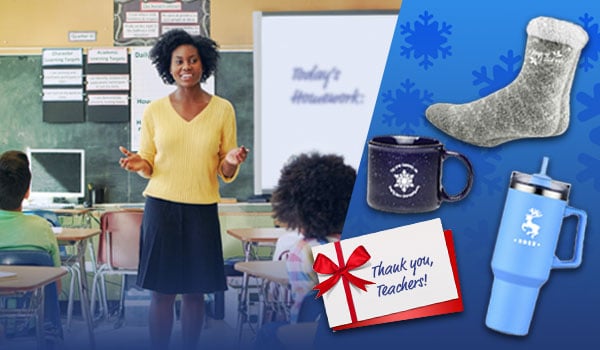 8 Holiday Gifts for Teachers to Show Your Appreciation
While any time of the year is worthy of showing your hard working teachers appreciation, the busy holiday season often brings additional work and stress to teachers. Plus—the holiday season is all about showing gratitude!
Your teachers go above and beyond to make this season extra special for your students, why not do the same for them? Read on for eight creative holiday gifts for teachers that will show just how much you appreciate them.
In this blog you will learn:
1. Gather notes from students and families.
Sometimes the best way to show your appreciation is to say it! Have students and families write their teachers a personal note thanking them for all they do. Then put together a box or binder filled with gratitude!
Helpful Tip: Provide some guidance and ideas to help students and families get started. Examples such as sharing a special memory, a favorite thing their teacher does or what makes them excited to see their teacher each day are all great prompts that will make your teacher feel extra special.
2.Create custom gear they'll love!
Your teachers are one-of-a-kind, give them a gift that is just as unique and special as they are. Booster has a huge selection of custom gear that goes well beyond just shirts and sweatshirts.
You can customize fuzzy socks and sherpa blankets for your teachers to curl up with on the weekend. Or put something special on cute totes for your teachers to carry supplies to and from school. There's even stylish tumblers and water bottles to bring their favorite beverages on-the-go!
Helpful Tip: Simply pick the product that you feel fits your teacher best and then customize it for free with a holiday theme, your school logo or a fun phrase about why teachers are so great!
3. Organize a cookie swap.
Baked goods are always a special way to show someone you care! For a great holiday gift for teachers, ask families to bake up their favorite cookies to donate to your event. Then set up tables around a room featuring all the tasty treats and invite your teachers to shop around and fill a bag or box to take home.
Helpful Tip: Use an online sign up sheet so families can see the type of cookies that are already being donated. This way you can ensure a nice variety of cookies for your teachers to choose from.
4. Purchase gift cards.
Gift cards are an excellent way to recognize all the hard work your teachers do. They also offer opportunities to take a break. Give a card to a local sandwich or coffee shop so they can get a snack or give them a restaurant delivery card so they can skip cooking dinner after a busy day.
You can also purchase a gift card for a shop you know they love or a place to kick back and relax and get their nails done. There are so many options for gift cards, get creative! Pair your gift with a note explaining why you chose the card(s) to make it more thoughtful!
Helpful Tip: While gift cards work great coming from an individual family, you can also make it a classwide effort and come up with a fun theme such as "Meals on Us" or "Pamper Yourself."
6. Offer massages in the teachers' lounge.
Teachers are juggling the holiday stress at school and at home! While it's always easy to tell someone to just take some time to relax, we all know that can be virtually impossible to do sometimes. So bring the relaxation to them for a day and offer massages before school, at breaks and after school.
Helpful Tip: Offer time slots and use a signup sheet to make sure every teacher has the opportunity to take advantage of this perk!
6. Offer a gift wrapping service.
Your teachers are working overtime to give your students a magical holiday season at school. To show your appreciation, lighten their load at home by gathering volunteers to take on the tedious task of wrapping gifts!
Make sure to give your teachers a save the date for this event with enough lead time for them to get their shopping done and take advantage of the service.
Helpful Tip: You can even pair this holiday gift for teachers with a school fundraiser! Host a wrapping paper sale for your school and purchase your supplies for your event through your own fundraiser.
7. Complete your teacher's classroom wishlist.
Many schools have teachers fill out a wishlist at the beginning of the year filled with classroom supplies they need or want. This list is generally updated throughout the year. Your class can work together to divide and conquer and wipe out as much of the list as possible as a gift to your teacher.
Helpful Tip: If your teacher doesn't have an actual wishlist, you can still put together a gift by purchasing a variety of items that are always in need such as cleaning wipes, tissues, markers and pencils.
8. Cater a breakfast or lunch.
Fuel up your tired teachers by hosting a delicious meal for them! Bring in bagels, muffins and coffee for an a.m. treat or sandwiches and hot platters for lunch.
Helpful Tip: Catering a meal works any day of the week but it may feel more festive on a Friday when your teachers are wrapping up another busy week. You can also host it on an upcoming half day so your teachers can gather and relax together before tackling any development or planning tasks they need to accomplish.
The holiday season is all about expressing gratitude to those you appreciate. Teachers go above and beyond each day for students, putting them at the top of our list! From ways to lighten their load to gifts that help them relax, these creative holiday gifts for teachers will show them just how much you appreciate all that they do.
Want to learn more about how Booster can help make your teacher gifts unforgettable? Check out the full line of products for the holiday season here.
Back to All Articles