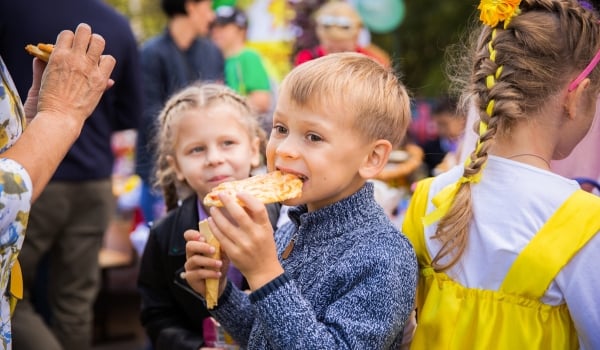 Food Themed Fundraising Ideas That Work
Looking for a tasty twist for your next school fundraiser? From dining out for a cause to freshly baked pies around the holidays and sweet cookie treats, there are so many ways food can make your next fundraiser a delicious success! Read on for ten food fundraisers that will have your donors' mouths' watering while you raise big funds for your school.
In this blog you will learn:
1. Sell Discount Books
This food fundraiser gives your donors the opportunity to score great deals on restaurants they already love and support your cause. It's a win-win for everyone!
How It Works: Students and families sell books to donors filled with coupons for local restaurants and shops. Encourage participants to reach out to friends and neighbors and share your fundraiser on social media.
2. Host a Restaurant Night
Everyone loves a good excuse to skip cooking for a night and head out to a restaurant or grab some takeout. That's exactly what this food fundraiser offers your donors!
How It Works: Reach out to a local restaurant and ask them if they will donate a portion of proceeds from a specific evening to your school. Then get the word out! You can also check out one of these chain restaurants that offer partnership opportunities with schools.
3. Organize a Catalog Sale
From delicious cookies to clever kitchen gadgets to flavorful popcorn, Booster has a huge selection of products to fit the needs of every foodie on your donor list!
How It Works: Students share all these high quality goods with friends and family online and in person to raise big funds. Donors will love to hear that their purchases will contribute to a great cause too, so remind your students to share what they are raising funds for.
4. Whip Up a Bake Sale
No one can resist a table filled with delicious baked goods! From cookies to muffins to pies, the options are endless for this food fundraiser.
How It Works: Create an online sign up sheet and ask families to contribute something yummy for a good cause. Plan a time and place where you are guaranteed high traffic and get selling! Consider setting up a Venmo account to give an additional payment option for donors that don't have cash on hand.
5. Create a Delicious Hot Chocolate Bar
What's better than a warm cup of hot cocoa on a cold day? A whole table of yummy toppings to make this sweet treat one-of-a-kind!
How It Works: Create the ultimate hot chocolate bar with a spread of toppings such as marshmallows, whip cream and sprinkles. You can drive up donations even more by selling custom tumblers for donors to sip their future hot chocolate out of too!
6. Open a Concession Stand
Drinks and snacks are always in high demand at special events! Whether you sell candy, chips and bottled water or offer meals such as hot dogs and pizza, a concession stand is sure to be a successful food fundraiser.
How It Works: Check your school calendar for upcoming events such as a sports game, festival or open house and offer to team up and sell concessions. You can visit a wholesale club and buy snacks and drinks, ask a local pizza joint to donate some pies or fire up a grill for burgers and dogs.
7. Sell Pies for the Holidays
The holidays are a busy time for families, so hosting a food fundraiser that can lessen the burden is always a hit! Selling pies around holidays and parties means your donors can purchase a delicious dessert to bring along to the festivities without hours spent in the kitchen baking.
How It Works: Many local farms and shops sell holiday desserts. Reach out to one of these businesses in your area and ask if you can host a fundraiser featuring their products in exchange for a portion of the proceeds. This partnership benefits everyone involved, giving valuable exposure to the local business you choose to work with.
8. Send Out Candy Grams
These sweet deliveries are sure to brighten anyone's day! Host this food fundraiser around a holiday such as Valentine's Day or for Teacher Appreciation Week to express gratitude and strengthen friendships and community.
How It Works: Students and families purchase a candy gram and then volunteers make the special deliveries on a designated day. You can use an online fundraising platform to keep your sale organized and collect funds easily online. For a personalized touch you can attach a card to each candy gram with a sweet note from the donor!
9. Plan a Cookie Walk
Imagine a room full of different types of cookies. Think chocolate chip, peanut butter, double chocolate—it's a cookie lover's dream!
How It Works: Ask families to bake their favorite cookies to donate to your fundraiser. On the day of the event, set up tables around the room and display all the different varieties of cookies. Attendees pay for a set amount of cookies and then get to stroll around a room mixing and matching to fill up their boxes.
10. Bring in a Food Truck
Take the dining experience outdoors with a food truck—or even multiple trucks if you have them in the area!
How It Works: Similar to partnering with a restaurant, the food truck(s) would donate a portion of the proceeds to your school in exchange for all the customers you promise to attract. You can pair this idea with an event based fundraiser such as a fun run to raise even more!
Food fundraisers are a great way to raise much needed funds for your school while providing your donors with some seriously delicious products and treats! Many times, these types of fundraisers also offer your donors conveniences and welcomed discounts making them a win-win opportunity for everyone involved.
From product sales to discount cards and more, Booster offers a huge variety of fundraising solutions that can help your school plan a food fundraiser sure to wow even the biggest food critics. Want to learn more?
Back to All Articles