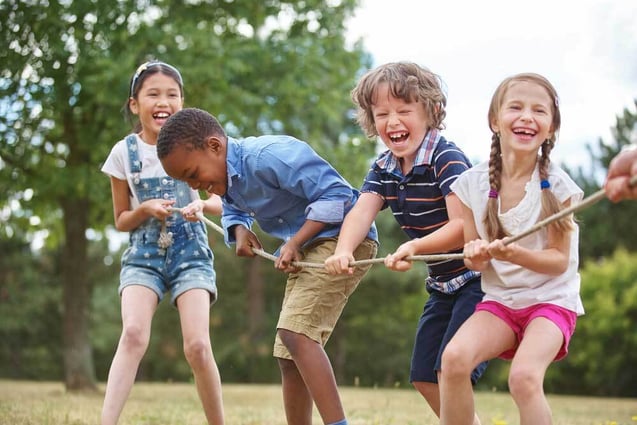 10 of the Best Field Day Games For Your Next Event
Looking for some fun field day games to liven up your school's next event? We've got you covered! From classic favorites to some new twists on your usual go-tos, these field day games will make for an unforgettable experience. Read on for our full list, plus the best ways to plan and even turn your event into a fundraising success!
In this article you'll learn more about:
Field Day Games Your Students Will Love
Egg On a Spoon: This game is simple and doesn't require a lot of supplies—just some spoons and eggs! Students must race to the finish line while balancing their egg on a spoon. Raw eggs are generally used, but if you're worried about the mess, you can also use hard-boiled eggs. For added team building, make it a relay race!

Copycat Dance: While there are many ways to incorporate dance into your field day games, we love this twist that adds a memory challenge. Stand in a circle and have the first student show off their best dance move. The next student must copy that move and add one of their own to the sequence. Continue around the circle adding dance moves until someone makes a mistake.

Tug of War: This classic game is an inclusive way to get students working together. Split kids up into two teams and have each time grab one end of the rope. Draw a line in the middle and start pulling! Whichever team pulls the other over the line first wins!

Sponge Relay: You can never go wrong adding some water to your field day game fun—especially if it's a warm day! Place two empty buckets on one end, two buckets filled with water at the other, and give each team a couple of big sponges. Students will take turns dipping a sponge into the filled bucket to soak up water and running down to the empty bucket to wring it out. First team to fill their empty bucket wins!

TV Tag Games: Tag is always a great field day game to get students moving and exercising. And this version will bring some extra laughter to the mix. When a student gets tagged, they must yell out a tv character. If they don't, they're "it" then!

Themed Obstacle Courses: Use equipment you already have like hula hoops, noodles and mats to create the ultimate course. For added fun, you can give your course a theme. Get creative and even let the students vote for their favorite ahead of time!

Water Balloon Toss: Pair students up and let the fun begin! Kids start a few feet apart and start tossing the water balloon back and forth to each other. Each time they make a pass, they must take a step back, increasing the distance. Whoever misses the toss first loses!

Three Legged Race: This classic field day game is guaranteed to bring some laughs! Teams of two tie their legs together and race other teams to the finish line. This game really requires some coordination and teamwork for students to get their steps in sync. But trust us, it's equally fun to NOT be the most coordinated team!

Hungry Hungry Hippo: Make a life-size version of this nostalgic game! Throw toy balls into a center area and give each student a laundry hamper basket and let the silly fun begin. Students use the baskets as the hippo mouth and chomp to see how many balls they can score.

Mini Golf Course: Bring putt-putt fun to your next event! Grab supplies from your art room, gymnasium, cafeteria—anywhere!—and make a mini golf adventure. Use cups as holes and toys as obstacles. The more creative, the better! You can even involve the students and have them help design different holes ahead of time.
How to Plan Your Event
Now that you've got some ideas, the next step is to plan your event! Start by picking a date—field day games can be done both during school hours or after school. Next, recruit volunteers from teachers, aides and parents. Once you have your team in place, it's time to select the right field day games for your event. Get a head count on volunteers first to help you choose games you can smoothly pull off.
Along with volunteers, you may also need to gather other resources such as supplies to create the field day games your students will take part in. First, determine the resources you already have available at your school and then make a list. It may be helpful to have a "need" column and a "nice to have" column. You can share this list with students and families.
Once you have a plan and date, start building the hype and get your students excited! Utilize social media and send out school wide blasts. You can even let your students be a part of the planning process! This is another great opportunity to collect supplies you may need to create your games.
Turn Your Field Day Game into a School Fundraiser
And while a field day can be a reason to bring some fun to your school, it is also a great opportunity for a fundraiser! Invite families and community members to attend for an entry fee, offer concessions or ask students to collect pledges.
If you opt to collect pledges, simplify the process and take everything online. Booster offers customized online platforms that allow you to collect funds securely and instantly. Plus, it's simple for students to share their personalized link so they can reach more people quickly. That translates to more funds for your school!
If you choose to turn your event into a fundraiser, you can also incorporate a spirit sale either online or in person at your event. Students and attendees will already be feeling the school spirit and love the opportunity to support your school!
With Booster Gear, you can customize a variety of items with your school logo. Choose to either order in bulk ahead of your event or use the risk-free online option. With online orders, Booster will only ship what you sell, so there is never any leftover gear.
And of course, the most important part of any field day is—to have fun! Don't stress the small stuff or strive for perfection. If you and your volunteers bring the positivity, any field day games will be a blast for your students!
Back to All Articles