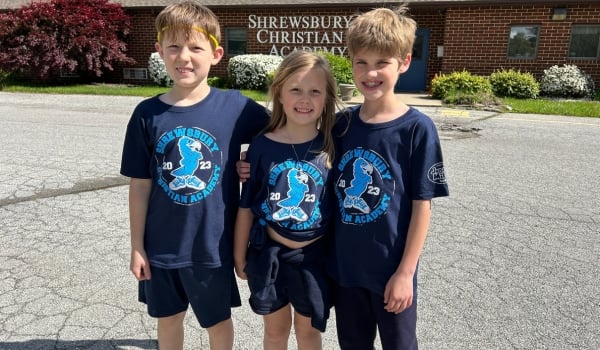 5 Year Round Fundraising Ideas That Focus on Gear
Showing school spirit never goes out of style, which is why hosting multiple custom gear sales throughout the year is a great way to raise funds for your school. The key is to make each sale unique and offer different products in order to keep your families and community interested and coming back for more purchases.
When planning out your fundraising calendar, think about factors such as special events, holidays and changing seasons that can be ideal fundraising opportunities. Read on to learn more about how you can maximize the funds you raise selling gear with these creative year round fundraising ideas.
In this blog you will learn:
5 Year Round Fundraising Ideas for Custom Gear
1. Welcome Back to School Sale
The beginning of the school year is full of energy and excitement. School spirit is at an all time high with many events and opportunities coming up that are perfect to rock some school spirit. Sell custom tees, both long and short sleeved, for families to stock up on and wear to school events and fall sporting events.
Why this sale works. Students outgrow, misplace and wear out their spirit wear! The beginning of the school year is a great reminder for families to replace items they need. The beginning of the year is also when your school welcomes new students who have yet to purchase any custom gear.
Pro Tip: Add in additional t-shirts that are grade specific or for the graduating class to raise even more funds. Check out all these back to school shirt ideas.
2. Winter Warm Up Sale
When you are searching for year round fundraising ideas, the changing seasons are always a good bet. As the weather shifts into the cooler months, families will want to add an additional layer to those custom tees they purchased at your back to school sale. For this fundraiser focus on a variety of sweatshirts such as zip ups and hoodies. You can even add in sweatpants!
Why this sale works. By creating a separate sale for t-shirts and sweatshirts you create an opportunity for repeat donors that may not have purchased both spirit gear options at the same time. Plus, when you time this sale right, families are already looking to purchase warmer clothing so you are meeting a specific need.
Pro Tip: Remind families and your community that your sweatshirts make great gifts for birthdays and the upcoming holidays too!
3. Tis' the Season for Tumblers
The winter season is also a major holiday shopping season which is another opportunity to sell custom gear your families actually have a need for. Booster offers a line of customizable stainless steel tumblers that make the perfect gifts.
Why this sale works. Even though you may have just wrapped up your custom sweatshirt sale, selling tumblers is an entirely different product and serves a different purpose. Not only will you get repeat donors, but you will also attract new donors that may not have had any interest in custom spirit clothing.
Pro Tip: Use Booster's free in-house design team to help you create different options. Consider selling both tumblers with your school logo and colors and ones that may have a more generic look that can be purchased as gifts for family beyond your community and school system.
4. Fundraising Event Custom Gear
If you have an event based fundraiser on your calendar, try adding some custom event gear to drive up the funds you raise even more! For example, if your students will be participating in a Fun Run, design special shirts for the big day! If you are hosting a seasonal school-wide festival, you can also design shirts and set up a table for purchase.
Why this sale works. These shirts serve as keepsakes from a memorable day. Plus, they make great advertising for the next year if you turn it into an annual event!
Pro Tip: Reach out to local businesses to see if they will sponsor your event in exchange for valuable advertising space on your custom tees. This can help offset the costs or even allow you to give your participants shirts at no cost at all.
5. Cool Hats to Beat the Summer Heat
Summer break is all about getting outdoors and enjoying the sunshine. Which means families are stocking up on sun protectants such as baseball hats right before the school year ends. That makes this type of sale the perfect addition to round out our list of year round fundraising ideas.
Why this sale works. From parents to kids to grandparents, people of all ages love to rock a good looking hat!
Pro Tip: Make a few different designs and play with the color to offer variety for everyone's style. You can even make some hats that focus more on your town rather than the school itself to reach a broader audience.
Perfect Your Year Round Fundraising with Booster
When hosting multiple custom gear sales through the year, remember to offer a variety of different products and to plan your fundraisers around events and occasions that will help drive up sales. By following these year round fundraising ideas, your school will not only raise the funds it needs, but you will also have the added bonus of building school pride and spirit!
Booster offers a huge variety of custom gear as well as features such as a free in-house design team and bulk and online store options. To learn more about how Booster can set you up for fundraising success for the entire year, connect with us today.
Back to All Articles