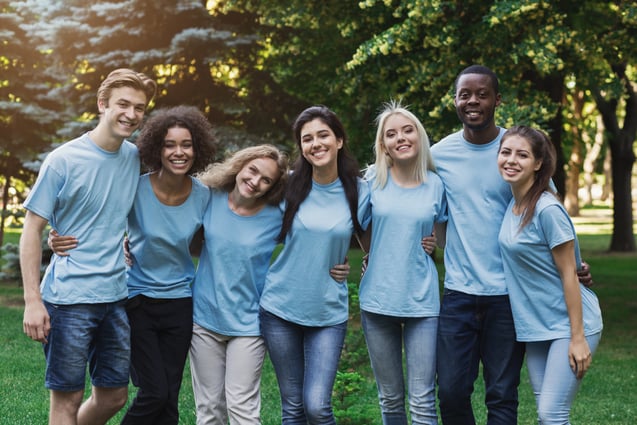 Why you Should Create Custom PTO Shirts For Your Team
If you're looking for a way to thank members of your school's PTO (Parent-Teacher Organization) while also building a sense of community for the organization, custom PTO shirts are an excellent option! These shirts show your team how much you appreciate their hard work and encourage other parents and community members to join as well.
In this blog, you'll learn more about:
Read on to learn more about how this small gift can have a big impact on your school fundraising goals. Plus, tips on the easiest and most cost-effective ways to design and order your custom PTO shirts!
Help Build Sense of Community
For your PTO to truly be successful, you need to create a supportive community that members want to be a part of. They are volunteering their time, after all! Custom PTO shirts can connect your members, making them feel like part of a group and a larger cause. These shirts can be worn as a badge of honor for all the hard work they are doing for your school and community.
When your team members wear their custom PTO shirts at meetings and events, it's basically free advertising! These shirts will encourage other community members and parents to inquire about your PTO and consider joining or contributing to your cause. The more involvement you get from your community, the more success your PTO will have with fundraising.
For this reason, when you are designing your custom PTO shirts, keep your team's mission and goals in mind and brainstorm ways you can incorporate them. If these goals align with someone that sees the shirt, they are more likely to want to take part in your organization.
Use Them as a Tool to Showcase Successes
You can also use your PTO shirts to share some of your successes, such as how many events you have hosted or how many students have benefited from your efforts. While you most likely have lots to brag about, it is important to keep it simple and not overcrowd your shirt with too much information. Pick your most powerful points and save the other details for other promotional materials.
Show Off Your Personality
Your PTO shirts are also a way to represent your organization's personality. Do you have a blast when you get together? Are you a group of super parents? What makes your PTO special? You may even want to poll your team ahead of time to see if there are any specific traits that stand out. Then add a fun hashtag to your shirts that sums it up!
Not only is this a great way to express why someone would want to be a part of your team, it's also an actionable way for those that see your shirt in passing to look up your organization online and get more information. It's another opportunity to attract new members—which translates to more volunteer power and more fundraising success!
PTO Shirt Design Tips
Once you have all your ideas, it's time to actually design your PTO shirt! One option is to DIY your shirts with a trip to the craft store. If you go this route, sketch up how you would like your shirts to look or use an online tool to mock them up beforehand. Then it is helpful to add up the costs of all supplies and estimate how much time and how many volunteers will be needed to make the shirts.
If you determine your time is better spent focusing on your next fundraiser, you can also outsource the work to an organization such as Booster that specializes in custom apparel for schools. This option will also give you a more professional end product and allow you to skip trying to design the shirts yourself.
Booster Gear Can Help
With Booster Gear, you can use their team of in-house designers to bring your ideas to life. Once you're happy with the design, Booster will create and ship your shirts directly to you. Plus, they back all orders with their "Make It Right" guarantee.
And if you're looking for your next fundraising opportunity, you could actually tackle it at the same time with a spirit wear sale featuring your school logo and colors! While you're visiting Booster Gear, check out all the great items they have, ranging from sweatshirts to water bottles to hats, that you can customize.
Booster offers flexible options to make the entire process simple. Choose to order in bulk and sell your gear at an upcoming event or take the entire operation online, totally risk-free! Booster will only ship what you actually sell, so you will never run out of items or have leftover inventory. Selling spirit wear will give your community the opportunity to wear their school pride right alongside your PTO team!
Overall, PTO shirts can be a powerful tool for building community, encouraging engagement, and raising funds for your school. Your PTO is already an amazing fundraising team, and with custom shirts, they will look great while they do it!
Back to All Articles