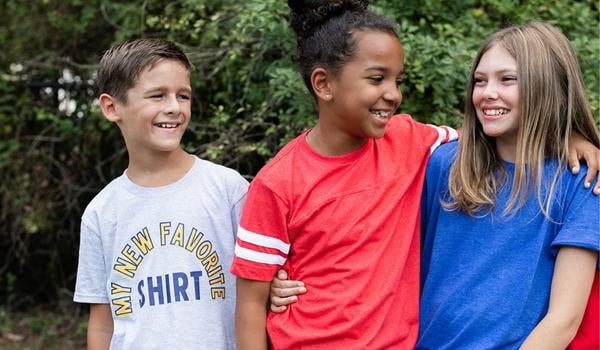 Get Your Shirt Costs Covered With Our Sponsorship Toolkit
Spirit gear has always been the perfect addition to any school program or activity. Now it's also a great opportunity to raise some extra funds for your school AND provide value to the businesses in your community through being a shirt sponsor.
In this blog, you'll learn more about:
While you are figuring out your fundraising goals, brainstorming potential sponsors, reaching out to businesses, collecting sponsor logos, and thanking your sponsors--we have the resources to help you each step of the way!
INTRODUCING OUR DOWNLOADABLE SPONSORSHIP TOOLKIT:


With our Sponsorship Toolkit, you will have all the resources you need to raise funds to help cover the cost of your shirts and potentially have some leftover for your school.
Below is your cheat-sheet on how to best use each of these resources!
7 STEPS TO GAIN SPONSORS: Consider this your guiding light for shirt sponsors. This PDF walks you through the process step-by-step with tips and tricks along the way to help you gain (and keep) your shirt sponsors.
EXAMPLE PARTNERSHIP BUNDLES: Meant to help you brainstorm what else you can offer your potential shirt sponsors, this document shows examples of extra benefits previous schools have done for sponsors in the past. It also shows our suggested cost for each level.
Pro-tip: Each business who sponsors your shirts will automatically receive 15% off an order with Booster Gear!
SPONSOR LETTER AND EMAIL TO PARENTS: Use this tool as a draft for a letter/email to send to parents. You never know if they own a business or know someone who does! They very well could have a neighbor, family member, or friend who would be thrilled to donate to your student's school.
BUSINESS SPONSORSHIP FORM: This completely editable form is your one-stop shop document to hand out to potential sponsors. On this form, you can customize information to be specific to your school, adjust the cost of each sponsor level (prices on there are our suggestions), give a deadline for payment, and provide contact information. Once you adjust everything in red, you will be ready to email or personally hand out this form!
Pro-tip: Sleeve ads will be an additional cost per shirt (see our PRICING GUIDES) and can be an optional sponsor level for your school. If chosen, there can be 1 logo on each sleeve with a limited print size. If you'd like to opt out, simply delete the image on the shirt and the Sleeve Ad text before sending out the form.

SOCIAL MEDIA POSTS: Sometimes the easiest and quickest way to reach parents and potential sponsors is through your social platforms! That's why we provided a draft for you to use on Facebook, Twitter, and Instagram. Feel free to edit as much or as little as possible.
Pro-Tip: Feel free to include a photo of your shirt design to stir up some more excitement!
ART FILE GUIDE: We know not everyone is an expert on the different file types. This resource was made so you don't have to be! When asking your shirt sponsors for their logo, send the Art File PDF their way to easily explain the best file type your Spirit Gear Consultant will need for your shirts.
SPONSOR THANK YOU LETTER: We want to help you celebrate your sponsors. Use this PDF as an outline of how to word your "Thank You" to the businesses that helped make your shirts a reality!
We fully believe that there's no better takeaway from a successful event than a t-shirt to remember it by. Now that you are equipped with your very own Sponsorship Toolkit, you have the ability to support your community AND your school. Now that's a win-win for everyone!
Back to All Articles