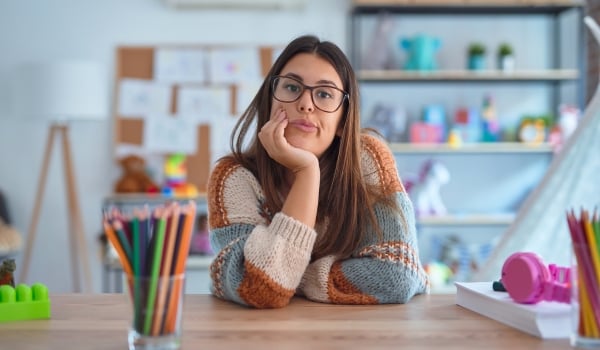 Burned Out on Fundraising? Follow These Eight Steps to Rock Your Next School Year!
Sometimes kicking off another year of fundraising can feel like an overwhelming task. Fundraising burnout is a real thing! The good news is, once you have the right strategies in place, it doesn't have to feel so daunting. In fact, when done right, fundraising can be fun for everyone involved!
In this blog you will learn:
Ready to get started? Follow these eight easy steps to avoid fundraising burnout and get excited to begin!
1. Evaluate past fundraisers.
You don't need to reinvent the wheel each school year! Evaluate the success of a fundraiser after it is done to determine if you can repeat it annually or throughout the year to save time and resources.
While the most obvious metric will be how much money you raised, it is also important to assess participation and enthusiasm from students and families as well as the community. A fundraiser that checks all these boxes is bound to be a hit again and again!
Pro Tip: An online fundraising platform can help you track everything in one place and generate reports when you are done with your fundraiser to make the evaluation process simple and painless.
2. Write out your fundraising goals.
At the beginning of each school year, make a list of your fundraising goals for the entire year. Include large goals such as improvements to the school and smaller goals such as resources for teachers or classrooms and special treats for students.
While you may have to adapt this list as the year progresses and needs change, this will give you a general idea of the amount of funds you are hoping to raise. These goals can help to avoid fundraising burnout by serving as a motivation for everyone involved from planning to execution.
Pro Tip: Your donors are more likely to give when they know what their money is going towards so these goals will also be useful to share when you begin hosting your fundraisers.
3
.
Build a fundraising calendar.
Raising funds for your school shouldn't be a one and done event or sale. If you plan it out, you can fundraise all year long!
But it's important to use a variety of fundraising solutions and consider when you will host them in order to avoid fundraising burnout. Strategically building a calendar can allow you to spread your efforts throughout the year and avoid conflicts with other school or town events that may put additional stress and time constraints on your volunteers.
Pro Tip: The simplest way to do this is by partnering up with a fundraising company such as Booster. They offer a huge array of fundraising solutions from product sales to fitness fundraisers to custom gear, so you can plan out your entire year all in one place.
4. Estimate time and efforts for each fundraiser.
Depending on the type of fundraiser you are hosting, the amount of time and effort needed from volunteers, students and families can be drastically different. For example, if you keep it simple and ask for direct donations, your students and families just need to get the word out.
Whereas if you host an event based fundraiser such as a fun run, not only do you need to collect donations, but also plan the big event. These events can be super fun for everyone, so don't skip them entirely, just make sure to have a happy balance when planning your calendar.
Pro Tip: No matter what type of fundraiser you are working on there are always additional ways to save time and raise more. For direct donations, opt to use an online fundraising platform such as MyBooster. This will allow your students and families to share their fundraising page quickly and easily via text, email and on social media and reach donors anywhere in the world!
Similarly, if you partner with Booster for a fitness fundraiser, you can choose the level of help you need, all the way up to full service. Getting the appropriate help to pull off your event will ensure you raise maximum funds.
5. Get participants motivated
Keeping your students and families excited and engaged is the key to hosting a successful fundraiser and avoiding fundraising burnout. Offer prizes and rewards for set milestones to keep momentum high for all involved.
This can be anything from a pizza party for the class that raises the most funds to a prize box filled with trinkets students can select from when they sell a set amount. Get creative! MyBooster's built in prize tracking system can help you easily track and award participants.
Pro Tip: An online fundraising platform is also a great way to track your progress throughout the fundraiser. Sharing this progress periodically with donors, teachers, students and families can help keep momentum high!
6.Retain donors
Building a relationship with your donors will help you reach your goals quicker each year. Put into place a strategy to always thank each donor after every fundraiser. One way to do this is to use online fundraising software to automatically thank each donor after a contribution is made.
If you are raising funds for a specific project, sharing pictures of the final product can be very powerful too. Expressing gratitude will create loyal donors that come back year after year to support your cause.
Pro Tip: Keep a running list of your loyal donors from previous fundraisers so you can reach back out to them when hosting a new one. While you can manually do this, MyBooster can simplify this process with its automatic donor database feature.
7. Tap into additional ways to increase funds raised.
When planning out your calendar for the year, make note of which fundraisers may have opportunities to raise even more funds without much additional work.
For example, an event based fundraiser is an excellent opportunity to ask a local business to become a sponsor to offset some of your costs while they score a valuable advertising opportunity. Many companies also offer corporate matching opportunities which can double a donation!
Pro Tip: Use MyBooster to allow your donors to quickly search its corporate matching database when they are making a donation. Making the process as simple as possible for your donors will likely result in more funds.
8. Keep the FUN in fundraising!
The easiest way to avoid fundraising burnout is to remember to have fun. There is something special about a group of people coming together to work towards a common goal. Tap into that energy and remind yourself, other volunteers, teachers, students and families about how amazing your community is!
Pro Tip: Build up morale and show your gratitude to the volunteers and teachers that help with your fundraisers! For example, order in lunch when your volunteers have to put in extra hours before a big event or plan a special teacher appreciation week to show teachers how much you appreciate their support during your fundraiser.
Four Types of Fundraisers to Fill Your Calendar
Planning a variety of fundraisers throughout the year will help you reach different donors as well as score repeat donors. Below are four different types of fundraisers that offer different services or products that can help you get started planning!
To avoid fundraising burnout, remember it is not merely about raising funds. Fundraising is a powerful tool for nurturing community bonds, fostering school spirit and making a positive impact on students' experiences.
Avoid Fundraising Burnout by Partnering With Booster
By following the eight easy steps outlined in this blog, you can transform your fundraising efforts into exciting and fulfilling experiences and avoid that burnout feeling.
With the right strategies in place and a commitment to celebrating the collective efforts of your community, you'll not only meet your fundraising goals but also build lasting connections that strengthen your school's foundation. Embrace the joy of fundraising, make it a rewarding journey for all involved, and watch your school thrive!
To learn more about how Booster can help your school or organization raise more than ever before and have fun doing it, get in contact with Booster today.
Back to All Articles