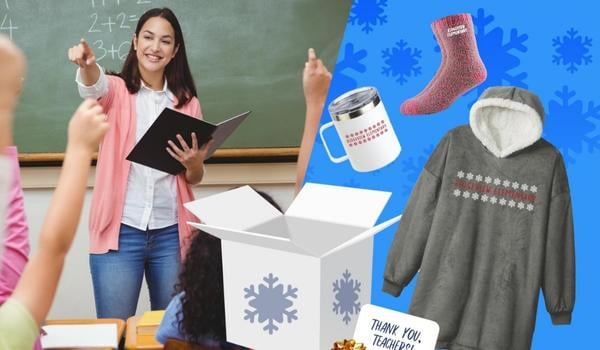 6 Awesome Gift Ideas for Teachers and School Staff This Holiday Season
It's hard to believe the holidays are just around the corner. Didn't school just start last week?
In this blog, you'll learn more about:
As we approach the season of celebration and gift-giving, our thoughts often turn to how we can show appreciation to those around us. Choosing just the right gift can be tricky, so we decided the best thing to do was ask!
The Perfect Gift
We surveyed a million teachers (ok, maybe not a million, but we did poll a few busy teachers), and do you know what they said they wanted? Gratitude. Yes, gratitude. That's all they wanted, just to be acknowledged and appreciated.
So, how can you do that for your teachers and staff? Well, there are as many ways to thank them as there are snowflakes in winter, but we think a special staff party and a customized gift bundle from our Holiday Booster Store would be just the thing!
Tacky Sweater Party
Everyone knows and loves this outrageous party theme. It's a wonderful way to bring out your silly side as you compete for the ugliest sweater. We recommend starting with one of our customized tacky sweaters and letting your guests go wild with add-ons like pom-poms and tinsel.
To really make this party special, go all out on classic decorations, colored lights, 50s-60s holiday music, and old-fashioned party games. Everyone's sure to have a-rockin' good time!
Bundle Idea 1: Tacky Sweater + Slipper Socks + Tumbler

Bundle Idea 2: Tacky Sweater + Lip Balm
Holiday Movie Night w/ Hot Cocoa
Does your school have a digital projector and a fabulous space for movie night? Transform it into a Winter Wonderland with twinkling lights, inflatable snowmen, and oversize snowflakes. Throw in a few hundred indoor "snowballs" for an epic night of fun!
Get everyone in the mood to relax with one of our cozy blankets and a tumbler mug full of hot chocolate. Personalize their gifts with school colors and a special word to remind them of this festive night.
Bundle Idea 1: Woodland Blanket + Winter Hat + Tumbler Mug

Bundle Idea 2: Wearable Blanket + Wine Tumbler
Winter Holidays Around the World
There are so many winter holidays all over the world, wouldn't it be fun to celebrate them all at once? Invite your teachers and staff to a "World Holiday Pot-Luck Party" to taste your way through the winter holidays.
Set the scene with culturally appropriate decorations, international music, holiday-specific games, and lots of table space. Gift your staff personalized hot/cold totes before the party so that they can fill them with their favorite holiday dishes. For an extra dash of fun, award a prize for the most loved dish!
Bundle 1: Hot/Cold Tote + Crewneck + Tumbler

Bundle 2: Hot/Cold Tote + Scarf + Wine Tumbler
Off-Campus Dinner Party
If you want to give your staff an extra-special holiday party, consider partnering with your principal. The school may already provide a holiday staff party and your parent organization can help fund their efforts. Or perhaps you can provide the gifts with the perfect bundle!
If the principal would like you to lead the way in planning the holiday party, choose a roomy restaurant and invite staff to bring their plus-one for a cheerful night of festivities! Elevate the fun factor by playing party games tailored to your school. Trivia, Pictionary, and Social Bingo are extra hilarious when the answers involve your friends! Top off the night with personalized backpacks to show your school's appreciation for all their hard work!
Bundle 1: Backpack + Journal + Lip Balm

Bundle 2: Backpack + Hoodie
Bundles of Gratitude
Choosing just one of these fabulous party ideas may be tough, but we promise to make designing the perfect gift bundle easy! Our holiday elves offer complimentary design support to help you with everything from selecting the right size to coordinating with your school's color, mascot, or theme.
Feel good knowing that our high-quality materials and our "make it right" guarantee ensures your brilliant gifts will be loved for years to come.
Let's Celebrate
The holidays are a wonderful time to celebrate the people who make your school community special. This year, give them the gift of gratitude with a thoughtful present from Booster and the merriest staff party ever!
Be sure to order before November 30th to get your items in time for the holidays and get FREE shipping. Now that's something to be extra thankful for!
Back to All Articles