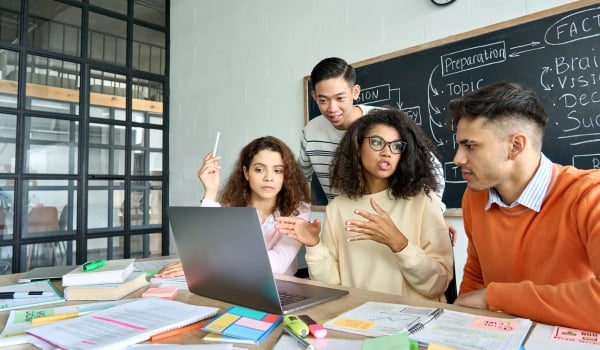 8 Questions to Ask Before Your Next School Fundraiser
While a budget is generally in place to cover basic costs for schools, teams, and clubs, fundraising is often necessary to raise additional money to enhance the experience for both students and faculty. These funds can support needs such as team transportation, uniforms or special events which can strengthen bonds and build morale.
In this article you will learn more about the following:
Before you start brainstorming what fundraisers you are going to host to raise the funds to meet your goals, you should first ask yourself the eight key fundraising questions below.
Each club, team and organization is unique and so are your fundraising needs. Answering these questions can help you determine everything from what type of fundraiser is the right fit for your group to how you can successfully execute your fundraiser and meet your goals.
When done right, hosting a fundraiser has more additional benefits than simply raising necessary funds. A fundraiser can be a great bonding experience, bringing together students, parents, and faculty members to work towards a common goal while also having a great time. Read on for eight fundraising questions you should ask before planning your next fundraiser.
1. What type of fundraisers have your group or other groups within your school system done in the past?
A great place to begin is by actually looking backwards. It is equally helpful to see what fundraisers have been successful in the past as well as identifying fundraisers that haven't worked. When analyzing previous fundraisers, you should look beyond simply whether the set goals were achieved. In many cases, tweaking parts of the strategy can result in a successful fundraiser moving forward.
Key Factors to Consider
Ask yourself a few fundraising questions when you're analyzing previous funding efforts:
Did the fundraiser meet a need for donors?

For example, if it was a

custom gear

or a

catalog sale

, what time of year was the fundraiser held? Planning a sale around special dates and events that your donors plan to shop anyways can drive up sales.

How was the overall participation from students?

If it was low, perhaps your fundraiser required too much time for your already busy group members. Using an

online fundraising platform

can minimize time spent and maximize outreach easily.

What time of year was the fundraiser held?

This fundraising question is also important to consider with the schedule of your group in mind. If you have a busy season, that may not be an ideal time to ask your students to host an event based fundraiser. Online sales may be a better option.
2. What are your fundraising goals?
It is essential to identify your goals before kicking off any fundraiser. Are you raising money for a specific need such as new uniforms or supplies? Or are you fundraising to grow your overall balance in your account for potential needs in the future?
Sharing your goals with potential donors can actually raise more funds. Your community is more likely to donate when they have a concrete idea what their money is going towards. When you are reaching out to donors and posting on social media, make sure to share this goal often in fun, creative ways!
It can also be valuable to set goals for your fundraiser that go beyond simply raising money. For example, if you are a baseball team collecting pledges for runs, it can be a great way to get the crowd even more excited to cheer your team to success. Plus, it's a great additional motivator for your athletes! In this case, your additional goal would be to create a team and community building experience.
3. What technology (if any) is necessary to support your fundraiser?
Depending on what type of fundraiser you choose, opting to use an online fundraising platform can be very beneficial. A tool like MyBooster streamlines the whole process.
Families can share their fundraising page quickly and easily via text, email or on social media saving valuable time. This tool also expands your outreach, allowing students to reach donors worldwide!
The use of technology will determine how you collect donations as well. You can go the traditional route and collect cash and checks then make deposits.
In this day and age, however, many people do not readily have money on them. Providing options such as online credit card payments and Apple Pay can increase donations. When asking yourself these fundraising questions, it's important to look at your event from all possible angles and consider individual factors that might help -or hinder- the process of reaching your goals.
On average, groups that use MyBooster raise 91% more with their DIY fundraiser. That's a big bump in funds!
4. How can you encourage participation?
For a fundraiser to be truly successful, you must have participation. Students, families, faculty and your community all play a big part! Brainstorm creative ways to get everyone involved in your cause.
Tips to Encourage Participation:
Students and Families:

Use prizes and other incentives to encourage students and their families to put in their best efforts. While this can add up to a lot of additional work, tracking progress and distributing prizes, if you have chosen to use the online platform MyBooster, the software has a built in prize management system to minimize your workload and time investment
Faculty:

Whether you're holding a school wide fundraiser that requires teacher involvement or a group or team fundraiser that needs the support of coaches or other staff, keeping faculty motivated and feeling valued is important. Share progress often so they can see their efforts paying off. This is also another benefit to using MyBooster. You can always track your progress in real time.
Community:

Your group provides a valuable resource to students and your community appreciates that. Remember to share your fundraising goals with them and offer fundraising opportunities that they will be excited to be a part of!
5. What else is going on at your school and in the community?
Before deciding when you would like to host your fundraiser, make sure you consider this fundraising question. Start by looking at your school and community calendars to find any important dates or events and other scheduled fundraisers. This is helpful for two reasons. First, you do not want to overwhelm your donors by doubling up fundraisers with another organization around the same time. Competing fundraisers means that both you and the other group miss out on valuable funds.
Second, depending on the type of fundraiser you are planning, special events and dates may be the ideal time to plan your fundraiser. For example, if your community has a festival or fair coming up, that may be a good opportunity to reach more donors selling custom gear. If you are hosting a school band fundraiser, think about holiday events that could benefit from your skills. Play to your strengths to create a successful experience.
6. How will you retain supporters?
Offering positive experiences and showing your appreciation to donors will create loyalty to your program and/or cause. MyBooster also keeps donor information from previous fundraisers so you can always reconnect for future sales and events.
After you have identified your goals, you should also consider how many fundraisers you may need to host throughout the year. Spacing them out and offering a variety of events and goods will allow you to tap into the same donors. Working with one school fundraising company such as Booster for all your fundraising needs throughout the school year can simplify and streamline your efforts.
And as we mentioned before, consider the needs of your donors. If you are fulfilling a need they already have, supporting your fundraiser is a win-win. A great example is selling discount cards to popular restaurants. Your donors can purchase these cards to support your group and also enjoy a meal at a restaurant they already planned on visiting.
7. What are some impactful ways you can thank your donors?
Thanking your donors for their generosity at the end of each fundraiser is a must. You want to show them how much you appreciate their support and build loyalty for future fundraising needs. You can send out emails or text manually or use MyBooster to automatically generate a thank you each time a donation comes through.
It is also helpful to share with your donors when you meet—or even exceed—your goals! If their contributions went towards a particular goal such as uniforms, send out a team picture with your brand new look! Showing your donors that they are a part of your success and celebration will make them feel vested in your group and more likely to donate in the future.
8. How will your fundraiser build community?
Your group is a big part of your school and community. Using your fundraiser to build up that sense of community will generate even more support and leave everyone involved feeling good. Don't make your fundraiser all business, have a little fun and make it something that everyone wants to be a part! This may even inspire others to get involved and make a difference too!
Once you've run through these important fundraising questions you will have a better idea of the type of fundraiser(s) that are a perfect match for your group and the best way to successfully make them happen! Then it's time to get the party started and host a fundraiser that's both fun and meaningful. With your passion, creativity, and enthusiasm, the possibilities are endless!
To learn more about all of the resources Booster can provide for your group to make your next fundraiser a success visit: choosebooster.com.
Back to All Articles