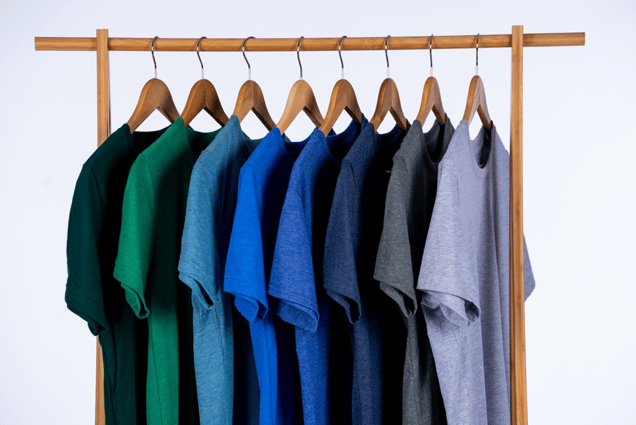 3 Easy Ways to Gather T-Shirt Sizing for Your Order
Your big event is fast approaching, and everyone's depending on you to get the t-shirt order right. When ordering shirts, often one of the biggest challenges is figuring out the right sizing.
In this blog, you'll learn more about:
Thankfully, with our sizing resources and tips, there's no need to worry! Here are three ways to nail your order's t-shirt sizing.
1. Use Sample Sizes to Get Exact Sizing
With this option, there's no need to send sizing forms home and wait for them to return. First, we'll send you a sample pack of all the shirt sizes. Then, you can either have your volunteers tally sizing or assign the sample pack to circulate through each grade on assigned days. While it's a bit more work on the front end, you can be confident in your sizing numbers.
2. Use Data-Proven Sizing with our Shirt Size Estimator
If you know your enrollment number but don't have the time to fit every student, our Shirt Size Estimator is a great option. It's quick, easy, and instantly generates the recommended shirt sizes you'll likely need. This algorithm is based on historical order data from many schools. Simply input the number of students, teachers, staff, and volunteers to get your number. Enrollment by grade level will fine tune your sizing even more. (We recommend adding on a few extras in case of incorrect sizing.) When your shirts arrive, start the distribution process with the youngest students to allow larger sizes to be available for the older grades.
3. Send Sizing Forms Home
With this option, simply send home sizing forms and let parents/guardians note the exact size shirt they want for their child. Make sure parents know the importance of returning the forms on time to make sure their child has a shirt they'll be proud to wear.
Bonus Tip: Don't Forget to Order Extra Shirts!
When the big day arrives, everyone will want a t-shirt. That's why we highly recommend ordering a few extras to have on hand. It's worth it—remember, these t-shirts will last far beyond the event itself. They'll serve as spirit wear for your school or free promotion for organization.
If you're not sure which sizing option is best for you, feel free to reach out to one of our Spirit Wear Consultants. We're here to help make your spirit wear order perfect!
Back to All Articles