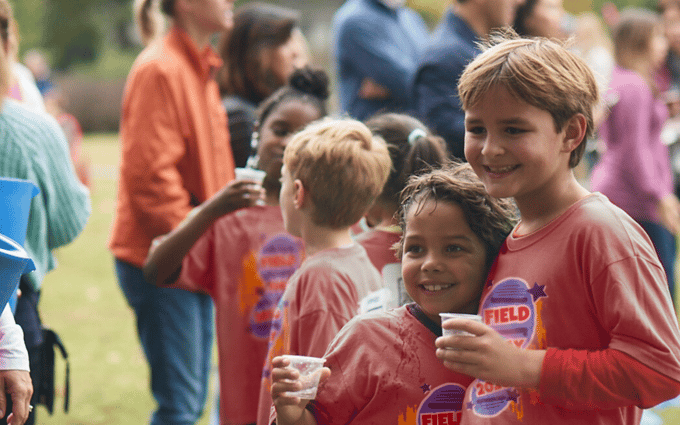 Five Unique Field Day Games
Field Day is right around the corner and everyone here at Booster Spirit Wear wants to help you make this the best one yet! Students love Field Day, but what they may not love is playing the same games year in and year out. We have created a line of resources designed to keep your stress levels down and turn the fun up! In this post, we have pulled together some of our favorite unique Field Day games from over the years. You can find something for everyone with eco-friendly games, age-specific games, and more! And just in case you need help with more than games, be sure to check out "The Ultimate Field Day Experience Toolkit." Let's jump in!
In this blog, you'll learn more about:
1. Eco-Relay *an environmentally conscious game
Each team has a bucket filled with many of the following: plastic water bottles, newspaper, single-use drink containers, milk jugs, juice boxes, as well as fake/toy food items like fruit, vegetables, and meats. One team member at a time selects an item and must run and place it in the proper bucket at the end of the field: Compost, Recycle, or Garbage. The first team to correctly sort their "garbage" is the winning team. This is a great game to play after lunch as a way to sort your school's lunch waste!
Pro Recommendation: Colored shirts. This builds a competitive spirit and helps teachers keep up with students in the mix! Even challenge each team or grade to design their own mascot for their t-shirts to get them excited long before Field Day even arrives!
2. Fox Tails Game
Organize two teams in a defined space (can be circle or square). Everyone has a "fox tail" hanging on the back of them (can be rags, strips of cloth, football flags, etc. that are tucked into the back of their pants/shorts). The goal is to pull the tail off of everyone on the opposing team. When you lose you go to the outside of the square/circle. From there you can pull tails that you can reach, but not stepping inside!
3. Ice Bucket Race
Form students into lines. Place a bucket full of icy water on one end and an empty bucket on the other. Students use pales to scoop and to move water, passing it above their heads to the person behind. The first team to fill their bucket wins-but odds are they are going to lose some water along the way!
Pro Recommendation: Don't forget the drinking water! When thinking of student safety, it's important to remember cool games and cool hydration. You can design school-specific water bottles this year that have your students covered for the entire day.
4. The Frog & The Pad
Use upside-down frisbees, paper plates or even have your art department paint giant lily pads! Each player is given 4-5 beanbags ("the frogs"). Players toss their frogs onto the lily pads. You can decide how to judge – full points if a frog is fully on the pad and partial if it's partially off and even more points for those who land on the furthest lily pads. Think of this as Cornhole for kids!
5. Watermelon Roll
See who can roll a watermelon through an obstacle course the fastest without it breaking! For younger grades, instead, let kids roll in pairs. Want to avoid the mess? Paint sports balls of varying sizes (kickball all the way to exercise ball) like giant watermelons and watch the kids' eyes light up at the thought of pushing a giant watermelon down the field!
Want even more Field Day planning expertise? Check out our customizable "Ultimate Field Day Experience Toolkit" including a Field Day Checklist a list of Things to Consider.
Happy planning!
Back to All Articles