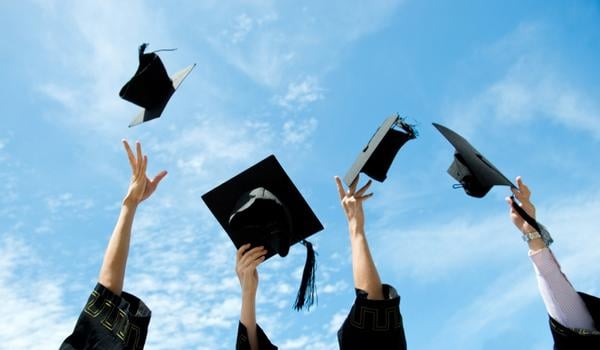 Easy Steps for the Perfect Graduation Celebration | Booster
As spring approaches school graduates all over the US are counting down the days until the end of the school year and their graduation day. They have read all the chapters, taken all the notes, written all the essays, and aced [most] of the tests preparing them for the next stage in their education.
In this blog, you'll learn more about:
After all that hard work, your graduates deserve to feel special—so plan a celebration! From the type of party to throw to the most festive decoration, we've got all the tips to make your graduation bash a success.
First things first—you need to choose the type of graduation celebration you will have!
Traditional Graduation Party
If partying with friends and family is what you have in mind, a good old-fashioned graduation party is the perfect fit. If you choose this route, don't forget the table decorations and banners, cake and confetti, balloons and photos!
Whether you choose a "cupcakes and confetti" party, a backyard barbecue, or the ever-loved pool party, be sure to deck it out with school colors plus school memorabilia your child has collected over the years. These nostalgic touches will have graduates—and parents—reminiscing about all the fun they've had over the years!
Graduation Parade
Some kids want a more unique celebration than a traditional party, so let yourself get creative! Instead of a big bash, plan a parade to honor your graduate. Pick a day and time and invite friends and family to drive by. Don't forget to encourage anyone attending to decorate their car with banners, balloons and pictures! They can even blast some fun songs as they cruise by. Add a little pizazz and decorate a chair for your guest of honor to preside in during the festivities!
Celebratory Dinner or Special Event
Not feeling a party or parade for your grad? Consider hosting a dinner at their favorite restaurant with close friends and family or grab tickets to a special event like a concert or show! This quality time option can be the perfect way to show them just how proud you are of their accomplishments!
Next—Plan out your decorations, party swag and extra touches!
After you decide what kind of celebration to host, it's time for the fun part— brainstorming all the ways you can make graduation day extra special for your child!
Yard Signs
Hands down, one of the easiest ways to say "I'm proud of my child's accomplishments" is to put up a giant sign in your front yard that says just that! Yard signs are so much fun and remind all your neighbors, friends and family that you have a child meeting a huge milestone this year, calling attention to his or her success! Plus, it's an easy and awesome keepsake!
Personalized T-shirts
We all have that favorite t-shirt from a special time or event. Your go-to shirt you keep for years and years. And every time you wear it, you remember that special day. Why not design a memorable t-shirt for your grads?! Students will love having matching shirts with their friends that commemorate the big day. Plus, when they reach their next big milestone like high school graduation, you can upgrade their shirt and turn it into a special blanket!
School Banner
Graduation banners are not just for school yards! Just like a yard sign, banners are a great way to share your child's accomplishments. They can decorate your front door or be a decoration at your graduation party. If you plan on having a photo booth (see next suggestions!) a banner can serve as the perfect backdrop.
Photo Booth Fun
A photo op can be loads of fun for students and their friends and family. There are no rules for how to set up your photo booth except that it should capture your child's personality and school spirit!
It could be as simple as a wooden background with the graduation year in large block style numbers, or it could be a huge chalkboard with a quote like "Oh the places you'll go…" with space for everyone to sign or write a message to the graduate. And don't forget the props for added fun and silly poses!
School Colors
Remember to sprinkle those school colors throughout your child's celebration in every way. From cake and confetti, to cupcake toppers and cookie decorations, to banners and yard signs, to plates and table covers, and cups and water bottles. The sky's the limit for how many ways you can add your child's school colors into their celebration!
Picture Display
Don't forget to display pictures of your child as he or she has grown over the years! Include current school pictures, pictures with friends and family, kindergarten graduation pictures, and even some pictures of the cute little toddler your graduate once was. Display as many as you'd like and enjoy the trip down memory lane!
A Letter to Your Graduate
This is the most important and significant thing you can do for your child at graduation because in the busyness of life, parents often don't say the things that are most dear to their heart. By writing a letter, you can say all the things you want to say. This will also be one of those treasures your child can look back on as they grow. Make it extra special by getting graduates a customized notebook with their school logo on the front. It's truly a priceless gift!
The Big Decision
How you choose to celebrate and honor your graduate ultimately depends on the personality of your child. Whether it's custom t-shirts to celebrate the momentous occasion, a huge bash or a special dinner out with close friends—you know your graduate best!
One thing's for sure, you've got plenty to plan for! The good news is, Booster can make it easy to create those perfect, customized touches for your grad's big day. Our in-house design team will bring your vision to life and your order ships free! Plus, every order is backed by our "Make it Right" guarantee.
Back to All Articles