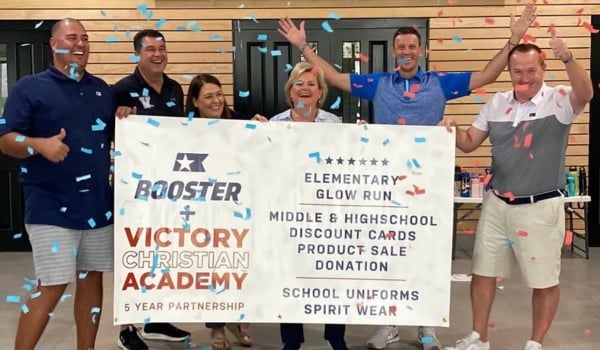 Booster and Victory Christian Academy Team Up for a Major Five-Year Fundraising Partnership
Victory Christian Academy (VCA) in Lakeland, Florida, and Booster are teaming up with a five-year partnership to take the school's fundraising to the next level.
Not only does this private kindergarten through 12th grade school offer a top-notch educational experience, but it is also home to championship-level athletic programs and award-winning coaches. With this new partnership, VCA can take advantage of all Booster has to offer, from epic fitness fundraisers and custom gear sales for elementary-aged students to easy product sales and online fundraising solutions for busy athletic teams.
"We're thrilled to team up with Victory Christian Academy for this major five-year fundraising partnership," said Stephen Murray, president and COO of Booster. "Together, we're taking their fundraising efforts to new heights and making a lasting impact on the school's growth and athletic programs. We can't wait to see the incredible accomplishments that lie ahead for VCA in the years to come."
VCA first teamed up with Booster last year, using its online fundraising platform to collect donations for a DIY Glow Run. The school set a goal to raise $10,000—they went well above that goal and profited $40,000!
The feedback from participants was overwhelmingly positive. Families and students were excited about the fundraiser, something the school had struggled with in the past.
With the money raised, VCA was able to take on a huge project on its wishlist and construct a large barn for an outside gym area.
After the success of the Glow Run, VCA began to branch out to explore how Booster's Sports and Groups division could improve fundraising for their athletic teams with discount cards, product sales and direct donations. Last year VCA hosted one fundraiser for all of its sports programs and raised $14,000.
With Booster's huge variety of fundraising solutions, the school decided to host individual fundraisers for each team this year. They kicked off the year with a basketball fundraiser, raising $6,000 for just that team alone. Booster and Victory Christian Academy are now on track to make big strides in fundraising goals for the school over the next five years.
"VCA decided to partner with Booster because of the success we've had fundraising during the 2022-2023 school year," said Darren Collins, the school's athletic director. "The fact that Booster can serve VCA in multiple ways was a big factor in this partnership."
In addition to fundraising, Booster will also handle all school uniforms for students K-12, giving VCA a true one-stop-shop experience. With the partnership, Booster will sponsor a new video board and score table for the school's gym. These perks reflect Booster's commitment to bringing positive change to the schools it works with.
Over the next five years, VCA has exciting plans for future funds raised including adding a new weight room and an indoor workout/practice facility.
"We hope our partnership with Booster will not only benefit our sports teams immediately through financial giving but will also connect us with business for the long term," said Collins. "The impact of this partnership will be felt as we continue to grow and add new sports teams."
By offering such a wide variety of fundraising solutions, Booster has the ability to serve VCA on many different levels and bring real improvements along with exciting community building experiences. To learn more about how Booster's fundraising solutions can do the same for your school visit choosebooster.com.
Back to All Articles