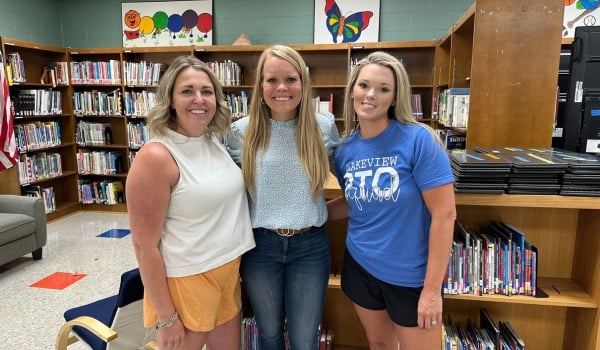 Lakeview Elementary Raises Big Funds Taking Advantage of Multiple Booster Fundraising Solutions
The PTO and administration at Lakeview Elementary in St. Juliet, Tennessee have been hard at work fundraising to make some big improvements at their school.
Through their partnership with Booster they have raised enough funds to:
Renovate their basketball courts

Create an outdoor courtyard for learning and breaks

Provide new technology and teacher resources to classrooms

And more!
Lakeview Elementary has taken advantage of the many fundraising solutions Booster has to offer to really maximize funds raised. The school has hosted fun runs and glow runs as well as a cookie sales fundraiser and created custom gear.
This variety has allowed them to reach more donors as well as attract repeat donors. Because each fundraiser has been a success, Lakeview Elementary and Booster have now been teaming up for four years!
"We tried to kind of go out on our own to raise as much money as we could for our school. It was very difficult. We reached out to Booster and it made everything so smooth and very active for the kids, very active for us. Having the team on site was amazing. So we kind of started off as a trial for the first year and we haven't looked back," said Mary Beth Deweese, the PE teacher at Lakeview Elementary.
Part of what has made this partnership work for Lakeview Elementary is the consistency and communication. They appreciate the relationships they have formed with their Booster team and the relationships the Booster team has built with the students and faculty.
"It just makes it so much easier for me when I have a relationship with you, where I can just reach out to you for any question, even throughout the year. If there's something we need to know, something we can look forward to…it just makes it so much easier when I can just go to you. And you guys are so good at communicating with us." said Ashley Westbrooks, the school's PTO President.
Because Lakeview Elementary is an older building, the administration and PTO still have a lot of improvements they would love to tackle and plan on using Booster to reach their goals.
"You guys make the fundraiser aspect of it just so fun. We look forward to it. It doesn't feel like a job or extra chore to come in and have another thing on our plate to do," said Westbrooks.
For Booster and Lakeview Elementary, the partnership is easy. That's because everyone is working towards the same goal—building community while raising funds to enhance the school.
Back to All Articles