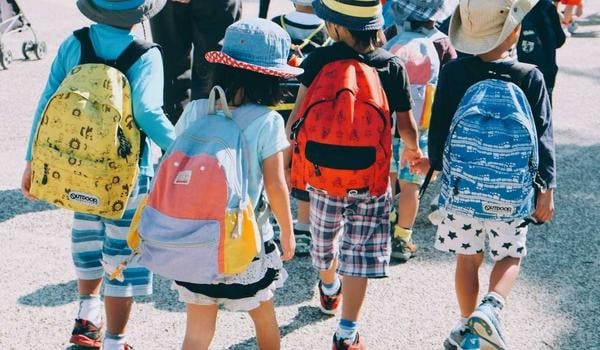 Best Elementary School Spirit Wear Ideas for Fundraising
Whether you're looking for new fundraising opportunities or ways to spruce up your school's spirit wear options, there are tons of amazing elementary school spirit wear ideas for you to consider.
In this blog, you'll learn more about:
If you're unfamiliar with the concept of spirit wear, we'll first dive into what it is and what makes it a good fundraising opportunity. Then, we'll highlight some of the best spirit wear options for your elementary school.
What is Spirit Wear?
Typically, spirit wear is customized clothing (such as T-shirts with your school's name, logo or mascot) that helps build a sense of community for your school. However, these items don't have to be wearable in the same sense as T-shirts. For example, school-branded water bottles, tote bags and pins can also be spirit wear for your school.
Why is Spirit Wear a Good Fundraising Opportunity?
Spirit wear is a great way to boost school spirit and build enthusiasm for your elementary school events and activities. Spirit wear items are relatively inexpensive and can be sold at multiple events to give supporters plenty of opportunities to purchase items that show their school spirit. This fosters an incredible community and inclusion that other, more expensive fundraising options do not.
Best Elementary School Spirit Wear Ideas
Now, without further ado, here are some great elementary school spirit wear ideas for your upcoming school fundraiser.
Shirts
School-branded T-shirts are the go-to for most school spirit wear options and for good reason. They can be worn in many different seasons and are easy for parents and kids to put on for a fundraising event. But you don't have to be limited to a simple T-shirt; you can offer long-sleeved shirts, polos, tank tops or baseball tees .
Sweatpants
Let's be honest, most people don't want to wear dress pants or no-stretch jeans when they're relaxing or working from home. Spirit wear can help with this! If you have school-branded sweatpants, your donors can be comfortable and highlight your merchandise simultaneously!
Hoodies and Zip-Up Sweaters
These are both also great ways to show school spirit without sacrificing comfort. Especially if you're doing your fundraiser near the beginning or middle of the school year when it's cooler, hoodies and sweaters can be a great way to showcase your merchandise comfortably.
Winter Staples
Winter supplies — like hats, scarves and gloves — are excellent spirit wear options if you are fundraising in the late fall or early winter. These essential pieces help protect your children from the cold and are a great and easy way to show off some school spirit. Try boosting your students' morale on colder days with some school-branded winter essentials!
Hats
Whether beanies or baseball caps, hats are incredibly effective in showing school spirit. They can go on top of any everyday outfit, and if your fundraising helpers sit down, they'll often be the first thing people see when they approach them. Hats make an excellent sale item because people don't have to change to wear them — they can show their support immediately.
Bags
Tote bags and sports sacks are excellent spirit wear options as they don't have to be worn by your fundraising team or the individuals who purchase them to show support. Like hats, they're ready to go as soon as they're purchased, but they have the added benefit of helping people carry items at events and stores. Imagine all the great places your spirit bags could go!
Water Bottles
Water bottles are another accessory you don't want to overlook. Hydration is key to keeping your energy levels up, and children need to stay hydrated throughout the day in class. School-branded water bottles can be a great option because it allows them to keep hydrated (without buying plastic water bottles all the time) and shows school spirit during the day and at events like football games!
Pins, Patches and Stickers
Like water bottles and bags, these items fall more into the accessories category of spirit wear but don't underestimate the effectiveness of these small accessories. Some people may want to show school spirit, but items like T-shirts, hoodies or sweatpants are too much for them. Maybe they're not particularly a fan of the school colors, or they simply would rather show their school spirit year-round without purchasing an entire closet of school-branded items.
Pins and patches allow them to customize their school support and place them on their backpacks, bags or jackets. Students can also use stickers to decorate water bottles, folders, notebooks, binders and computers!
Get Into the Spirit With Spirit Wear
In summary, there are many elementary school spirit wear ideas you can use. Whether you decide to opt for the classics and only offer a few options, or offer a range of possibilities, spirit wear is an essential fundraising tool for many elementary schools today. Not only does it help raise funds for your events, but it also helps create a stronger sense of community and involvement in your students and parents.
So, if you are ready to spruce up your spirit wear options, check out the Booster Gear Catalog or contact a Booster Gear Consultant to find everything you need for some fantastic elementary school fundraising!
Back to All Articles