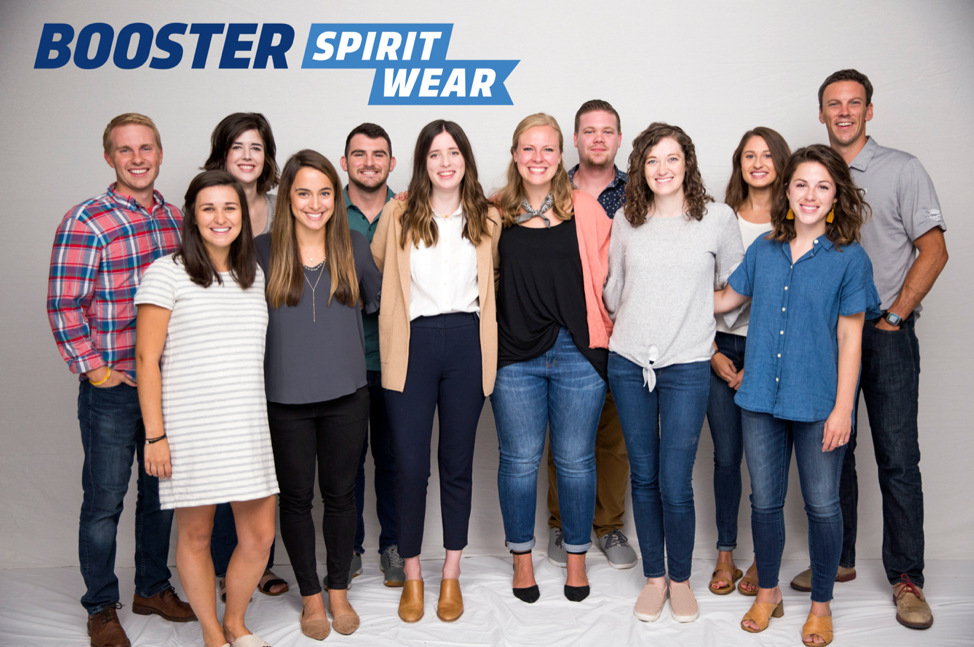 Spirit Gear with Care: The Booster Spirit Gear Story
In 2002, Booster launched with the mission to strengthen schools and inspire students through a fitness and character-based fundraiser—the Boosterthon Fun Run. Our elementary school partners LOVED having custom t-shirts for students to wear on the day of the Fun Run. Not only did the shirts serve to mark the number of laps each student ran, they also fostered inclusivity, increased school spirit, and created lasting memories.
After experiencing our world-class customer service, many of our school partners asked us to start printing their spirit wear and event shirts. (Lots of them were frustrated with their current provider and spirit wear buying experience.) So in 2014, we launched an in-house t-shirt company called 3 Buck Threads to provide schools and organizations with custom shirts and remarkable client care. In 2018, after serving thousands of clients and printing millions of shirts, we rebranded to become Booster Spirit Wear to show our connection to Booster and align with our new mission—to provide spirit wear with exceptional client care at straightforward, fair prices.
What Makes Booster Spirit Wear Different from Other Screen Printers?
Booster Spirit Wear is your one-stop shop for all your custom apparel needs—t-shirts, long sleeves, hoodies, and more! We believe buying custom apparel for your school or organization shouldn't be stressful or confusing. So we created a process that makes buying spirit wear easy, affordable, and—dare we say it—fun.
We've created custom resources that relieve common pain points like artwork, funding, sizing, ordering, distribution, and more. Plus, all orders are backed by our "Make It Right Guarantee." If you're not satisfied with your order for any reason, we promise to do everything we can to make it right.
So whether you're buying shirts for your school's Boosterthon program, spirit wear for your school, or custom shirts for your business, we're dedicated to providing you with the highest quality products, outrageously good customer service, and straightforward, fair pricing.
At Booster Spirit Wear, Team Work Makes the Dream Work
Our team is made up of 44 people serving on our client care or production sides of the business. Our super-friendly Spirit Wear Consultants oversee every order and give our clients personalized service and consultation throughout the entire process. Our production team has decades of experience in the screen-printing industry and puts the highest level of detail and care into each order, whether it's 36 shirts or 50,000! When you work with Booster Spirit Wear, we want you to feel like you're our sole focus—not just another order.
As a company, we're constantly learning and growing to better serve you. If you have any questions, concerns, or feedback about your experience, please reach out and let us know. Thanks for taking the time to get to know us, and we hope to serve you soon!
Fun Facts About Booster Spirit Wear
Vision: Change the World!
Mission: We provide custom apparel with remarkable client care at fair prices for schools and organizations.
Number of shirts printed in 2018-2019 school year: 3 million!
Number of team members: 44
Back to All Articles