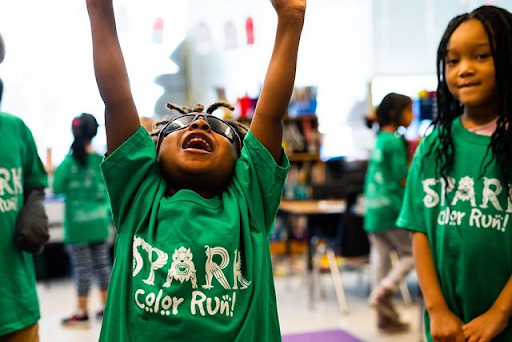 Five Reasons Your School Needs a Spirit Gear Store
School spirit is crucial to a healthy school community. From spirit weeks with fun themes to special events that get students and staff out of their normal routines, celebrating school spirit creates lasting memories and provides opportunities to relax and bond.
In this blog, you'll learn more about:
As you can imagine, one of the most important ingredients of school spirit is school spirit apparel. Spirit gear like t-shirts, hats, hoodies, mugs and more are a fundamental part of every educational institution in the U.S.
How many of us have that beloved college sweatshirt we still love to wear around on lazy Sundays? You can create that same sense of morale and nostalgia in elementary, middle school, and high school with school spirit apparel and gear.
If you don't already have an online spirit gear store at your school, we're here to share with you the many benefits of opening one.
Five reasons you need a store for school spirit apparel
1. Promoting school representation
School spirit apparel isn't just to be worn on campus. Donning your favorite spirit gear around town, from the grocery store to the local movie theater, reminds people that your school is a central part of the community. It's a fun call-out for alumni and creates opportunities for community members to bond. It keeps your school top of mind for when it's time to ask community members for fundraising donations!
Plus, with a spirit gear store, you can easily make your school spirit apparel available to anyone who wants to join in the fun.
2. Improving field trip safety
Making sure all students are accounted for at all times is among the most important jobs of adults on a school field trip. Having everyone wear their school shirts on field trips serves a bigger purpose than simple school spirit. When students are dressed in their school spirit apparel, chaperones and teachers can more easily identify students and keep groups together for the sake of safety.
Use your spirit gear store to sell field trip gear so your students can be safe once off-campus!
3. Spicing up spirit week
Spirit weeks are a great way to supercharge school spirit and get the school community excited for a great year of learning, athletics, friendship, and fundraising! It's also a great time to introduce new, fun school spirit apparel and gear. The possibilities for making the most of your spirit gear are endless:
Have a day where each grade wears a designated school shirt
Introduce new types of school spirit apparel - hats, sweatshirts, tote bags, keychains, lanyards… the sky's the limit!
A spirit gear store gives you an easy place to sell your spirit week gear.
4. Celebrate student talent and creativity
School is a time when students can express themselves and hone a variety of skills. What better way to promote that than by allowing students to design their own school spirit apparel and sell it in your spirit gear store? You can even hold a competition to choose a few of the best designs. Students will have fun exercising their creativity and knowing that their hard work will help contribute to school funds. Bonus points if the graphic design teacher would like to wrap the opportunity into their curriculum!
Which leads us to the final benefit of a spirit gear store…
5. Fundraising!
Spirit gear stores are one of the most effective ways to raise funds for your school. A well-stocked spirit gear store provides a consistent stream of cash for your school with relatively low effort compared to the work that goes into a big event day. This makes it a great option to sprinkle throughout the school year for a periodic boost in funds. Make sure to promote your store on social media - especially around events like athletic games or event-based fundraisers such as fun runs and dance-a-thons.
Ready to start?
Opening an online store for school spirit apparel and gear is one of the best things you can do for your school community. It's a great way to bring in funds while showing off your school pride and celebrating the talents and creativity of students, teachers, volunteers, and more.
It's also easy - especially when you work with Booster. Booster Gear is our platform for setting up the online spirit gear store of your school's dreams. Find out more today!
Back to All Articles