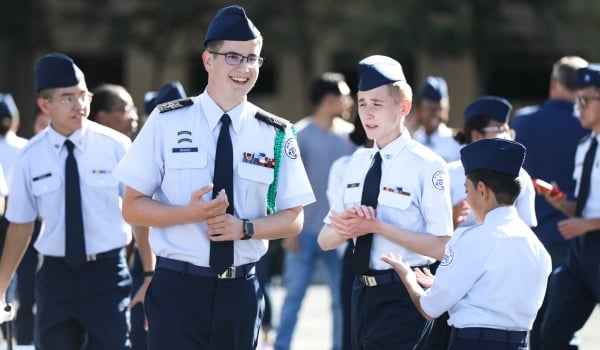 6 ROTC Fundraising Ideas
Reserve Officers' Training Corps (ROTC) programs provide valuable leadership training to young people who are preparing to serve in the armed forces. Much like other school groups and clubs, coming up with ROTC fundraising ideas is essential to ensure your program has the appropriate amount of funds to set your cadets up for success.
In this article you'll learn more about:
The good news is…you're in luck! We've already done all the recon for you and rounded up the top six ROTC fundraising ideas to declare "mission accomplished" on all your fundraising goals for the year!
Sell Must-Have Custom ROTC Gear
From t-shirts to hats to bags, selling apparel and other goods with your ROTC logo and colors is one of our favorite ROTC fundraising ideas Friends, family and your entire community will love the opportunity to support the cadets who are training hard to protect their country. Plus this custom gear doubles as advertising for your ROTC program and can generate interest from new cadets.
Pro Tip: Take your fundraiser online and you can skip the hassle of bulk orders and running out of inventory or ending up with leftover gear. When you use Booster's online gear shop there's zero upfront cost and we only ship exactly what is ordered.
Create a Military Themed Obstacle Course Challenge
Your ROTC squad members are no strangers to some pretty grueling training—which we don't suggest for the general public. BUT you can create a fun obstacle course based on these exercises that are a little more civilian friendly. We're thinking army crawls, sprints and wall climbing challenges! Sell tickets to the event and award prizes for top times and serious street cred.
Pro Tip: Create custom t-shirts and other gear specific to the event that can be available for purchase ahead of time and at your event to raise additional funds.
Sell Goods Your Donors Actually Want or Need
Another excellent ROTC fundraising idea is to have your cadets sell high-quality goods with a catalog sale. Booster offers a HUGE line of products ranging from kitchen gadgets to unique gifts, sure to be on the shopping lists of all of your donors.
Pro Tip: Before selecting the type of items you want to sell, consider the season and your donors' needs. For example, if it's the holidays, selling gift wrap paper or possible gifts are great options. By filling an actual "need" you will increase your sales and profits.
Clean Cars for a Cause
Hosting a car wash is another ROTC fundraising idea that can fulfill the needs of potential donors while also bringing in some serious funds for your ROTC organization. Just like any fundraiser, timing is key. For starters, your cadets don't want to be outdoors washing cars in frigid weather! So skip the colder months and think about when cars may get the dirtiest making car wash in high demand.
Pro Tip: In this day and age, not everyone has cash on hand. Make it as easy as possible to participate in your fundraiser and contribute to your cause by offering easy options to donate. The best way to do this is by utilizing an online fundraising platform like MyBooster, where donors can quickly pledge donations via credit card and even have the option for Apple Pay!
Create "Show-Off" Worthy Tumblers
The tumblers we carry around every day have become an extension of our personality, so give your community the chance to show their support for your ROTC program with custom drinkware rocking your logo and colors. From refreshing cold beverages in the summertime to steaming hot cocoa or coffee in the colder months, these tumblers are the perfect solution to keep everyone's drink the ideal temp.
Pro Tip: Partner with local businesses and events to sell your tumblers where drinks are already in demand and offer the tumblers as upgrades to the plastic generic cups being sold. These can also make a heartfelt gift, so consider selling them to proud parents and family around the holidays and Mother's/Father's Day.
Sell Valuable Discount Cards
Discounts cards offer your donors the opportunity to support your organization while also scoring deep discounts at some of their favorite local shops and restaurants. Encourage your cadets to quickly and easily get the word out about your sale using social media, highlighting all the great deals that are included, and watch the funds roll in.
Pro Tip: Try "tagging" some of the shops and restaurants included in your discount card sale on social media to gain extra exposure.
All of these ROTC fundraising ideas are great options to raise the funds you need for your program. Make sure to identify your goals before kicking off your efforts in order to determine which approach is the right fit for you.
In many cases a combination of more than one of these fundraisers can be the ideal way to reach—and even exceed—your fundraising goals.
To learn more about how Booster can make your next ROTC fundraising idea a huge success!
Back to All Articles