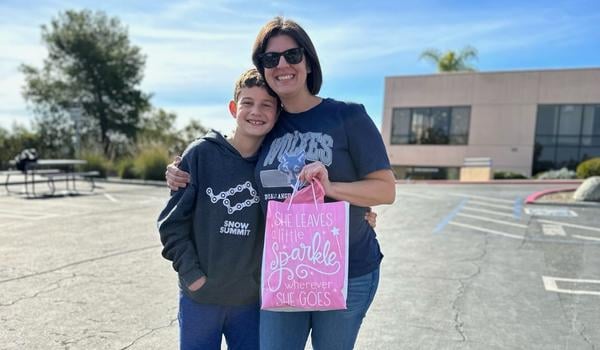 October Volly Winner: April McDonald
What makes our October Volly winner stand out? From her own family to volunteering to her professional career, April McDonald has quite literally dedicated her life to improving and enriching the lives of the children around her. Described as having an "extraordinary amount of energy" by her nominator, the principal of the school, it is clear April is a force for positive change in her school system and community.
In this blog, you'll learn more about:
Now the president of the PTO at Dual Language Immersion North County, April began volunteering as a room mom when her son was in kindergarten. April loved she could spend time with her son while he was at school, chaperoning field trips and helping out in the classroom. Then COVID hit and there was a pause on these types of opportunities.
When schools returned to some sort of normalcy after the pandemic, April stepped up to the plate to help build back up the PTO as Vice President. Shortly after, health issues with the current President pushed April into the lead role. The following school year, she ran for President and was officially elected.
Since taking on this role, April says she strives to make PTO events as exciting as they can be for the kids, adding that little something extra to their school day. For example, she took the existing 100th day of school event that consisted of a small project for kindergartners and turned it into a whole school experience complete with a cake, signs and a 100-yard dash. Her favorite part about volunteering? Seeing all of the students smile when she makes these types of events a reality—including her own son!
As PTO President, April also brought Booster to her school system. For the first time, her school used MyBooster to take its fundraising efforts online and reach donors all over the world for a Jog-a-Thon. In previous years this fundraiser typically brought in about $5,000 for the PTO. With MyBooster, the school raised a whopping $23,000! These funds were used for transportation to multiple field trips, which families had to pay out-of-pocket for previously, two movie nights, a trunk-or-treat, a teacher stipend and prizes for assemblies.
While April may be running the school PTO by day, she also works overnight shifts as a Nurse Practitioner at the local children's hospital. Along with spending time at the hospital helping newborn babies and families, April uses the knowledge she has gained in her profession to teach those aspiring to join the nursing industry as a professor at the local college.
It may not seem like April has any time to spare, but her family is always a top priority. When not at the school, the hospital or college, April can be found hanging out with her husband and son and their furry sidekick, a white lab that is her son's best friend. They also enjoy traveling together as a family.
This well-deserved Volly Award was presented to April at a school-wide assembly, celebrating her hard work. As part of the award, April also won 50 free custom shirts, a $150 gift card and some fun Booster swag.
While it was an honor to be recognized in front of all of the students and staff, the most rewarding part of the experience was just how excited one student in particular was about her receiving the award—April's son and the reason she began volunteering in the first place.
Back to All Articles