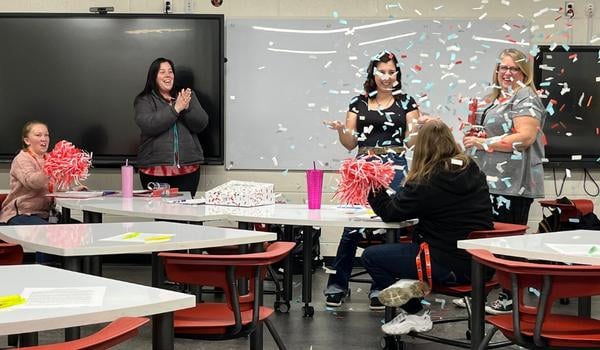 November Volly Winner: Megan Mercaldo
When South Haven Elementary's PTO Treasurer, Megan Mercaldo, saw a need for a more inclusive environment at her school, she did more than just speak up. She got to work and made it happen. Thanks to Megan, students of all abilities now enjoy a nationally recognized inclusive playground.
In this blog, you'll learn more about:
Megan, mom of four kids, began volunteering when her now 12-year-old twins were in kindergarten. She was new to the area and hoping to meet other families. The PTO put out a general invite to join them to pop some popcorn and as Megan puts it, "the rest is history."
While she was forming her friendships with parents, her twins were making their own friends at school. This is when she recognized a need for a more inclusive playground for the school. Her son's best friend is in a wheelchair, and she felt there should be more ways for him to play with his peers at recess.
Megan has an accounting degree and works from home as a human resource manager. She used her professional experience to start raising funds for the project. There was some doubt in the beginning, but Megan pushed forward, involving the school board, local businesses and the entire community. She brought everyone together, and they all collectively worked to make the project a reality.
After five years of hard work and fundraising, the inclusive playground is now completed. Megan personally picked out every structure! And children of all abilities can be seen laughing and playing together each day. While Megan's son and his best friend are now in middle school and don't use the playground at recess, they do visit it after school when it's open to the entire community.
Megan's favorite part about bringing the playground to the elementary school is seeing students enjoy it. She loves hearing "how cool" all the special features are from the kids. Most of them don't even know she was involved in this project!
When Megan isn't dedicating her time to the PTO, she is spending time with her children. She loves being involved in whatever they are involved in. When one of her kids decided to play soccer, she coached. It didn't matter that she didn't know anything about the sport! And she will keep getting involved, her kids love having her there. Megan's ultimate goal is to live every moment making her childrens' experiences the best she can.
Megan likes to spend her free crafting and hanging out with all the amazing friends she has made through volunteering. The reason she originally got involved was to make connections, and seven years later, she considers them one big family. This is why she encourages moms (and dads!) to get involved. It's a great way to meet new people and form real friendships. It's also an excellent way to stay connected with your child's school. You develop relationships with the teachers and administrators as well!
The school's PTO president and Megan's nominator, Rachel Alioto, announced and celebrated her Volly win at the beginning of one of their PTO meetings. Rachel nominated Megan not only because she brought the inclusive playground to her school, but because she always goes above and beyond with her fundraising efforts. Along with the recognition, Megan received 50 free custom shirts, a $150 gift card and some Booster swag!
Back to All Articles