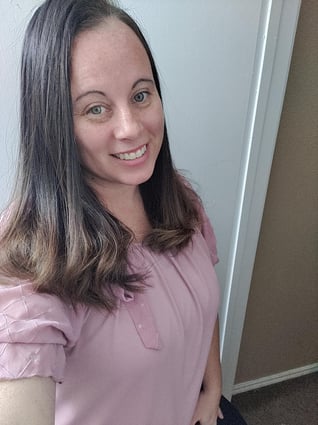 December Volly Winner: Margot Bodenhamer
Having an impact on students' futures is what drives our December Volly winner, Margot Bodenhamer, to dedicate her time at Elolf STEAM Academy in Texas. Now the president of the PTO she helped build into a true organization, Margot encourages other parents to volunteer, stressing even the smallest gestures like being a guest reader in a classroom can make a huge difference.
In this blog, you'll learn more about:
Before Margot came along, the school's PTO consisted of just one member and was desperate for volunteers. While Margot, mom to a 5th grader and pre-kindergartner, had been a part of the school community for years, she was unable to help out because of her job as a nurse. However, when COVID hit, her circumstances changed, and she now has the flexibility to work from home—or anywhere else with an internet connection.
This change freed Margot to explore ways she could begin to volunteer at the school and learn more about the PTO. When the sole member of the PTO had to step down due to personal health issues, Margot stepped up. Determined to grow the organization, she started recruiting other parents to join too. Margot also got to work and did some research. She joined the National PTO, put by-laws into place and registered as a true 501(c)(3) nonprofit organization.
When Margot took over the PTO, she set two goals for herself and her team. Bring up the morale of teachers and students feeling the fatigue of COVID and raise awareness about the school in the community. As the only STEAM school in the district, Margot wanted more people to learn about what an amazing resource Elolf STEAM Academy is for families. Margot has stayed true to both of these goals.
"She has taken the school in a whole new direction by becoming a member of the National PTO organization," said Shawn Scheel, the school's lead secretary and Margot's nominator. "By serving on this organization she has obtained a new way for our school to be seen and heard in the community. The PTO board not only reaches our families, it reaches our district and community."
Along with growing awareness for the school, Margot got to work building up funds for resources and events. Within a year she had grown the PTO's bank account from $0 to $5,000.
Margot also recognized a need for students to have a place to spend their time. So she helped the school and teachers start a student council and various clubs, providing positive opportunities for students to get involved. She even donated the 50 free shirts that were part of her Volly Award prize to the student council, giving each student a few shirts since they were just starting up this year.
"Elementary is when students are either going to love school or they're going to hate it. And if I can make it a positive experience for them, then that is going to be a good thing for their future," said Margot.
Margot's favorite project so far is a recent Father-Daughter dance. In previous years, the daughters and fathers didn't seem to actually dance and spend quality time together. So Margot got creative, designating every couple of songs a "Father-Daughter Dance Song." This got everyone out on the dance floor and created really special moments she hopes will stay with them for years to come.
While Margot may be busy with her nursing job and her role with the PTO, she makes spending time with her family a priority. And as she sets goals for the PTO, Margot and her 10-year-old daughter also have an exciting goal of their own—to hike all of the state parks in Texas! There are over 90 of them, and every other weekend they try to check one off of their list. So far Guadalupe State Park is their favorite.
As a Volly winner, Margot received 50 free custom shirts, $150 gift card and some Booster swag. Margot continues to work hard for her PTO to create opportunities for students and teachers to thrive. And while she feels lucky to have found such a rewarding way to volunteer her time, it is the school, students and families that are so very lucky to have Margot's willingness to go above and beyond to help motivate and shape future generations.
Back to All Articles