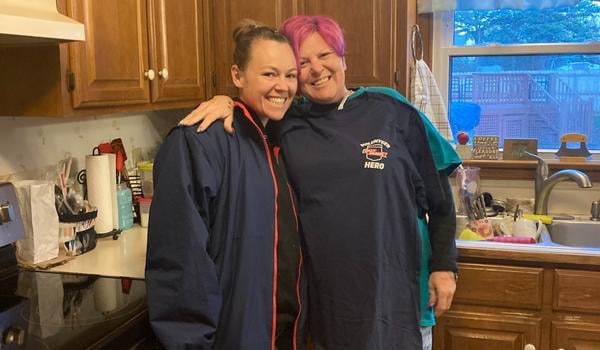 December Volly Winner: Jennifer Parker
Hamilton Council Schools PTA president and December Volly winner Jennifer Parker has dedicated her entire life to service. Now retired, Jennifer served in the military for 13 years, all while raising a family and volunteering her time to the PTA for the past 20 years.
In this blog, you'll learn more about:
As head of the school district's PTA, Jennifer presides over 31 local PTA organizations, acting as the liaison between each of these units and the superintendent. Jennifer took on this position three and half years ago and has since led the council through the COVID pandemic and helped to create thriving PTA organizations in all of the schools in her district. Jennifer makes sure to set up each PTA for success by working with the administration to train every member properly.
"Jen has been an active PTA member for over 20 years and continues to this day to find new and innovative ways to help each unit succeed," says her nominator and PTA treasurer Ashley Gregory.
She also goes above and beyond and temporarily takes on some roles herself until the local organization is running properly. Currently Jennifer holds a position on three units in addition to her own responsibilities as president to ensure they are moving in a positive direction.
As a mom of five, Jennifer began volunteering when her eldest child entered the school system. She started helping out at events and quickly learned the value of the PTA. The organization fills in the places that schools need help, from supplies and resources to events for the students as well as parents. She knew she wanted to be a part of it.
Fast forward twenty three years and Jennifer is still dedicating her time to the schools, her youngest child is a freshman in high school, and she now has a grandchild in first grade!
One thing that hasn't gotten old for Jennifer, even after so many years of volunteering, is seeing the smiles on the kids' faces when she has the opportunity to visit a school or at an event the PTA hosts—especially at the elementary school age. At that age, students get super excited, they still give hugs and generally just love school.
And while Jennifer may have retired from the military, adventure is still very much a part of her life. When she's not running the PTA, Jennifer and her husband can be found drag racing—she drives a 2021 Dodge Durango Hellcat—a hobby they are both passionate about.
As a Volly winner, Jennifer received 50 free custom shirts, a $150 gift card and some Booster swag. Jennifer's nominator, Ashley, surprised her at her home to let her know she had won this honor and to share with her how much the school communities appreciated her and all she does, especially behind the scenes.
Back to All Articles